pkl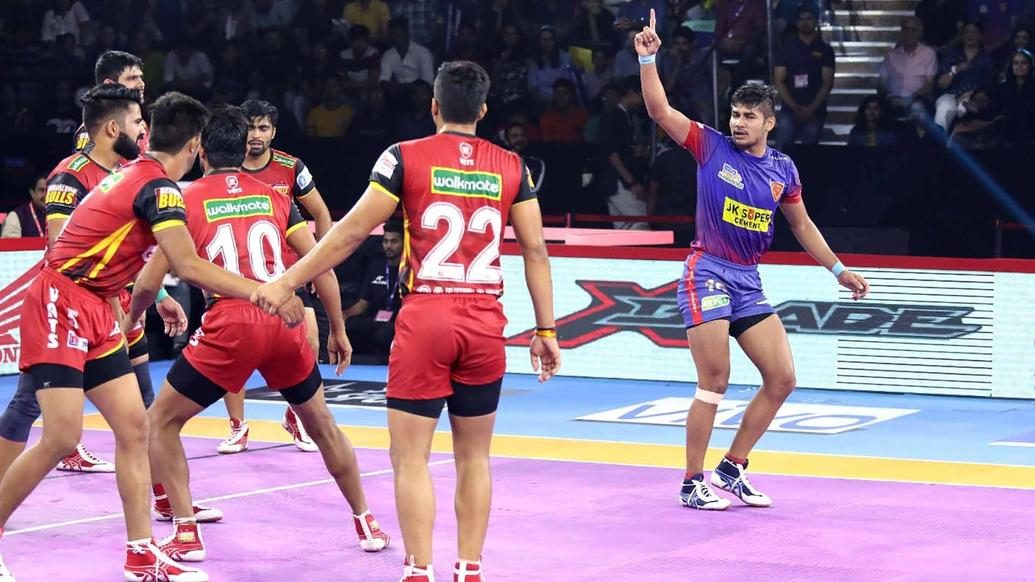 Naveen Kumar's Super 10 helped Dabang Delhi K.C. get the better of Bengaluru Bulls.
Dabang Delhi K.C. got their home leg in vivo Pro Kabaddi Season 7 underway with a 33-31 win over Bengaluru Bulls at the Thyagaraj Sports Complex in Delhi on Saturday. Naveen Kumar was the star for the hosts and finished the game with 13 raid points, while 'Hi-Flyer' Pawan Sehrawat's 17 raid points went in vain.
Bengaluru Bulls started the match on the front and took a 5-0 lead by the third minute of the contest thanks mostly to Pawan, who scored four raid points early on. Dabang Delhi K.C. picked up their first point in the fourth minute and looked to gradually grow into game. Sehrawat though continued to cause all sorts of problems for Dabang Delhi K.C.'s defence and helped Bengaluru Bulls enforce an All-Out in the 11th minute to move into a 12-6 lead.
Dabang Delhi K.C. responded to the All-Out with some solid defending and efficient raiding by Naveen. As a result, the side from the capital reduced Bengaluru Bulls' lead to five points at one stage. However, the reigning champions finished the half strongly and came out on top in a couple of do-or-die situations to take a 19-11 lead into the break.
The hosts scored the first three points of the second period and got the crowd behind them as they looked to forge a comeback. With momentum on their side, Dabang Delhi K.C. chipped away at Bengaluru Bulls' lead but Sehrawat continued to create problems for the hosts' defence and thwart their charge.
With a little more than six minutes to play, Dabang Delhi K.C. moved to within four points of the defending champions to fuel hopes of a late fightback. Three raid points from two raids by Naveen soon after then saw Bengaluru Bulls' lead reduced to just one point with four minutes left to play.
The hosts then moved into a 28-26 lead by inflicting an All-Out on Bengaluru Bulls after some more breathtaking raiding for Naveen. It was now Bengaluru Bulls' turn to fightback and they succeeded to tie the contest at 31-31 with a minute to play. However, a successful raid in the final minute by Naveen and a successful tackle by Ravinder Pahal on Sehrawat put the game beyond the southerners and gave Dabang Delhi K.C. their sixth win of the season.
Top Performers:
Dabang Delhi K.C. –
Best Raider – Naveen Kumar (13 Raid Points)
Best Defender – Ravinder Pahal (4 Tackle Points)
Bengaluru Bulls –
Best Raider – Pawan Sehrawat (17 Raid Points)
Best Defender – Amit Sheoran (4 Tackle Points)