pkl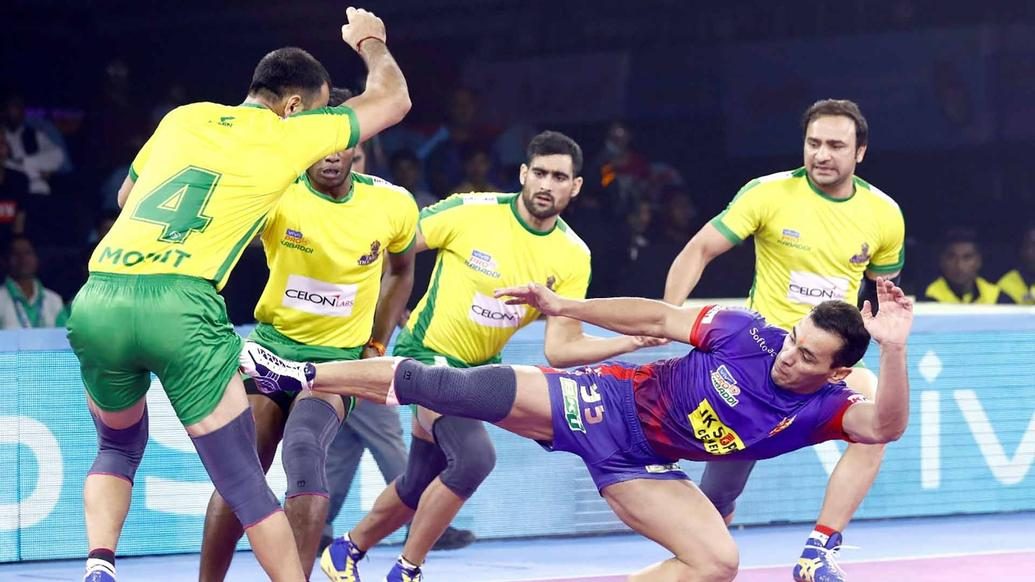 League leaders Dabang Delhi K.C. returned to winning ways with a 50-34 win over Tamil Thalaivas.
Dabang Delhi K.C. bounced back from their loss on Saturday with a 50-34 win over Tamil Thalaivas at the Netaji Subhash Chandra Bose Indoor Stadium in Kolkata on Sunday. Naveen Kumar produced yet another solid performance and finished with 17 raid points, while Meraj Sheykh supported him well by scoring 12 raid points.
Dabang Delhi K.C.'s raiders dominated the opening exchanges and were rewarded in the 10th minute as Tamil Thalaivas succumbed to an All-Out to give the league leaders an 11-5 lead. Talisman Naveen and Sheykh continued to threaten Tamil Thalaivas' defenders even after the All-Out and didn't allow them to settle.
V Ajith Kumar soon came off the bench and picked up some crucial raid points to ensure Tamil Thalaivas didn't fall too far behind Dabang Delhi K.C. However, Naveen finished the opening period with a flurry of raid points to help usher in a second All-Out on Tamil Thalaivas and extend Dabang Delhi K.C.'s lead to 11 points. Dabang Delhi K.C. then added another raid point before the halftime whistle to go into the break firmly in control with a 24-12 lead.
Dabang Delhi K.C. began the second period in confident fashion as Naveen picked up his 12th consecutive Super 10. A Super Raid by Sheykh soon after reduced Tamil Thalaivas to one man on court and eventually helped enforce a third All-Out on the southerners.
Sheykh then went on to complete his Super 10 as Dabang Delhi K.C.'s raiders continued to pick up points with ease. Tamil Thalaivas' Ajith Kumar and 'Showman' Rahul Chaudhari showed some fight, with the latter also bringing up his Super 10.
However, the southerners could not do anything to slow down Dabang Delhi K.C. as they reached 50 points – becoming the first team to do so this season – and registered a convincing win to strengthen their position on the league summit.
Top Performers:
Dabang Delhi K.C. –
Best Raider – Naveen Kumar (17 Raid Points)
Best Defender – Anil Kumar (3 Tackle Points)
Tamil Thalaivas –
Best Raider – Rahul Chaudhari (14 Raid Points)
Best Defender – Sagar (2 Tackle Points)