pkl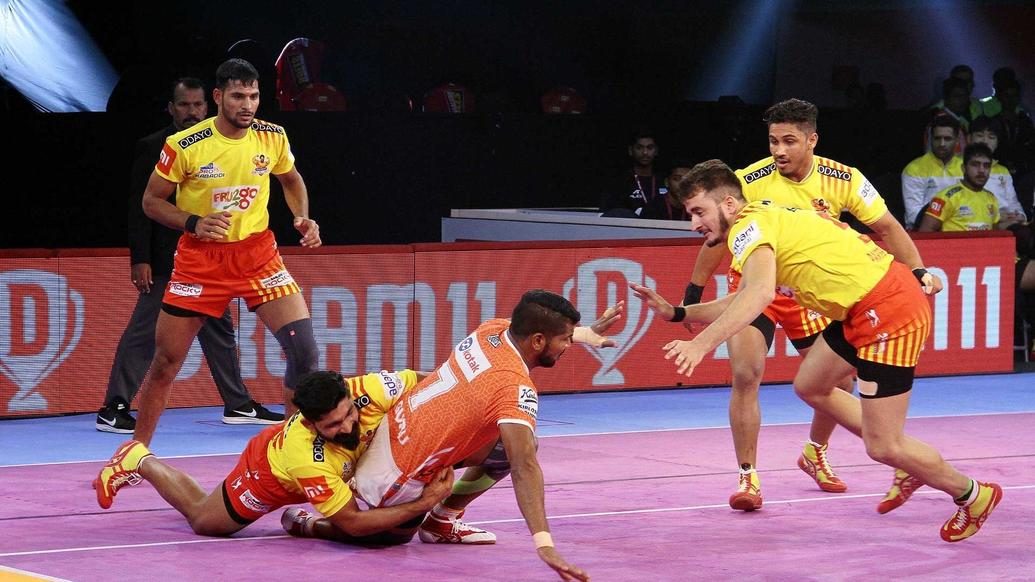 Gujarat Fortunegiants put on a clinical display to defeat Puneri Paltan 35-20 at the Shree Shiv Chhatrapati Sports Complex, Pune on Thursday. With this win, Gujarat Fortunegiants moved to the top of Zone A. Sachin shone for Gujarat Fortunegiants with six raid points while Sandeep Narwal was the star for Puneri Paltan as he managed a High 5.
The game started in dramatic fashion as Sachin's momentum took him out of the playing area without getting a touch in the first raid of the match itself. But Gujarat Fortunegiants still got their first lead of the game in the 4th minute as Rohit Gulia got a touch on Shubham Shinde to leave the scores reading 4-3.
Monu's double Ankle Hold on Sachin then gave Puneri Paltan the game's first tackle points. The teams started playing on the Do-or-Die raids after that and Sachin's Block on Akshay Jadhav in the 8th minute gave Gujarat Fortunegiants their first tackle point.
Check out the photos from the match here.
Sachin Vittala's tackle reduced Puneri Paltan to two players on the mat before Sachin got touches on Ravi Kumar and Shinde in the 12th minute to inflict the first All-Out of the game with Gujarat Fortunegiants leading by eight points.
The teams kept chipping away at the scoreboard with Puneri Paltan trying to reduce the deficit but Gujarat Fortunegiants matching them all the way. K. Prapanjan's raid in the 19th minute got Gujarat Fortunegiants another three points as he stepped out of the playing area without getting a touch but also ensured Jadhav, Shinde and More GB stepped out with him.
Gujarat Fortunegiants ended the half with a nine-point lead as the scores read 20-11.
The second half started with caution as well, as Gujarat Fortunegiants increased their lead to eleven points in the 5th minute. But Puneri Paltan soon got into the act on the back of some strong Super Tackles. Sandeep Narwal inflicted two Super Tackles on Sachin in the space of two minutes as Puneri Paltan brought the deficit down to eight points.
An Ankle Hold by Gulia on Rajesh Mondal reduced Puneri Paltan to two men on the mat yet again before Prapanjan got touches on Narwal and Girish Maruti Ernak in the 10th minute to finally help Gujarat Fortunegiants inflict their second All-Out of the match with the scores reading 29-16.
Visit the matchcentre to relive the contest here.
Gujarat Fortunegiants increased their lead to sixteen points from there by not allowing the Puneri Paltan raiders any space to score while keeping the raid points going for their team through Prapanjan. Puneri Paltan got the final point of the game courtesy of a double Ankle Hold by Narwal on Shubham Palkar which only meant that they cut the margin of defeat to 15 points.
Top Performers
Puneri Paltan
Best Raider: Monu (2 raid points)
Best Defender: Sandeep Narwal (6 tackle points)
Gujarat Fortunegiants
Best Raider: Sachin (6 raid points)
Best Defender: Sunil Kumar (4 tackle points)