pkl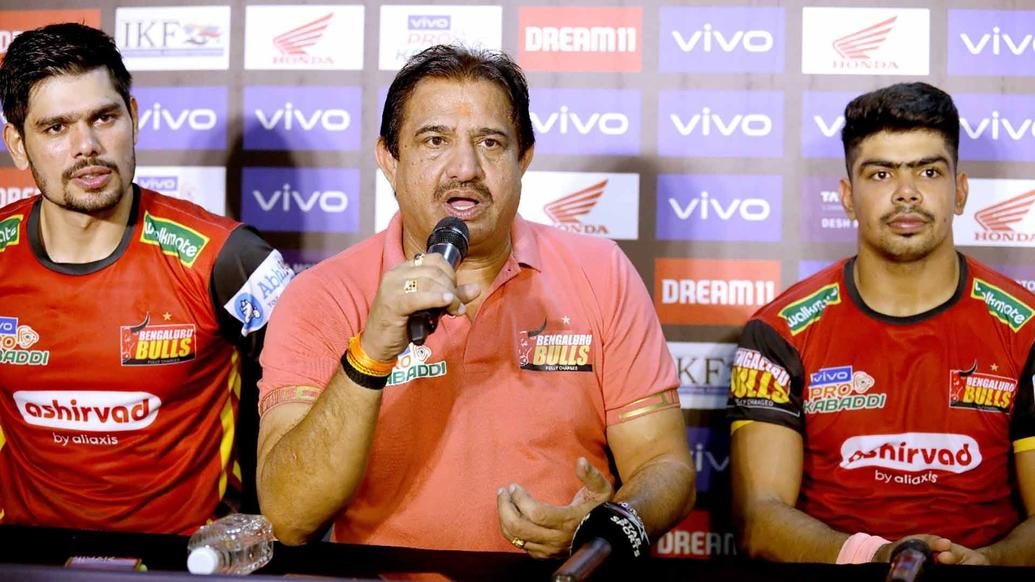 Telugu Titans' coach Gholamreza Mazandarani rues lapses in attack and defence after loss to Bengaluru Bulls.
Bengaluru Bulls did the double over Telugu Titans in vivo Pro Kabaddi Season 7 after a thrilling 40-39 win at the Sree Kanteerava Stadium in Bengaluru on Friday. After the final whistle of what was an intense encounter, Bengaluru Bulls' coach Randhir Singh, captain Rohit Kumar and 'Hi-Flyer' Pawan Sehrawat were at the post-match press conference, while coach Gholamreza Mazandarani, assistant coach Jagdish Kumble and 'Baahubali' Siddharth Desai faced the media from the Telugu Titans camp.
Bengaluru Bulls
Q. Coach, thought on the game?
Randhir Singh: First tell me 'Did you all enjoy the game?' (laughs). Pawan Sehrawat asked me if we should play for the draw towards the end when the score was tied but I said no. I told him you have to either make it or break it. I didn't want a draw because in seven seasons apart from one or two games, I have not lost much against Telugu Titans. However, we shouldn't have allowed it to get so close and let them come back into the game. We made some rash tackles and lost six points over there. Even though I don't want to dwell on that too much, the four-point Super Raid by Siddharth changed the game and gave them a chance in the match.
Q. Rohit, thoughts on the fans?
Rohit Kumar: I haven't seen the support that we have received in our home leg anywhere else this season. We came back here after two years and I knew the stadiums would be packed and there would be hardly any room to move around in the stands. Their support and encouragement have helped us win losing battles like yesterday's and tonight's games.
Q. Pawan, talk us through your last raid of the game?
Pawan Sehrawat: I didn't try for a two-point raid and the coach also didn't give me any such instructions. If you remember the game against Haryana Steelers, it was a tie then as well and I went for a point and got caught. So, I asked the coach for his opinion and he told me to try for a win. So, I went for the point and it worked out today. But if it had not worked out then I would be responsible again. So, neither the coach nor I play for ties and he told me the same thing against Haryana Steelers that he told me tonight, which is go for the win. We were criticised against Haryana Steelers for our tactics because we lost but, today we won and the tactics were the same for both matches, which were to go for the win.
Q. Coach, happy with your home record of three wins from four matches?
Randhir Singh: I am happy because we have won 75% of our matches at home and I am happiest because we are bidding farewell to our home ground on a high. Better than that is the fact that we are moving to second spot now in the standings. We are happy that our home crowd is pleased and we will never forget their unconditional support.
Telugu Titans
Q. Coach, thoughts on your defence's performance?
Gholamreza Mazandarani: Vishal Bhardwaj played aggressively. However, we made some mistakes while raiding. I feel our raiders could have tried to attempt more bonus points while raiding tonight.
Q. Siddharth, happy with your performance tonight?
Siddharth Desai: I think our defence and offence performed well today. And, I feel that if we didn't concede those two points against Pawan in the end then we could have won. But wins and losses are a part of sport and those two points we conceded in the end cost us.