pkl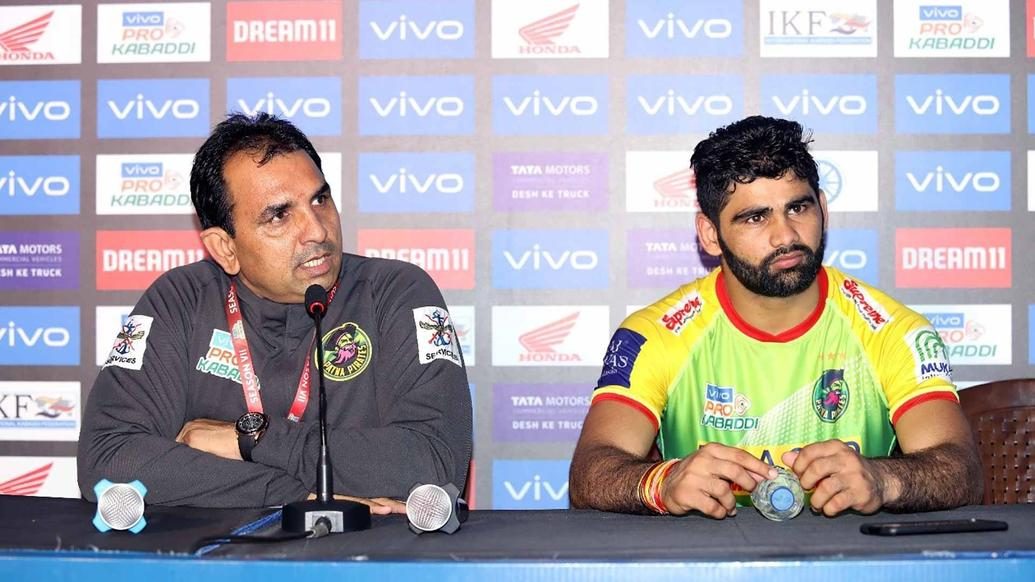 The Patna Pirates coach also believes his side can still qualify for the playoffs.
Patna Pirates snapped their losing run in vivo Pro Kabaddi Season 7 with a thumping 51-25 win over Tamil Thalaivas at the Netaji Subhash Chandra Bose Indoor Stadium in Kolkata on Monday. 'Record-Breaker' Pardeep Narwal scored 26 raid points on the night and created history by becoming the first player to cross the 1000 raid points barrier. After the match, Patna Pirates' coach Ram Mehar Singh and skipper Pardeep spoke to reporters at the post-match press conference.
Patna Pirates
Q. Coach, how proud are you with Pardeep's achievement?
Ram Mehar Singh: It's a matter of pride for both Pardeep and the team that he became the first player to score 1000 raid points in the league. He gave his best tonight. The team will also get motivated after this win.
Q. What are your thoughts on Pardeep's consistency over the years?
Ram Mehar Singh: As a coach, I feel as though Pardeep gives his all and tries to play well in every situation. Regardless of whether it's working out for him or if the other team is ahead or if their defence is strong; he never succumbs to pressure. That is something not many players are capable of doing. He doesn't dwell much on his off nights and puts the game behind him soon, which is what sets him apart from other raiders in the league. His ability to not feel pressure is something else.
Q. How will you'll approach your next game against Jaipur Pink Panthers?
Ram Mehar Singh: Look, Jaipur Pink Panthers are a very good team and we had a very good game against them earlier in the season. We made some mistakes in defence as well as attack in that game. But I would like to say that Jang Kun Lee will be returning in the next match after being unavailable. He's an experienced raider and can offer support in attack, so we will benefit. We will try to produce a similar performance like tonight against them and try to find balance between attack and defence.
Q. Pardeep, how does it feel to cross 1000 raid points?
Pardeep Narwal: I am feeling really good to have crossed 1000 raid points. It's the most by any player in the league, so I am happy.
Q. Coach, how happy does Pardeep crossing 1000 raid points make you?
Ram Mehar Singh: Whenever your pupil does well, you have a sense of pride and that's exactly how I feel right now with Pardeep crossing 1000 raid points. In the past few years when he was getting MVP awards and best raider awards, I used to be the happiest. It used to feel like a win for me and I feel similarly now with this latest achievement of his. I want him to continue in the same manner and it will be good for me, the team as well as the league.
Q. So many great raiders in the league, how big an achievement is it for him to reach 1000 raid points first?
Ram Mehar Singh: Look, unlike Ajay Thakur and Rahul Chaudhari, Pardeep didn't play the first season and missed quite a lot of the subsequent two as well. Despite that, becoming the first to reach 1000 raid points and beating big names to that mark is an achievement to be very proud of and we are very proud of him.
Q. Do you still feel Patna Pirates have a chance of making the playoffs?
Ram Mehar Singh: I would just like to say that impossible is nothing and if we can lose six games in a row then I believe we can win just as many consecutively. So, it's still possible for us to qualify for the playoffs.