pkl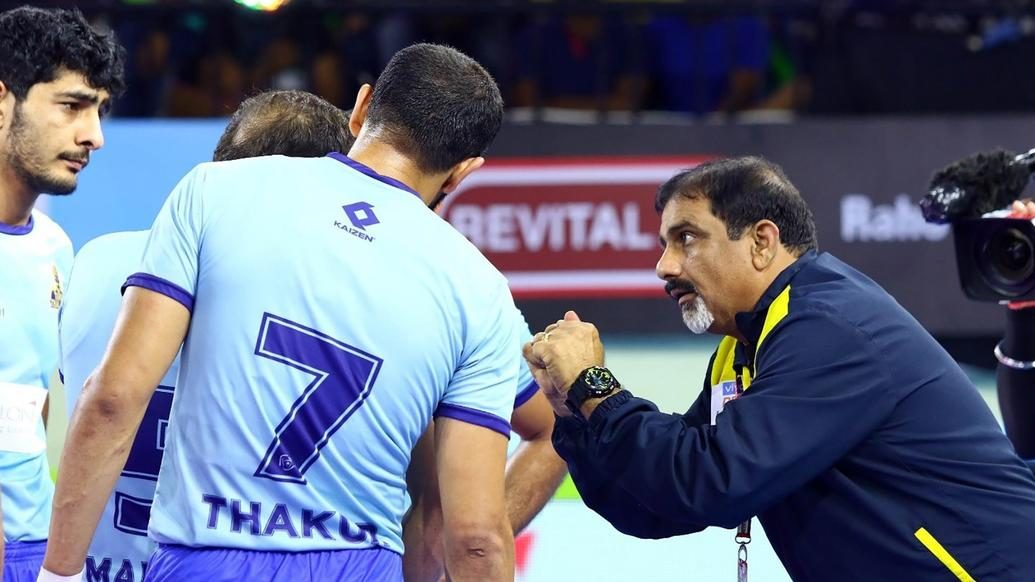 Rishank Devadiga expects to produce better performances for U.P. Yoddha as the season progresses.
U.P. Yoddha had to share the spoils with another side in VIVO Pro Kabaddi Season 7 for the second time in this campaign after a 28-28 tie at the Patliputra Indoor Stadium in Patna on Wednesday. Tamil Thalaivas coach E Bhaskaran, captain Ajay 'Iceman' Thakur and star raider Rahul 'Showman' Chaudhari spoke to reporters at the post-match press conference, while coach Jasveer Singh, captain Nitesh Kumar and Rishank Devadiga answered questions from the U.P. Yoddha camp.
Tamil Thalaivas
Q. Coach, are you taking this tie in a positive or negative way?
E Bhaskaran: We look at this result positively. We scored a lot of points in the second half to comeback and besides the opposition is a very strong side. They were playing a very balanced game and we kept up with them and competed well. So that's positive and we'll be looking to take these positives into the next game as well.
Q. Ajay, what are your thoughts on the performance of your raiders?
Ajay Thakur: Look all teams are strong. U.P. Yoddha have Rishank Devadiga, Monu Goyat and Shrikant Jadhav who together are equally as strong as our raiding unit. Add to that, the video analysis and people narrowing in on where everyone makes mistakes. Everyone plays matches with a detailed plan, so yes, we made mistakes. Perhaps, we could have won the match because we made a slight error in defence towards the end of the game and that made it difficult for us. If we had succeeded in that tackle, we'd have a lead and Rahul Chaudhari as well as me could have raided without much pressure.
Q. Rahul, are you happy with your performance?
Rahul Chaudhari: It's not always possible to be successful in every raid. I enjoyed a lot of success in the last game, so other teams start planning on how to stop me. So, it's a combination of both their planning as well as some lapses on my part, in terms of going for wrong touches. Hopefully, I'll learn from it and play better in the next game.
U.P. Yoddha
Q. Coach, second tie of the season. Is this a bad result for you'll?
Jasveer Singh: Yes, today's result was detrimental to our campaign. It's not like we wanted a tie, we were aiming for a win because even though both sides are evenly matched, our defence is stronger than theirs. Towards the end, they had a star raider in their ranks (Ajay Thakur) and he got the better of our defence for them to tie.
Q. Nitesh, are you feeling the pressure of captaincy this season?
Nitesh Kumar: No, I don't think there's any pressure. At the start of the tournament I may have been a bit nervous, which is why we have lost but now having played a few games, I don't think there's any extra pressure.
Q. Rishank, are you pleased with your performance today or do you think you can improve?
Rishank Devadiga: Yes, I think I'll get better. I just returned to full fitness, my rhythm will return as I play more games. I'll keep trying to play better in games and help the team in any way I can.
Q. Do you think you'll tied even after being in a good position from where you'll should have won?
Rishank Devadiga: Yes, we could have won the game. When there was three minutes left to play, there was a decision that we couldn't initiate at the time. They had five players and we had to try and attack because then (if they'd catch us), they'd have six defenders and it would have been easier for our raiders to then try for a bonus. That was the plan and then Rahul Chaudhari got a point off me, which upset the plan. That's why it became a 50-50 game in the end but if our plan had worked out then we would have won the game by two or three points.