pkl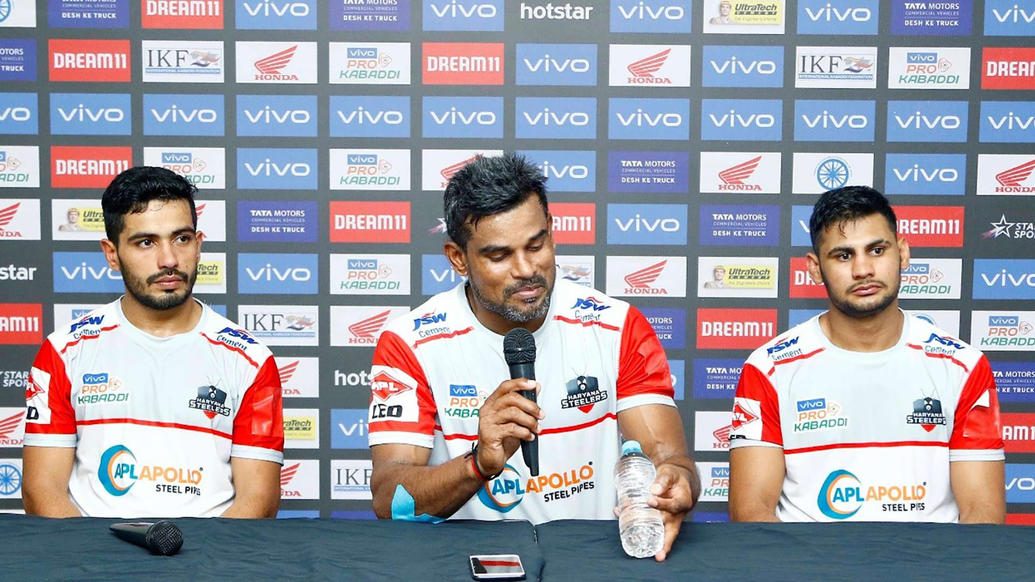 U.P. Yoddha coach Jasveer Singh rues mistakes committed by his players towards the end of their clash against Haryana Steelers.
Haryana Steelers maintained their winning momentum in VIVO Pro Kabaddi Season 7 with a 36-33 victory over U.P. Yoddha at the EKA Arena by TransStadia in Ahmedabad on Wednesday. Vikash Kandola top-scored with 12 raid points, while Sunil also put in an impressive shift and finished with six tackle points. Haryana Steelers captain Dharmaraj Cheralathan, Vikash Kandola and Sunil spoke to reporters after the match, while coach Arjun Singh and skipper Nitesh Kumar attended the press conference for U.P. Yoddha.
Haryana Steelers
Q. Dharmaraj, what are your thoughts on the game and the team's form?
Dharmaraj Cheralathan: We have a lot of seniors in the team, who take care and guide the team very well. We know how to control the game and get to victory, which is why we controlled the game and won by a few points tonight.
Q. Vikash, any pressure on you when the game was getting tight in the end?
Vikash Kandola: No, there wasn't any pressure because we were told not to take unnecessary pressure on ourselves as doing that could work to the detriment of the team. We knew if we could get three points by inflicting an All-Out in the end then we'd be on top and that's what we did.
Q. Dharmaraj, does this help the confidence of the team going forward?
Dharmaraj Cheralathan: Yes, it's very good that we won today. It definitely helps our confidence a lot. In the first three matches we weren't settled and played a bit loose. But now we're set, and we'll keep giving our best performances for the team in an attempt to get to the top (of the standings).
U.P. Yoddha
Q. Coach, what went wrong?
Arjun Singh: Look, it was pretty even throughout the game, but our players made a few wrong decisions in the end. We didn't execute tackles where we should have and that cost us points, which put pressure on the defence.
Q. Vikash Kandola continually found success against your defenders towards the end. Thoughts?
Arjun Singh: Our defence didn't play well towards the end of the game because they were trying to play safe. If they tried to tackle and played more aggressively perhaps then things would have been different. But we made errors in the last 4-5 minutes.
Q. Nitesh, do you think your plan to contain Vikash Kandola was a success?
Nitesh Kumar: Yes, I feel that our plan to contain Vikash was successful because he tries to get a lot of bonuses, which we restricted. So in that sense I think we were successful. It's just at the end of the match that he managed to get some points.