pkl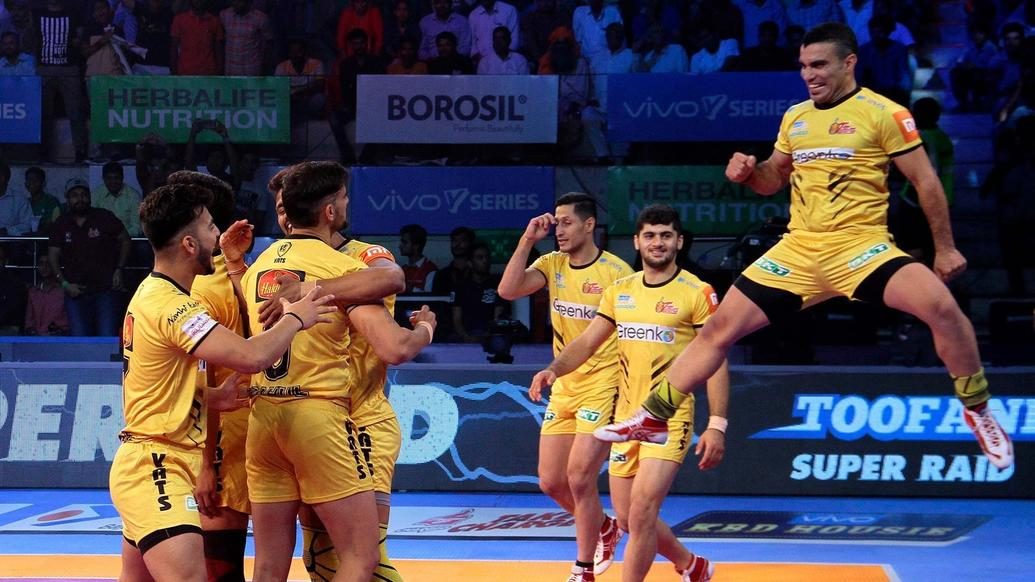 A strong defence is the way forward for Telugu Titans according to their captain Vishal Bhardwaj.
Telugu Titans showed some excellent defending skills and great coordination on their way to beating U.P. Yoddha 34-29 on Saturday. Telugu Titans captain Vishal Bhardwaj and coach K Jag Mohan took questions at the post-match press conference while Rishank Devadiga and coach Jasveer Singh turned up for U.P. Yoddha. Here is what they had to say.
Telugu Titans

Q. Today was probably a game for the defenders. Do you think the defence has improved?
Vishal Bhardwaj: We had some shortcomings in the last game. Our coach made us work on it. We gave Rahul Chaudhari a free hand today and told him to raid rather than focusing on the defence.

Q. Is your strategy to focus on defence this year, given the glowing responses you're getting from them?
Vishal Bhardwaj: Yes, it will be the same. We have excellent raiders. We just needed to improve our defence, which we have done thanks to the immense hard work of our coach. In the coming games we'll try to better it.

Q. You named an unchanged starting 7. So, have you decided that this 7 is the best for this season?
K Jag Mohan: We have got good bench strength as well. But we want our defence to be set. So, for the first 3 or 4 matches we want to help them settle. We will be changing 3 or 4 raiders in the next few games. We have very good raiders in on the bench. Raiders can raid the way they like if the defence is set.
U.P. Yoddha

Q. Both teams put up a good fight today. Tell us how you see your defence in today's game.
Rishank Devadiga: We had decided from the start to stop Rahul Chaudhari early. The defence started well but as time passed, somewhere in between some minute errors crept in. We were catching their raiders but we were able to do so only after they got a bonus. We conceded a lot of bonus points that way.

Q. What will your strategy for the next game be, given that tomorrow you will have Pardeep Narwal in front of you?
Jasveer Singh: We have been working on the difficulties we have had so far. Tomorrow will be a better day. After 4-5 matches, hopefully, the team will be better settled.

Q. Before the end of the first half, the gap was reduced to 2 points. How much pressure was on you given that you are the captain?
Rishank Devadiga: I don't feel pressure. I just play depending on the situation in the game. When the defence is down to 3 or 4 players, scoring points gets tougher. But I try not to let it affect me.