pkl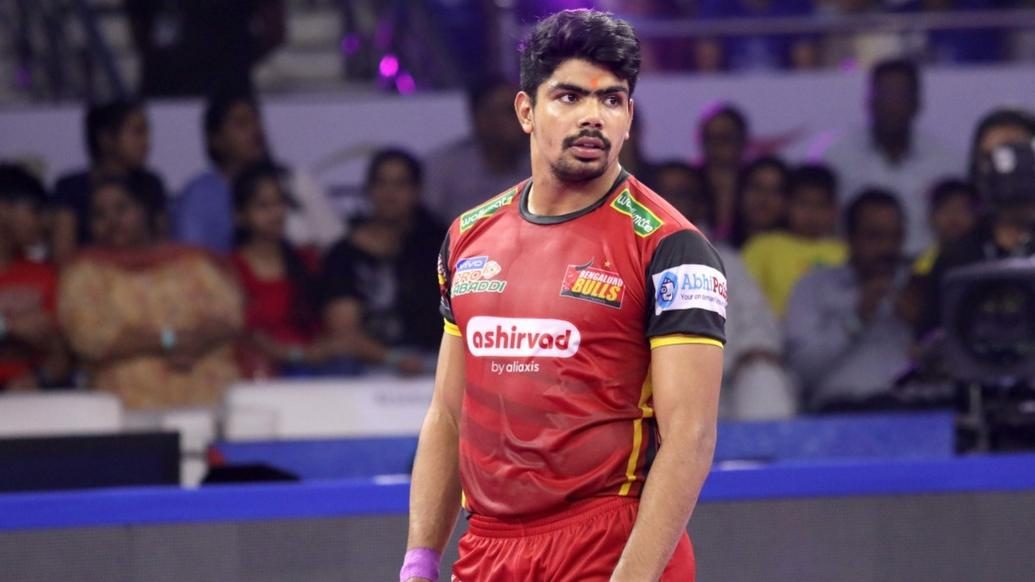 Chandran Ranjit, Deepak Narwal, and More GB will have big boots to fill in Rohit Kumar's absence.
After winning the vivo Pro Kabaddi Season 6 title, Bengaluru Bulls were dethroned by Bengal Warriors in the next season. Though Pawan Sehrawat finished another season at the top of the best raiders list, the team's defence let them down in the Semi-final.
Bengaluru Bulls have once again gone with a raiding-focused outfit with their big buys for the season, including Chandran Ranjit and Deepak Narwal. However, some young names in defence might make their presence felt once the season starts.
View this post on Instagram
Pawan Sehrawat Stands Out Among Young Retentions
Bengaluru Bulls chose to retain their talisman Pawan Sehrawat before the auction as he has consistently been a top raider for the side over the past two seasons. Under coach Randhir Singh Sehrawat, Pawan has shown tremendous raiding ability and broke the record for the most points in a single match last season.
The remaining retentions for Bengaluru Bulls are young players Amit Sheoran, Mohit Sehrawat, Banty, and Saurabh Nandal. The team will be building a young defence this season and it will be interesting to see how the new setup comes together with so many young players in the mix.
Another big name for the side, Mahender, was also retained using the Final Bid Match card. As one of the most consistent Covers over the past 3 seasons, his inclusion will add some much-needed experience and strength in the defensive setup.
View this post on Instagram
Known names in raiding
Bengaluru Bulls' most expensive buy at the Season 8 player auction was Chandran Ranjit at INR 80 Lakh. Ranjit proved to be a perfect foil for Naveen in Season 7 and was able to revive the raider consistently when he was tackled. Bengaluru Bulls will hope he can inspire the same sort of confidence in Sehrawat, who was 252 points ahead of the team's next best raider in the last season.
The squad also boasts of the experience of Deepak Narwal who has 10 Supers 10s to his name and has been scoring consistently since being Patna Pirates' highest scoring raider in Season 2. Season 7 saw the raider put in his best performance in a single match, scoring 16 points for his side.
In terms of overseas players, Abolfazl Maghsodlou Mahali will be keen to follow up his Season 5 success with another big season. He will be joined by young Dong Geon Lee. The duo has 232 points amongst them, proving that they are also capable raiders when the situation demands.
View this post on Instagram
Plenty of Opportunities for New Players
With experienced campaigner Rohit Kumar moving to Telugu Titans this season, Sehrawat's leadership in shoring up the defence while managing his raiding will come under focus. This will also be a good opportunity for players like More GB and Deepak Narwal to make their mark on the season after missing out on a big season previously.
While Deepak is no stranger to the PKL title, winning it with Patna Pirates in Season 3, this can prove to be a chance to showcase his skills and score big as one of the primary raiders. More GB has also been making a name for himself over the past 2 seasons and his experience in Do-or-Die raids will make him a valuable asset to the team.
Young defenders Vikas, Ankit, Mayur Jagannath Kadam, as well as the retained Saurabh Nandal and Mohit Sehrawat will have a big responsibility to keep opposition raiders at bay. The experience of Ziur Rehman will also be tested when he takes the mat. But with more possibilities of featuring in the starting lineup this season, the defenders will not want to let any opportunity go.
vivo Pro Kabaddi Season 8 starts 22 December, 2021. Catch all the LIVE action on the Star Sports Network and on Disney+Hotstar and follow Pro Kabaddi on Instagram, Facebook & Twitter for all the latest updates!