pkl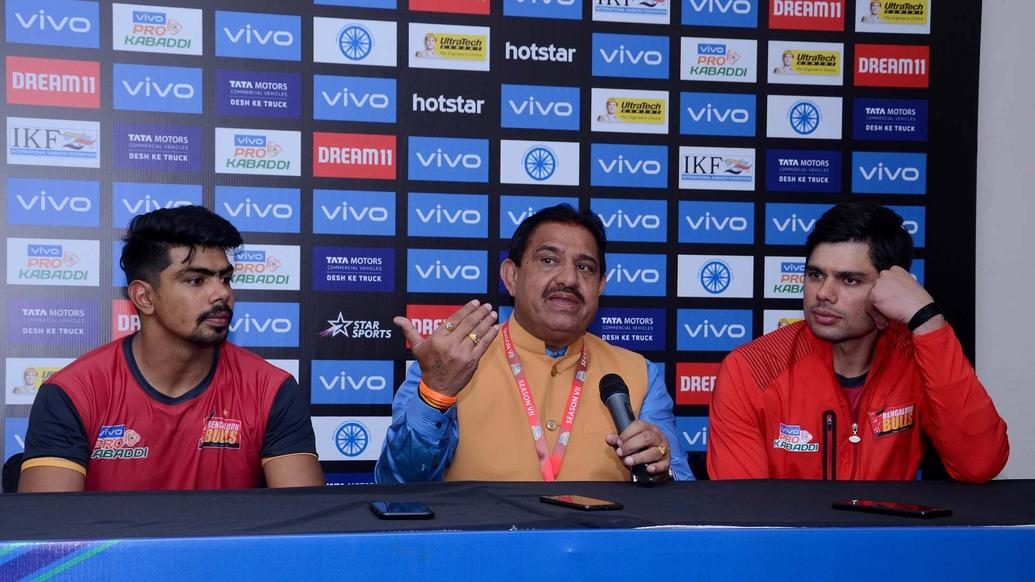 Bengaluru Bulls coach Randhir Singh Sehrawat revealed what he told his players during the last timeout.
Bengaluru Bulls made a winning start to VIVO Pro Kabaddi Season 7 after overcoming Patna Pirates 34-32 at the Gachibowli Indoor Stadium in Hyderabad on Saturday. 'Hi-Flyer' Pawan Kumar Sehrawat was Bengaluru Bulls' highest scorer on the night with nine points, while Amit Sheoran was their best defender and registered a High 5. After the game, Bengaluru Bulls coach Randhir Singh Sehrawat, captain Rohit Kumar and Pawan spoke to reporters at the post-match press conference and coach Ram Mehar Singh and skipper Pardeep Narwal represented the Patna Pirates.
Bengaluru Bulls
Q. What did you say to the team when you took the timeout with six minutes left on the clock?
Randhir Singh Sehrawat: I took the timeout with six minutes left and I told the players to play with a cool mind and because of that we inflicted four Super Tackles – that's why we won today.
Q. What was the strategy to contain Pardeep?
Randhir Singh Sehrawat: If you can control Pardeep from reaching 15-16 points, then you can win the game because they have two raiders and so do we and both our defences are good. So, the defence that was more successful had a big chance to win and our four Super Tackles were important.
Q. How important is strategy in kabaddi?
Randhir Singh Sehrawat: Players play but in the last five minutes the correct strategy which works wins the match. Last season, we won eight matches in the closing stages of the game. So, when Patna Pirates were a few points ahead at half-time, I told my players to not get tensed and just give their 100 per cent. Patna Pirates aren't an easy opponent, they are three-time champions. Pardeep is a record holder. All 12 teams are equal, and we can't afford to underestimate any team.
Q. You seem to be playing as a second raider for the team. Tell us about the role?
Rohit Kumar: I had a similar role last season when I used to try spending as much time on the mat as possible and I've been asked to do the same this year by the coach. He has asked one out of Pawan Sehrawat and me to always stay on the mat. He told me to take my time and play, try for bonuses and that worked. So, I try to spend as much time on the mat as possible.
Patna Pirates
Q. Do you think the Super Tackles were the turning point of the contest?
Ram Mehar Singh: We gave up 10 tackle points despite reducing them down to three so it's difficult to come back from that. We had a good game, but those points were crucial.
Q. Thoughts on Mohammad Esmaeil Maghsoudlou Mahali's performance?
Ram Mehar Singh: He was immense in offence as well as defence. He contributed on either side of the mat and that is a good sign for us.
Q. Did you feel the lack of a second raider tonight?
Pardeep Narwal: No. I think the second raider (Mohammad Esmaeil Maghsoudlou Mahali) played quite well and supported me well. Those Super Tackles in the second half cost us the game.