pkl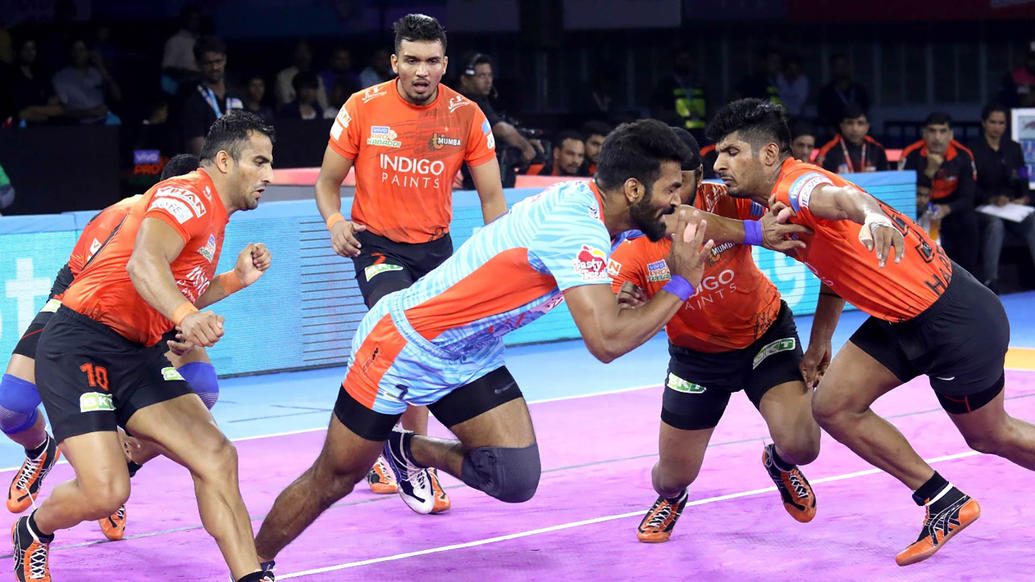 Bengal Warriors moved to second in the vivo Pro Kabaddi Season 7 standings after a 29-26 win over U Mumba.
Bengal Warriors made it back-to-back wins at home after registering a 29-26 win over U Mumba at the Netaji Subhash Chandra Bose Indoor Stadium in Kolkata on Wednesday. Sukesh Hegde scored eight raid points for the hosts and Mohammad Nabibakhsh picked up four tackle points.
Arjun Deshwal got U Mumba off to a good start after a Super Raid in the very first raid of the match. However, after skipper Maninder Singh got Bengal Warriors on the scoreboard from a Do-or-die situation, it was pretty much level-pegging for most of the opening quarter with the hosts slightly in front with a 6-5 lead.
Bengal Warriors then took control of the contest after a couple of successful Do-or-die raids from Nabibakhsh and Maninder. They eventually enforced an All-Out following a Baldev Singh tackle and opened up a 13-7 lead with less than five minutes left in the half. The hosts went on to extend their lead after the All-Out with a well-executed Super Raid by Sukesh but another Super Raid by U Mumba's Deshwal ensured that Bengal Warriors could only take a 16-13 lead into the break.
The second half began with raiders from both sides finding success. Bengal Warriors though took control as the half progressed with their defenders also making their presence felt. The good work on both ends of the mat by the hosts meant that they took a six-point lead into the final quarter of contest.
U Mumba though weren't ready to throw in the towel yet and continued to fight as they looked to claw their way back into the encounter late on. The final five minutes saw U Mumba throw everything at Bengal Warriors' defence without much reward initially.
However, a few swift raids by Deshwal – who had brought up his Super 10 by this stage – and decisive tackling from U Mumba's defence made it a one-point game with seconds left on the clock. In the end though it was a pivotal Super Tackle by Rinku Narwal on Deshwal in the penultimate raid of the game that proved to be the final nail in the coffin for U Mumba and gave the home side a three-point win.
Top Performers:
Bengal Warriors –
Best Raider – Sukesh Hegde (8 Raid Points)
Best Defender – Mohammad Nabibakhsh (4 Tackle Points)
U Mumba –
Best Raider – Arjun Deshwal (14 Raid Points)
Best Defender – Fazel Atrachali (4 Tackle Points)