pkl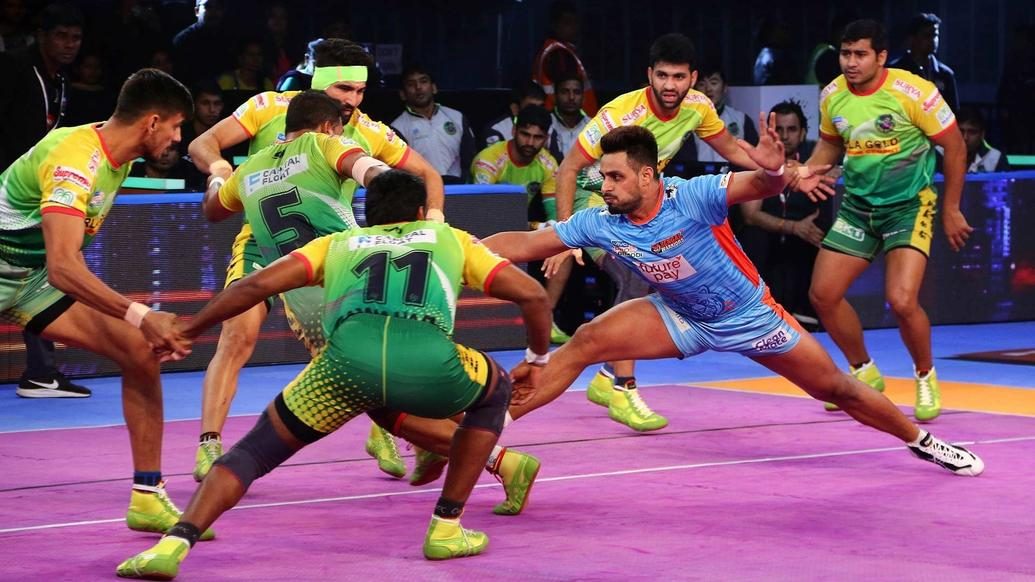 Maninder Singh's Super 10, aided by a solid display from the defence, helped Bengal Warriors beat Patna Pirates 39-23.
A fabulous display from raider Maninder Singh and the defensive trio of Surjeet Singh, Ran Singh and Ziaur Rahman earned Bengal Warriors a 39-23 victory over Patna Pirates at the Netaji Subhash Chandra Bose Indoor Stadium in Kolkata. With this victory, Bengal Warriors are assured of a spot in the Playoffs from Zone B.
Maninder Singh and Pardeep Narwal were off to a brisk start, as the former got a point in each of his first two raids while Narwal managed a two-point raid in his very first attempt of the night. But both the defences then retaliated, with Surjeet Singh almost singlehandedly stopping Narwal in his tracks, and Vikas Jaglan getting a strong Thigh Hold on Maninder Singh to bring down the raider, leaving the scores tied at 4-4. Rahman's tackle on Narwal was followed by Surjeet Singh's second tackle point of the night, as the home team started to make their mark on the contest. Soon after, Jang Kun Lee and Maninder continued to build their team's momentum and got a touch point each to leave Patna Pirates with only a solitary man on the mat.
Check out the photos from the match here.
The defence made short work of the raider to inflict the first All-Out of the night and give Bengal Warriors a 13-6 lead in the contest. Patna Pirates responded to the All-Out by scoring four of the next six points to reduce the deficit down to just five. But a touch point each from Ravindra Ramesh Kumawat and Maninder, split by Ran Singh's tackle on Narwal put Bengal Warriors back up by eight. Manjeet scored the last point of the half with a touch on Rahman as the teams headed into the half-time break with Bengal Warriors leading 18-11.
Maninder continued his outstanding night and got a two-point raid in just the first minute of the second half, but Narwal replied with two touch points in two raids to reduce Bengal Warriors down to just three men on the mat. Sensing the situation, coach Jagdish Kumble sent on Vijin Thangadurai to bolster the defence and it paid off as he executed a perfect Thigh Hold on Narwal to earn his side two points. Kumawat added a couple more to his team's score with a two-point raid which was followed by three tackle point from Bengal Warriors, leaving Patna Pirates with only two men on the mat.
Visit the matchcentre to relive the contest here.
Maninder took care of both men in the same raid and inflicted a second All-Out on Patna Pirates to give his side a 33-17 lead in the contest. Right after the All-Out, Rahman, Surjeet and Ran Singh added a tackle point each to their respective tallies on the night and gave their team a 19-point lead. Jaglan's tackle on Kumawat finally curbed a 12-point run from Bengal Warriors with just over five minutes left on the clock.
Jaideep then scored his second tackle point of the night with a Dash on Kumawat and Narwal managed to get a touch point on Baldev Singh as Patna Pirates tried to bring the deficit under seven points to earn a point from the contest.
But Bengal Warriors were relentless and added two more points to the scoreboard courtesy of Ran Singh's tackle and Lee's successful bonus attempt to ensure a 16-point victory.
Top Performers –
Bengal Warriors
Best Raider: Maninder Singh (11 Raid Points)
Best Defender: Surjeet Singh (4 Tackle Points)
Patna Pirates
Best Raider: Pardeep Narwal (7 Raid Points)
Best Defender: Vikas Jaglan (3 Tackle Points)