pkl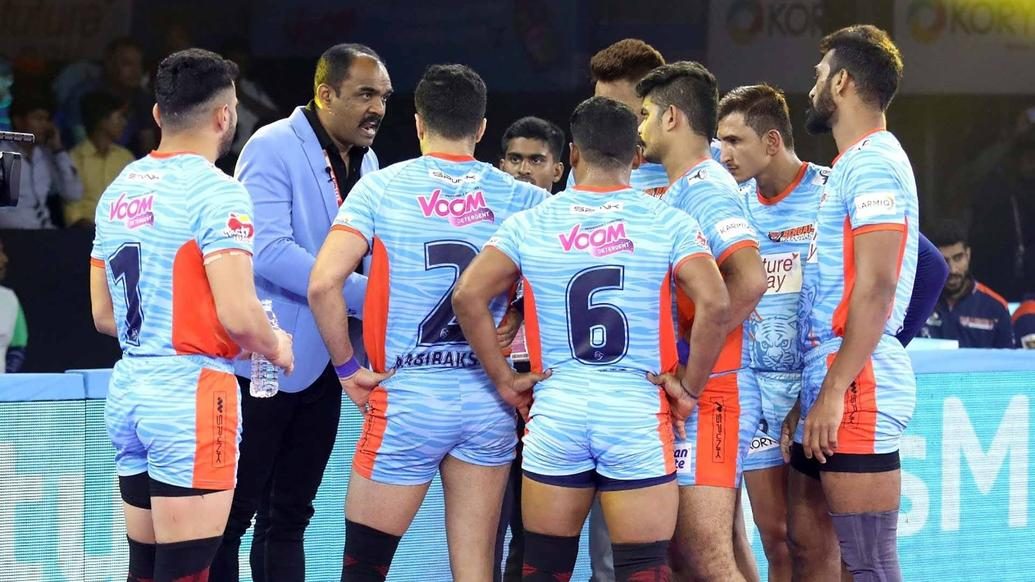 The Bengal Warriors coach explained how the team will approach their next game against U Mumba.
Bengal Warriors picked up a dramatic 42-39 win over Puneri Paltan on Sunday to register their first home win of vivo Pro Kabaddi Season 7 at the Netaji Subhash Chandra Bose Indoor Stadium in Kolkata. After the final whistle, Bengal Warriors' coach BC Ramesh and captain Maninder Singh spoke to reporters at the post-match press conference, while coach Anup Kumar faced the media from the Puneri Paltan camp.
Bengal Warriors
Q. Coach, was your team a bit nervous in the end?
BC Ramesh: Yes, we were nervous at the end and there was less time on the clock as well. They had a better chance of winning going into the final minute. We were initially looking to just reduce the deficit and we asked Maninder to go for the raid, but Mohammad Nabibakhsh stopped him and said he wanted to go in. We went into the raid looking to close the gap, but it turned in our favour.
Q. Maninder, how will the team approach the next match against U Mumba?
Maninder Singh: The only thing we will be focused on is a win and that is what we are going for. For the rest, we will just have to see how things go.
Q. Coach, are you happy with your raiders?
BC Ramesh: I am not 100% happy but maybe 30-40%. The defence didn't play that well either. We will look to improve on both aspects of our game in the upcoming matches.
Q. How concerned are you about U Mumba's defence?
BC Ramesh: They have very good defenders like Sandeep Narwal, Surinder Singh and Fazel Atrachali. They are some of the best players and we will have to work hard to beat them. Both, raiders and defenders, need to work hard. We have Maninder and Nabibakhsh in attack and they will mix it up and raid between them. The same thing applies to defence. We will devise plans with our defenders to stop them with some different strategies.
Puneri Paltan
Q. Coach, do you think your team gave Bengal Warriors the win tonight?
Anup Kumar: Yes, I think we were winning the game but gave it away.
Q. Did the lack of experience cost you in the end?
Anup Kumar: It's not like experienced players can't make mistakes. Towards the end our defenders were a bit aggressive. They made a mistake despite me warning them and making them understand what not to do.
Q. What was the thinking behind playing on the Do-or-Die raids towards the end of the match?
Anup Kumar: At that point of time, it was best that we played on the Do-or-Die raid. Pankaj Mohite was raiding well and if he could have gotten us a point and extended our lead from six to seven then it would have been beneficial for us.
Q. How does your team move forward from here?
Anup Kumar: It will be an uphill task but that is my job. I have to motivate the team because they played very well against a good team in Bengal Warriors. And if we play intelligently, unlike what we did towards the end of tonight's game, I think we can still make the Playoffs.