pkl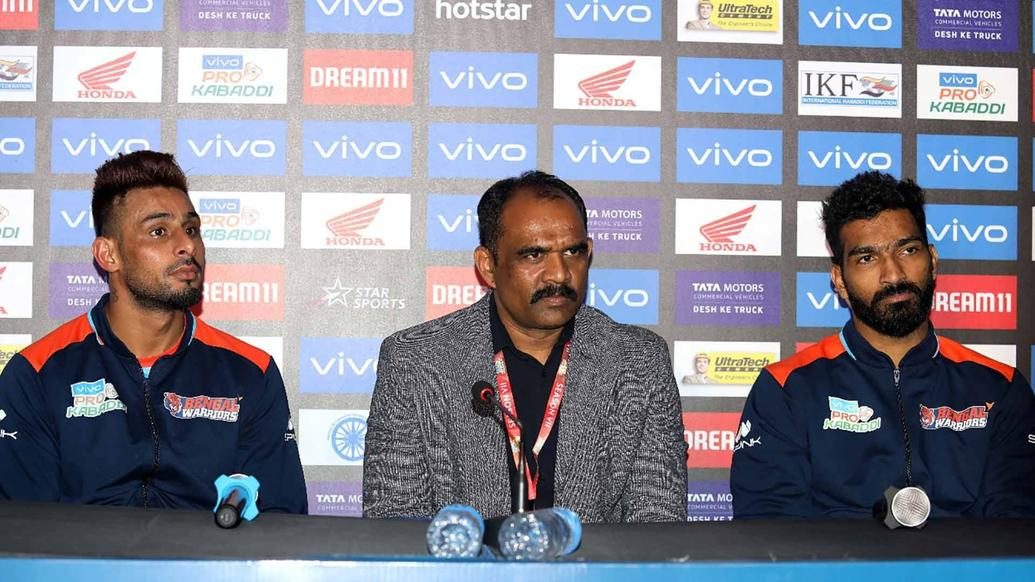 The Bengal Warriors had nothing but praise for raider Sukesh Hedge after the match.
Bengal Warriors rose to second spot in the vivo Pro Kabaddi Season 7 standings after a nervy 29-26 win over U Mumba at the Netaji Subhash Chandra Bose Indoor Stadium in Kolkata on Wednesday. After the match, Bengal Warriors' coach BC Ramesh, skipper Maninder Singh and raider Sukesh Hegde spoke to reporters at the post-match press conference, while 'Sultan' Fazel Atrachali answered questions from the media for U Mumba.
Bengal Warriors
Q.Coach, thoughts on the match?
BC Ramesh: Our defence played very well today. We were expecting our defence and raiders to perform and they did. We also made a few changes to our starting 7 and devised some plans. The defence performed well as a result of that and in offence replacing K. Prapanjan with Sukesh Hegde turned out to be beneficial for us. I was also confident in Mohammad Nabibakhsh and knew that he would contribute in defence. Maninder Singh as you all know will always contribute and he played well today. Apart from conceding a few bonus points in the end, we played well throughout.
Q. Thoughts on Sukesh Hegde's performance?
BC Ramesh: In the last few games that Prapanjan had played, we utilized Sukesh in the end of those matches and were rewarded for doing so. So, after realizing how well he's performing this year, we decided to use him from the beginning. Sukesh is a confidence player and since he was confident, we opted to use him and were sure that he would score points. He carried out the plans we had made to a tee and I believe that he can play even better in the upcoming games.
Q. Do you feel your raiders played better than the defence?
BC Ramesh: We have many raiders and they are bound to play well. In the last few games our defence wasn't up to the mark and we were mostly tackling opposition raiders towards the end of matches. So, we had decided that our defence was going to fight right from the start tonight. Our captain also told the defenders the same thing about playing hard and with passion and they did well today.
Q. Sukesh, happy with your performance?
Sukesh Hegde: I am happy with my performance and that I got to play the full game. It increased my confidence as well and now we have another match at home. If we win that then it makes our chances of making it to the playoffs easier.
U Mumba
Q. Fazel, what went wrong?
Fazel Atrachali: It was a tough match that was very close, especially the last 10 minutes. It all came down to that last raid (where Arjun Deshwal was Super Tackled). Both teams made mistakes, but we made more mistakes. Apart from that both teams played the same, but Bengal Warriors got a bit lucky.
Q. Was U Mumba over reliant on Arjun Deshwal tonight?
Fazel Atrachali: Every match is different. At the start of the match, we sent all our raiders. Abhishek Singh, Rohit Baliyan, everyone. Tonight, we saw Abhishek was not at his best, so we opted to go mostly with Arjun. Maybe in the next game we will see Rohit Baliyan playing well. It's not important who plays well or if I play well. Whoever is performing well and taking points is the one who should be in the action the most because what's most important is that the team wins.