pkl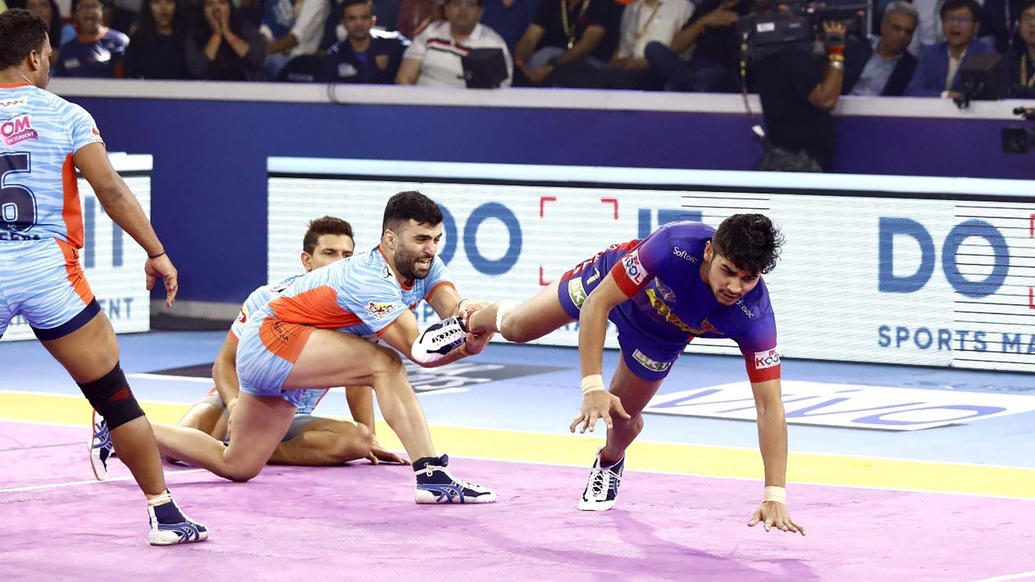 The all-rounder captained Bengal Warriors and also led the team in scoring with nine raid points.
A tremendous showing by stand-in skipper Mohammad Nabibakhsh and veteran Cover defender Jeeva Kumar helped Bengal Warriors comeback from an 0-6 deficit and beat Dabang Delhi K.C. 39-34 to win their maiden vivo Pro Kabaddi title.
Nabibakhsh, who is in his rookie season, took over the mantle of captaincy in the absence of star raider Maninder Singh and led the team by example in the final with nine raid points. Bengal Warriors coach BC Ramesh, who won his second straight title after his triumph with Bengaluru Bulls last season, had nothing but praise for his Iranian superstar.
"Nabibakhsh was the x-factor Bengal Warriors needed," said coach Ramesh in the post-match press conference. "This team made it to the playoffs in Season 5 and 6 on the back of Maninder's brilliance and this season, Nabibakhsh proved to be the missing piece in the puzzle. He brought his class and the luck that we lacked in the past and needed this season to win our maiden title."
Bengal Warriors found themselves in an eight-point hole just six minutes into the contest and needed Nabibakhsh's raiding prowess and some stellar defensive effort to turn the tide of the contest. Defender Jeeva Kumar, who scored four tackles points and won the vivo Pro Kabaddi crown for the second time after winning it with U Mumba in Season 2, explained how the team managed to overturn the deficit.
"We did not panic (after the first All Out)," said Jeeva. "We knew we had the talent and the ability to overturn their early lead. Once we found success against Naveen Kumar, it became easier for us to pick up tackle points. Despite Naveen Kumar's 18 raid points, Bengal Warriors' defence outscored their counterparts 10-3, which proved to be the difference on the night. "Our raiders, especially Nabibakhsh, were putting in short raids and scoring points as well so we were able to cut the lead and continue to score with relative ease," Jeeva added.
With this win, Bengal Warriors became the fifth different side, after Jaipur Pink Panthers, U Mumba, Patna Pirates and Bengaluru Bulls to win the vivo Pro Kabaddi title, while coach BC Ramesh became the first coach to win two titles on the trot with two different teams.