pkl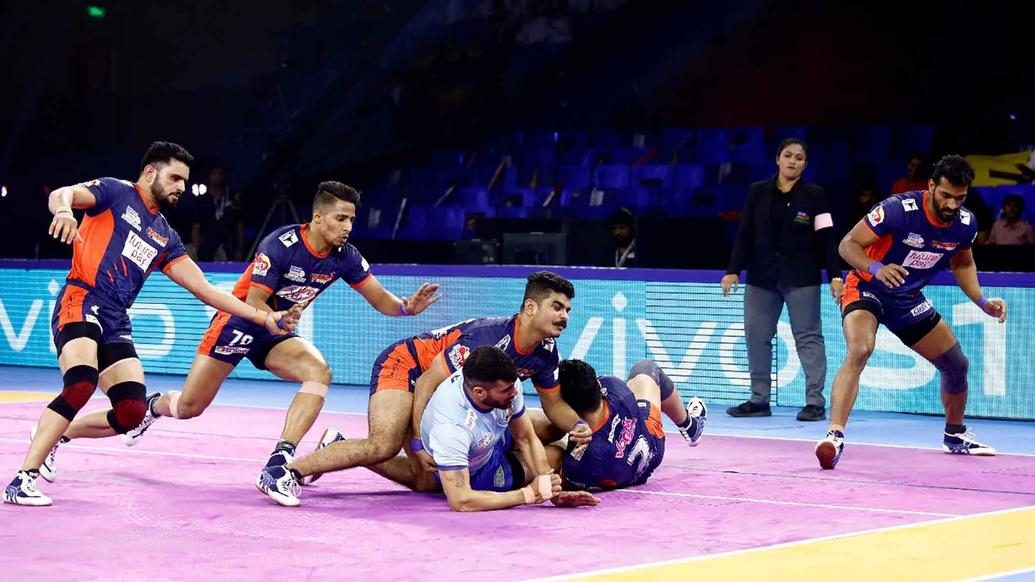 A good all-round performance even in Maninder Singh's absence gave Bengal Warriors a 33-29 victory over Tamil Thalaivas.
Rinku Narwal's High 5 combined with some consistent raiding work by Sukesh Hegde and Sourabh Tanaji Patil helped Bengal Warriors rise to the top of the Season 7 standings with a 33-29 win against Tamil Thalaivas at the Shaheed Vijay Singh Pathik Sports Complex in Greater Noida on Wednesday.
A close opening quarter saw stand-in skipper Mohammad Nabibakhsh show his all-round ability as he picked up two raid and two tackle points to keep Bengal Warriors level with Tamil Thalaivas at 8-8. V Ajith Kumar also carried forward his form early in this period.
Sourabh Tanaji Patil, playing just his second vivo Pro Kabaddi match, led the Bengal Warriors' attack well to give them a 2-point lead 15 minutes into the match. However, Victor Obiero came off the bench and combined with Rahul Chaudhari to equalise the scores at half-time as the scoreboard read 13-13.
Nabibakhsh struck early in the second half to send Obiero to the bench and then raided successfully just a couple of minutes later to once again put Bengal Warriors in the lead. But Ran Singh's Super Tackle on Nabibakhsh helped his team avoid an All Out.
Baldev Singh then put in a quick successful pursuit to put Tamil Thalaivas on the backfoot once more and Sukesh Hegde followed it up with a two-point raid to finally inflict the All Out and give Bengal Warriors a six-point lead. Tamil Thalaivas, though, managed to cut the deficit to just a couple of points with some good work on both sides of the mat.
But Rinku Narwal's Super Tackle on Ajith, followed by a successful tackle on Obiero, thwarted Tamil Thalaivas' comeback efforts as Bengal Warriors took back control of the match. He reached his High 5 in the 18th minute by sending Chaudhari to the bench and Bengal Warriors maintained their grip on the game with a six-point lead to protect.
A Super Tackle by Tamil Thalaivas' Sagar in the final raid of the match gave the young defender his first vivo Pro Kabaddi High 5, but all that could do was reduce Bengal Warriors' win margin as they rose to the top of the standings.
Top Performers:
Bengal Warriors –
Best Raider – Sukesh Hegde (6 Raid Points)
Best Defender – Rinku Narwal (5 Tackle Points)
Tamil Thalaivas –
Best Raider – Rahul Chaudhari (7 Raid Points)
Best Defender – Sagar (5 Tackle Points)