pkl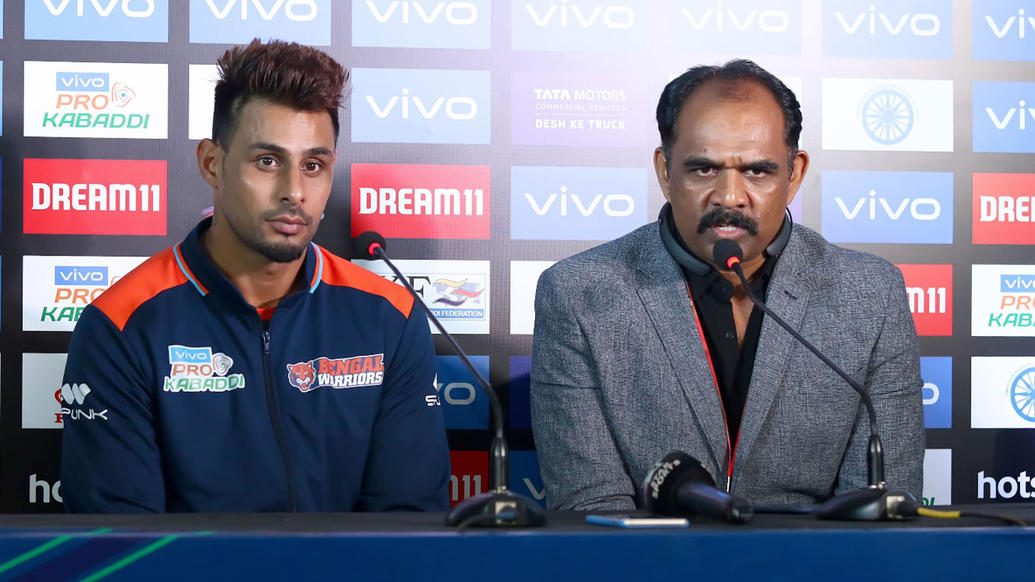 Bengal Warriors coach BC Ramesh was all praise for the way Rinku Narwal adapted his game against Patna Pirates.
A tight defensive display by Bengal Warriors coupled with Maninder Singh's Super 10 gave them a 35-26 victory over Patna Pirates in Match 53. Rinku Narwal scored a High 5 to lead the team's defence. At the post-match press conference, coach BC Ramesh and skipper Maninder Singh took questions for Bengal Warriors while Patna Pirates were represented by coach Ram Mehar Singh and captain Pardeep Narwal. Some excerpts are below.
Bengal Warriors
Thoughts on the match?
BC Ramesh: It was a good game. The match was tight at the beginning but then our defenders Jeeva Kumar, Rinku Narwal and Baldev Singh performed exceptionally. Maninder Singh also scored for us at vital junctures. It felt good to win by this margin. Patna Pirates played well towards the end by slowing down their defence and playing on the offence. I think we let them get away in the final minutes which we should have controlled.
Tell us something about the consistency of your team.
BC Ramesh: Our team captain has been a big factor in our team's consistency. He remains calm and patient and supports the players quite well. Our senior defender Jeeva Kumar has also been vital. Good leadership is very important if a team is to perform consistently.
Rinku Narwal had some unsuccessful tackles at the start but then he was able to do well after that. Thoughts on his performance?
BC Ramesh: These things happen during a match. Sometimes you take some time to get going and then perform better later on. Rinku made some mistakes at the start, but the important thing is that he realised his mistakes and understood how to adapt his game. I told him that the raider will come to you, you don't have to go to the raider. Rinku has a lot of potential and good game-sense. If he can read the opponents better and improve certain aspects of his game then there are chances of him emerging as this season's best Left Corner.
Patna Pirates
Thoughts on the match?
Ram Mehar Singh: We played well in the first half. Our strategy was to play on our defence and draw their raiders deep into our half before attacking with Pardeep Narwal and Mohammad Maghsoudlou. But our defence did not fire. If a team's defence is consistently putting in advanced tackles, even on the third raid, then one cannot expect them to do well.
What are your thoughts on the team's raiding tonight?
Ram Mehar Singh: Our raiders Mohammad Maghsoudlou and Monu were not able to provide the necessary support for Pardeep. If you are not able to back up your main raider's performance in defence and offence then things are bound to become difficult.
The team was not scoring consistently in the middle stages of the contest. Thoughts?
Ram Mehar Singh: If you look at the first half, Maghsoudlou was able to support Pardeep with a few points. But later on, on two occasions where Pardeep got tackled, it led to an All-Out. So it was a case of lack of support for our main raider according to me.