pkl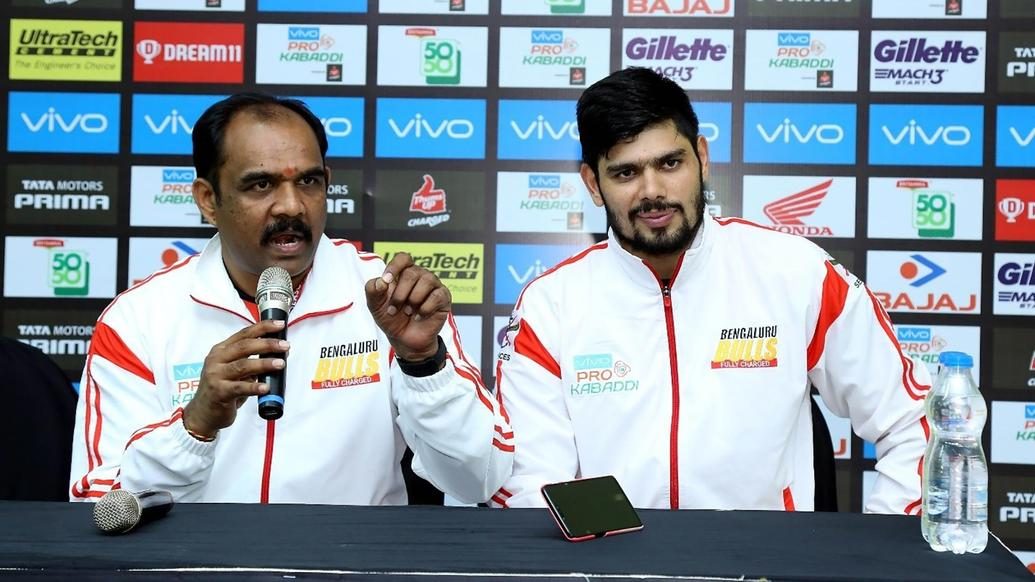 An 11-point blitz in the closing stages of the match handed Bengaluru Bulls a 34-26 victory over Telugu Titans in the Southern Derby at the Shree Shiv Chhatrapati Sports Complex in Pune. In the post-match press conference, Bengaluru Bulls coach BC Ramesh and captain Rohit Kumar took questions for their side.
Bengaluru Bulls

Q. Thoughts on the performance?
BC Ramesh: We've been reliant on Pawan Kumar Sehrawat and Rohit Kumar to do the bulk of the scoring. But the defence has played at a high level since Amit Sheoran's entry into the starting seven. Our left and right Covers, Mahender Singh and Ashish Sangwan, as well as Raju Lal Choudhary played a good game. Choudhary especially has been practising very hard and it has paid dividends today. The defence supported the offence as well as they could have, and we are extremely happy with the result.
Q. Was Raju Lal Choudhary's tackle on Rahul Chaudhari the turning point of the match?
BC Ramesh: Yes. Certainly. Also, Rohit Kumar's raid where he managed to send Abozar Mohajermighani to the bench was crucial. He is their main defender and it was an important moment in the contest. Once he was off the mat, we managed to stamp our authority on the contest. They had the option of scoring bonus points, but Raju Lal Choudhary and Amit Sheoran's tackles came in at the right time for us.
Q. You can make it four wins in your home leg with a victory tomorrow. Thoughts on that?
BC Ramesh: It won't be an easy match. Bengal Warriors are a very good team and have already beaten us once earlier in the campaign. Our defence is playing quite well and we need them to play the same way tomorrow.
Q. What were your thought pre-game today?
Rohit Kumar: They are a strong team with three Iranian players, but we had to win. We came in with that attitude and got the win.