pkl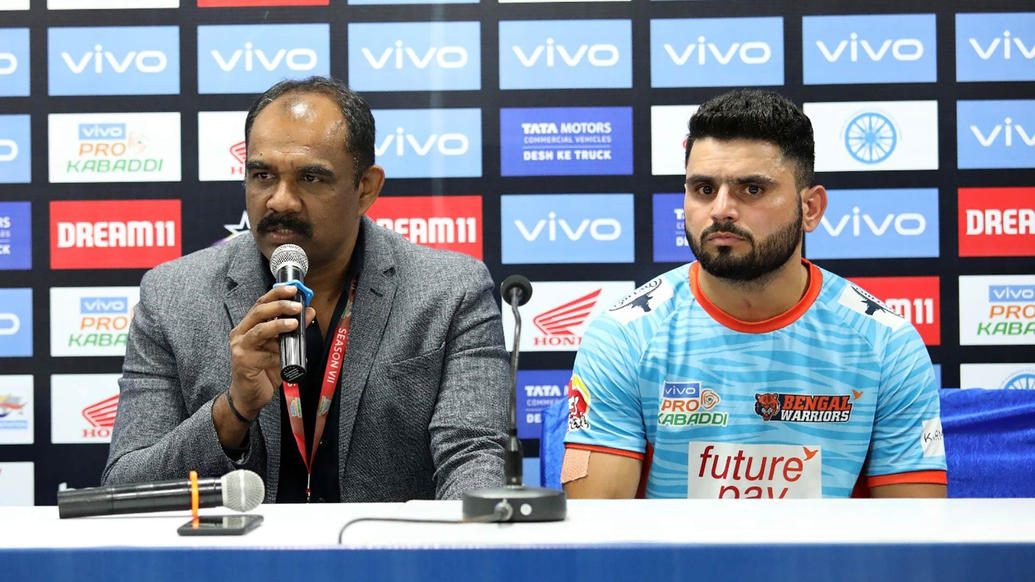 Bengal Warriors' coach BC Ramesh felt that his bench players deserved game time and key players needed rest before the playoffs.
An astounding 34-raid point performance by Pardeep Narwal in his final vivo Pro Kabaddi Season 7 match gave Patna Pirates a 69-41 win over Bengal Warriors on Sunday. At the post-match press conference, coach Ram Mehar Singh and skipper Pardeep Narwal turned up for Patna Pirates, while Bengal Warriors were represented by stand-in skipper Baldev Singh and coach BC Ramesh.
Bengal Warriors
Q. Coach, what was the reason for resting so many key players?
BC Ramesh: Our team is going to play in the semi-final as it is. It was important for us to test our bench players. We have selected and practised with this group of players over the past months and we owed it to them to give them some game time. We have to play knockout matches after this, so we are resting our main players before that. That is why we took this decision. However, that takes no credit away from Pardeep Narwal who displayed tremendous skill. We played alright till the final quarter but lost our way a bit after that.
Q. Were you disappointed with the performance of the defence?
BC Ramesh: We did give away too many points, but we didn't want to risk injuries to our key players before the knockout matches. That would be counter-productive to the team's cause.
Patna Pirates
Q. Coach, where do you think the team fell behind in the playoffs race?
Ram Mehar Singh: Pardeep gave his best and tried very hard. But for any team to win on a consistent basis they need support from a second raider and the defence. I believe we did not get to see Pardeep's best in a few matches at the start. But the lack of a good defence and second raider lost us at least 8-9 matches, which we could have won in the dying minutes.
Q. How do you analyse the season?
Ram Mehar Singh: Had we won the 7-8 matches where we conceded in the last couple of minutes, we could have at least been third or fourth on the points table.