pkl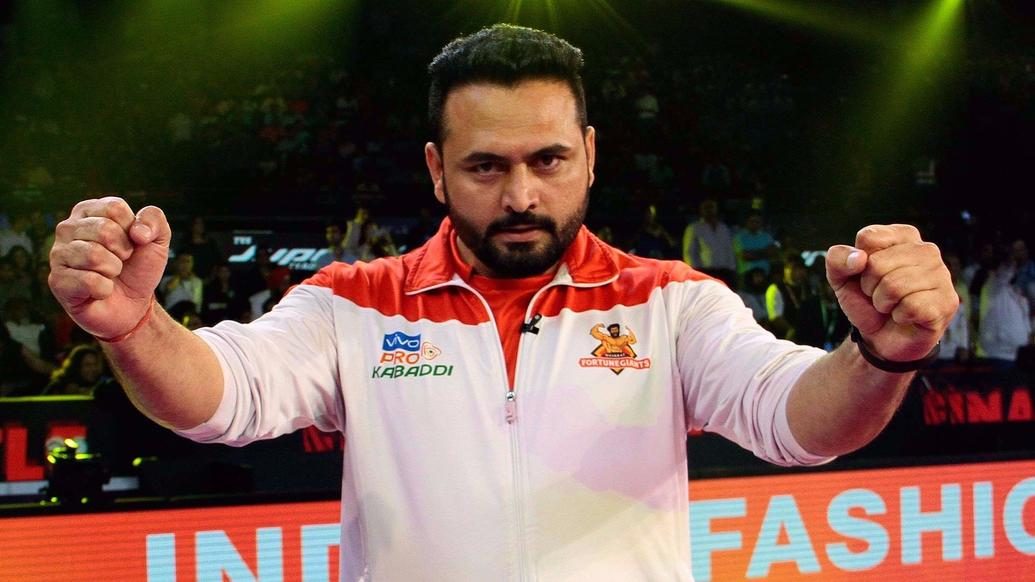 After being the most consistent team in the league, Gujarat Fortunegiants look all set to stop the Patna Pirates march and win their maiden championship.
When VIVO Pro Kabaddi Season 5 began with the inclusion of four new teams, no one was prepared for the sheer dominance Gujarat Fortunegiants will go on to showcase all through. The debutants have surprised many with their raiding prowess as well as with their defensive impregnability. With Manpreet Singh, former Patna Pirates player, marshalling the Gujarat troops as coach against his former employers in the final on Saturday, the battle is sure to heat up in Chennai.
"We will show a special match which no one has seen yet. The way we have been playing, we will play the same way and a final needs to be like a final. The team and all the kabaddi lovers who have been following this season should enjoy. This season was a surprise for the fans as till the last moment it wasn't decided which team will get the first position in the zone. So, the final will also be like that. Let's see which team will win and which team shall lose. The match must be good and the sport of kabaddi should win," Manpreet said at the pre-match press conference on Friday.
He also reiterated that his team does not rely only on their strong defensive set-up as overall team performance is of utmost importance. "My strength is my entire team and not just the defence or the raiders. When they both perform we win and even if only one works, we still win. All the players in the team are better when they play together. However, we can play only twelve players in a match and not more than that. Every player in my team has the ability to win the match and they are showing that."
Manpreet also heaped praise on the fantastic cover duo of Sunil Kumar and Parvesh Bhainswal. "I love to take challenges in life. They have been there in Pro Kabaddi before but they used to sit on the bench. In this season, they have proved that they know how to tackle a player effectively. Even if they give 25 percent tomorrow then I am sure that we will tackle Pardeep and Monu and win by a good margin."
However, the biggest challenge for Gujarat will be to hold their composure in front of the whirlwind Pardeep Narwal and calm Monu Goyat. But the coach did not look too worried. "We have played two matches against Patna, the two-time champions and both of them were very tough. It is very difficult to tackle Pardeep with the same strategy. We will make new plans on how we want to tackle him. They think that if Pardeep gives 50 percent in the final then they will win and I think that if we stop Pardeep at 25 percent then we will win."
Even captain Fazel Atrachali looked confident of stopping the Narwal express. "We both are good friends outside the mat but on the mat we are competitors. Sometimes a player does well and sometimes he plays badly. So, I will try to tackle him and he will try to escape from me. We are professional players and it is very normal for us," he said.
Manpreet had played with Pardeep in Season 3 of VIVO Pro Kabaddi and seems to know the superstar inside out. When asked that if his familiarity with Narwal's play will help him in planning a better strategy against him on Saturday, Manpreet replied: "When I came in Pro Kabaddi Season 3, few people knew about Pardeep. I was the first person who requested the team's owner to get Pardeep in the team and he got him. After that, all the name and recognition he has earned is all due to his hard work. I know where he is strong and where he is weak. We will work more on his strength and less on his weakness and we will try to tackle him on his strengths.
"Otherwise when he performs, we all know that he can take the game away but in the two matches we played against him, we tackled him very well and in the next match also we will do the same. I am proud of my team and that in spite of this being their first season, they have played brilliantly. Even the kabaddi experts are saying that Gujarat have played great to reach the number one position, and going toe-to-toe with the two-time champions in the final is commendable. We will play a good match and we hope that our sport reaches the top," he concluded.