pkl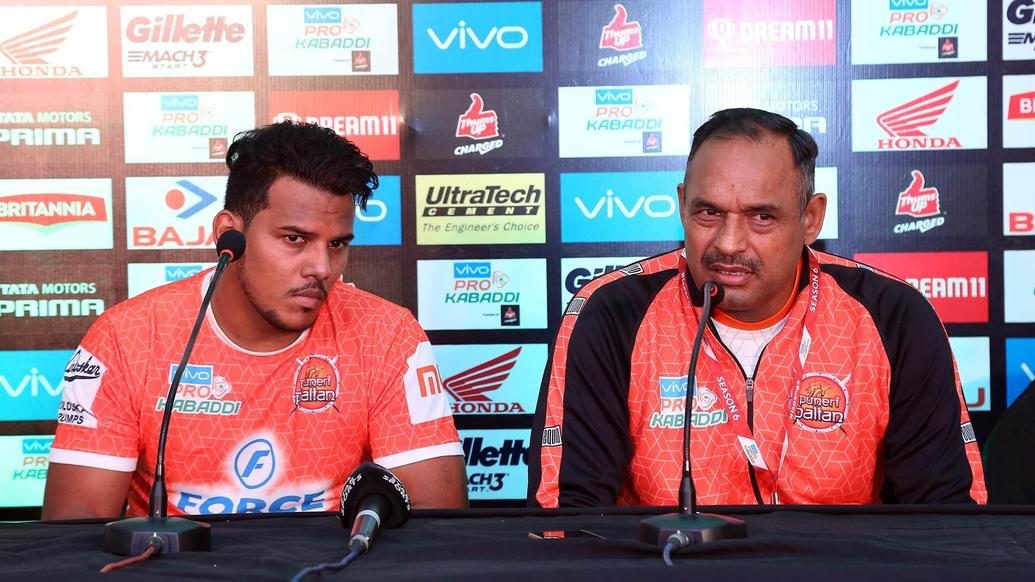 The Puneri Paltan coach said the win was very important for his team.
Puneri Paltan's defence managed to outscore Dabang Delhi K.C.'s defence by three points to seal a 31-27 victory for their team on Wednesday. At the post-match press conference, coach Ashan Kumar and Girish Maruti Ernak were present for Puneri Paltan while Dabang Delhi K.C. were represented by coach Krishan Kumar Hooda and captain Joginder Narwal.
Puneri Paltan
Q. How do you see this victory without your key men, Nitin Tomar and Rajesh Mondal, in the starting seven?
Ashan Kumar: We did a lot of analysis with the team after our earlier losses. We try not to be dependent on any one player. We want to have a balance. Today we tried to use that balance to our advantage and play out of our skins. It was very important to win today and I'm glad the players in each of the seven positions played well today.

Q. Do you think Deepak Dahiya made good on the opportunity he got today?
Girish Maruti Ernak: Absolutely. He made good use of the opportunity and put in a good performance. We hope he continues performing well for us like he did today.

Q. What are your thoughts on Monu's Super Raid today?
Ashan Kumar: That Super Raid completely changed the momentum of the game in our favour and we had full faith that Monu will play well today.

Q. How are you preparing for the Maharashtra Derby match against U Mumba?
Ashan Kumar: U Mumba have played us twice this season and we have tied one game with them while winning the other. So we want to continue this record against them. We have seen Siddharth Desai's game and we know his strengths, so we will strategise on how to neutralise him in the upcoming matches.
Dabang Delhi K.C.
Q. Where do you think the match went out of your hands?
Krishan Kumar Hooda: The defence made the first error and that is where we lost the advantage. The three points we lost all started from there. We got some good chances even after that but we weren't able to capitalise.

Q. They managed a Super Raid during a Do-or-Die raid when the match was evenly poised. Do you think the match changed from there?
Joginder Narwal: We tried for a bit of an advanced tackle and I think that is where we lost the match.

Q. What do you think about the raiding today?
Krishan Kumar Hooda: Neither side was particularly impressive in the raiding department. Even our opponents didn't score too many raid points. The game depended a lot on the defence and I think we were found wanting in that department today.

Q. Do you think an additional raider would have done the trick for you?
Krishan Kumar Hooda: More than having an additional raider on the mat, I think if our defence was tighter we could have taken control of this match.