pkl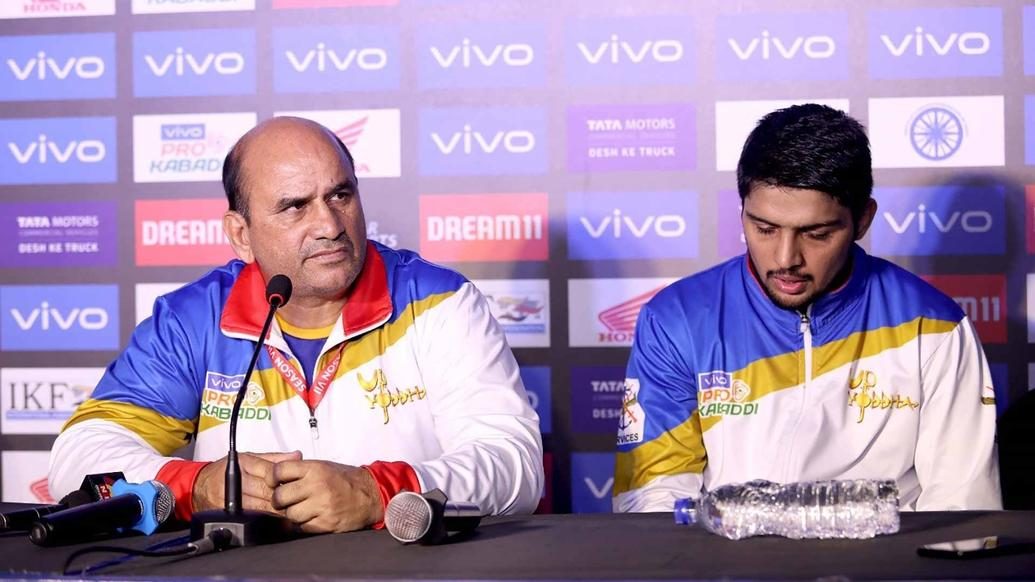 U.P. Yoddha's assistant coach was delighted by his team's performance against Gujarat Fortunegiants.
A Super 10 from raider Sachin and a High 5 from skipper Sunil Kumar went in vain as Gujarat Fortunegiants were beaten by a scoreline of 33-26 at the Netaji Subhash Chandra Bose Indoor Stadium in Kolkata on Monday. At the post-match press conference, U.P. Yoddha's assistant coach Arjun Singh and skipper Nitesh Kumar took questions for their side, while Gujarat Fortunegiants were represented by coach Manpreet Singh and captain Sunil Kumar.
U.P. Yoddha
Q. Coach, thoughts on the win?
Arjun Singh: We were in complete control throughout the match. We planned to play cautiously at the start because we knew Gujarat Fortunegiants will try to force the issue when we went in to raid and made some advanced tackles that we could benefit from.
Q. Same question for you, Nitesh.
Nitesh Kumar: We had planned to adopt a defensive approach and it worked brilliantly in our favour. The raiders, too, were scoring with relative ease. We made an error at the start of the second half and that gave them a chance, but we tightened the defence up in the final quarter and got the job done.
Q. Coach, plans for the upcoming games?
Arjun Singh: As long as we avoid injuries, we will have a good run of results. We have a talented team. Rishank (Devadiga) has just returned from injury and is performing well. Monu (Goyat) is close to full fitness. If we can keep these guys healthy, we will certainly enjoy a good run.
Gujarat Fortunegiants
Q. Coach, thoughts on the result?
Manpreet Singh: They played better in offence and defence. And the result is evident from that.
Q. How will you be preparing for your next game?
Manpreet Singh: We have almost a week before the next match. So, we will work on eliminating the errors and work on not repeating them in the upcoming games.