pkl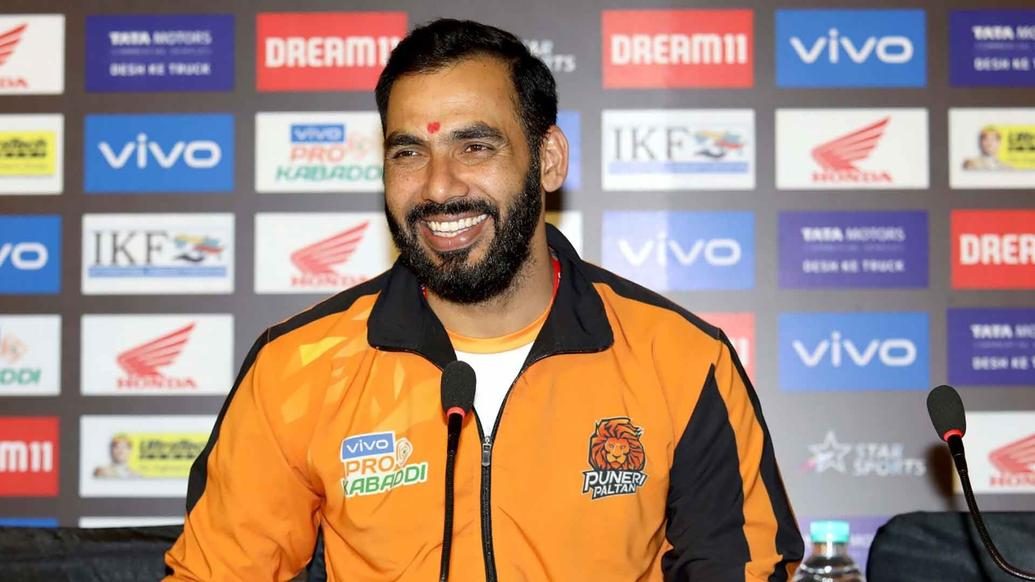 The Puneri Paltan coach tipped Pankaj Mohite to have a bright future.
Puneri Paltan and Telugu Titans took centre stage in the highest-scoring game in vivo Pro Kabaddi history at the Tau Devilal Sports Complex in Panchkula on Thursday. In the end, Puneri Paltan shaded the contest 53-50 as Telugu Titans fought till the final whistle but couldn't prevent the loss, and their subsequent exit from the playoffs race. Puneri Paltan's coach Anup Kumar spoke to reporters at the post-match press conference.
Puneri Paltan
Q. Coach, what are your thoughts on the game?
Anup Kumar: The match was good, the team played pretty well today. If we look at Telugu Titans, then we can see that they didn't even play their main team. It would be nice if Vishal Bhardwaj and Abozar Mohajermighani had played but Siddharth Desai was playing and we tackled him at the start, which helped the confidence of our defence.
Q. Thoughts on the performance of your players?
Anup Kumar: Look even though we are out of the playoffs race, I told my players at the start of the game that it's time to play, so go out there and prove yourselves. I told them forget about the playoffs, go out there and play for your pride. There's no use thinking what's the point of playing now that we are out of the playoffs. We must play for ourselves and play for our fans who come to support us in the stadium. And hopefully climb up the standings, which will be good for us.
Q. What do you make of Pankaj Mohite's season?
Anup Kumar: Pankaj Mohite has played well. He didn't start many games in the beginning of the league as we opted to mostly use him from the bench. He has delivered for us whenever he has been given an opportunity. There are similarities between Naveen Kumar's performances last season and Pankaj Mohite's performances this campaign. I feel Pankaj will have as big an impact next year as Naveen is having in the ongoing season.
Q. Confident going into the next match against U.P. Yoddha?
Anup Kumar: I feel that we will beat U.P. Yoddha in our next game. They have a good defence and Shrikant Jadhav has been playing well this year. The three main players for them are the two Corners and Shrikant. If those players perform, it will be difficult for any team, not just us. If we can get the better of their defence and tackle Shrikant early on, then we can beat them.
Q. What do you make of your former teammate Rishank Devadiga's performances this year?
Anup Kumar: Rishank is a quality player but he's had to endure several injuries over the last two years and continuous injuries affects the confidence of players. He just needs someone to motivate him and give him the necessary confidence because he's still a very good player.