pkl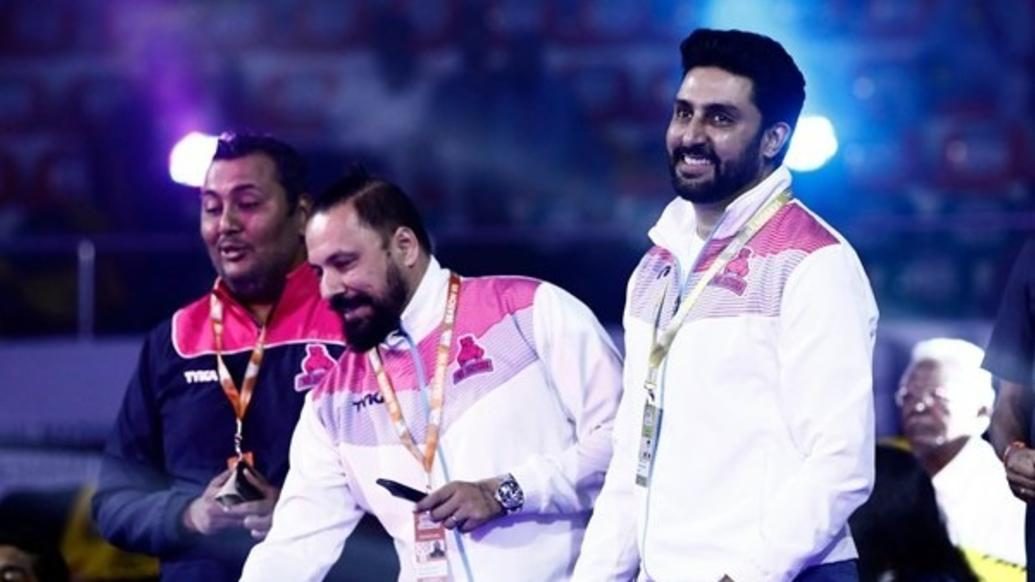 Abhishek Bachchan's role has been pivotal in shaping the young Jaipur Pink Panthers brigade in vivo Pro Kabaddi, feels Amit Hooda.
"Abhishek Bachchan sir has always treated the players in the team like his younger brothers," explained Amit Hooda when speaking about the Jaipur Pink Panthers franchise owner in an exclusive interview with Prokabaddi.com.
Associated closely with vivo Pro Kabaddi since its inception, Abhishek Bachchan is known to wear his heart on his sleeve when it comes to watching his team's matches. But behind the scenes, Amit Hooda explained that the Bollywood star ensures his team doesn't feel the least bit intimidated by him.
"The way he gets along with the team members, sometimes it feels like he's one of our senior players and not the owner," said Hooda with a smile. "Right from joining us at the dining table to coming along to the airport in the team bus, Abhishek sir makes sure we feel like we are all a part of the same Jaipur Pink Panthers family."
While Abhishek Bachchan's expectations in terms of performance from his players are always sky-high, Amit Hooda explained that he also goes out of his way to maintain a good rapport with each and every player, by getting to know them personally, even off the mat.
"When we are on the road, we always share a good laugh," remarked Hooda. "And his motivational pep talks before the start of the game get us charged up and raring to go."
One such pep talk that the national film award-winner gave the team, Amit Hooda said, has stayed with him to this day.
"He reminded us that people become fans of what they see on the mat, but they remain your fans owing to what you do in training. The harder you toil in practice sessions, the more fans will remember you for your game when you step in to play. It's more than just about him or the team. The biggest reason to toil is to leave behind a legacy which people will remember for years to come."
Amit Hooda also shed light on the phrase 'once a Panther, always a Panther' which caught the audience's attention in the recent documentary series, Sons of the Soil, based on the Jaipur Pink Panthers franchise. According to the defender, it is a motto which Abhishek Bachchan stands by whole-heartedly.
"Abhishek sir goes out of his way to help the team members even if they are struggling with any personal issues. Even for the two seasons I wasn't with the franchise he used to treat me just like a family member. He is truly a man of his word," Amit Hooda stressed.