pkl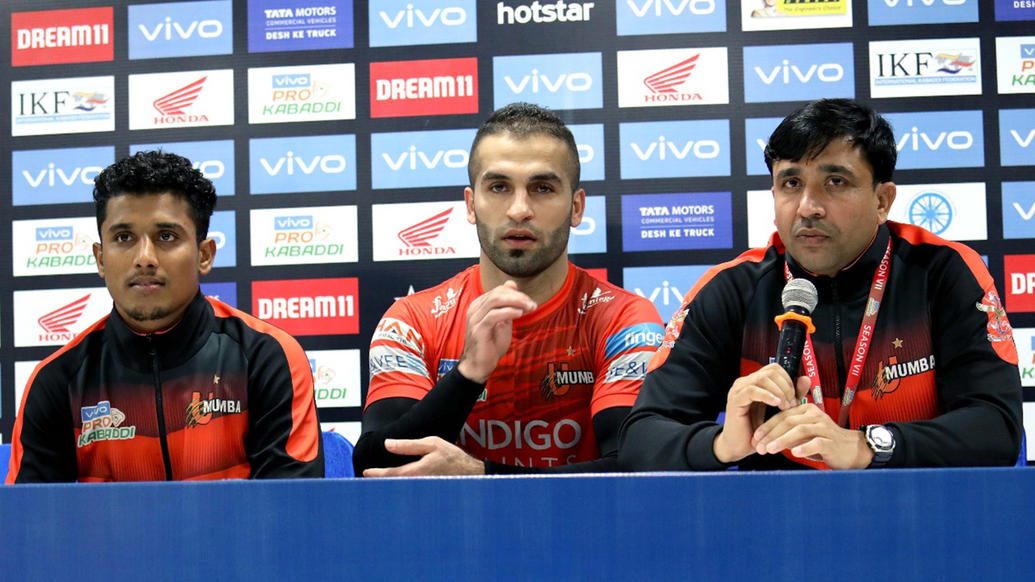 The rookie raider credited coach Sanjeev Baliyan and skipper Fazel Atrachali for his brilliant performance.
Stellar performances from raider Ajinkya Kapre and skipper Fazel Atrachali guided U Mumba to a 39-33 victory over Haryana Steelers at the Shaheed Vijay Singh Pathik Sports Complex in Greater Noida on Thursday. At the post-match press conference, U Mumba's assistant coach Upendra Kumar, captain Atrachali and raider Kapre took questions for their side, while coach Rakesh Kumar and stand-in skipper Vikash Kandola represented Haryana Steelers.
U Mumba
Q. What was the strategy after the All Out?
Upendra Kumar: The All Out did not give them a substantial lead. It was pretty close despite the All Out. We decided to play our usual defence and give chances to some of our reserve raiders. We wanted to test the mettle of those that haven't played much this season and they performed well. The defence was outstanding and so was the raiding unit. Ajinkya Kapre was phenomenal.

Q. Will the performance of Kapre give you a selection dilemma in the upcoming matches?
Upendra Kumar: Not really. We know who our first-choice raiders are. But when someone performs this well, you cannot overlook that. We now know that we can bring him off the bench if we need to score some points. We gave him a chance and he showcased his abilities.

Q. Ajinkya, was there pressure on you to perform?
Ajinkya Kapre: There's pressure in every game, but the coach and captain were very supportive. They gave me the license to express myself and told me not worry about the match situation and just play to my strengths and do as I please during raids.

Q. Fazel, you scored your 300th tackle point today. Thoughts?
Fazel Atrachali: I did not know that. Thank you. It's a great feeling to be able to reach that milestone. I have had the privilege to play with and against some of the best kabaddi players in history. Players from around the world dream of playing in vivo Pro Kabaddi and to live it is a great feeling. But the most important thing is the team's qualifications to the playoffs. Everyone had doubts about our raiding unit, but some of the league's best won't be playing in the playoffs but we will be. So that is more important than individual records.
Haryana Steelers
Q. Coach, what happened in the second half?
Rakesh Kumar: Last game of the league stage, so the players were seemingly a bit switched off in the second half. Our defence made a few advanced tackles and the raiders couldn't pick up points. Had we enforced another All Out, we would have won the match. But, I'm content with the performance that I saw in the first half and I believe that is a more accurate depiction of our level right now than the second half.

Q. Do you feel the team has lost a bit of momentum?
Rakesh Kumar: Not really. The raiders have been playing well. The defence needs a little fine tuning. Like I said, this match wasn't that important to us. We rested key players like Prashanth Kumar Rai and our captain Dharmaraj Cheralathan for this game because we wanted them to be fresh for the playoffs. We have a good break before our playoffs match. We will work hard on our defence and be ready for whichever team we are drawn against.

Q. Vikash, are you feeling a little under pressure as the lead raider?
Vikash Kandola: Not really. I thrive under pressure. I've just made a few uncharacteristic mistakes in the past few games but I'm sure I'll be able to rectify that in the coming matches.