pkl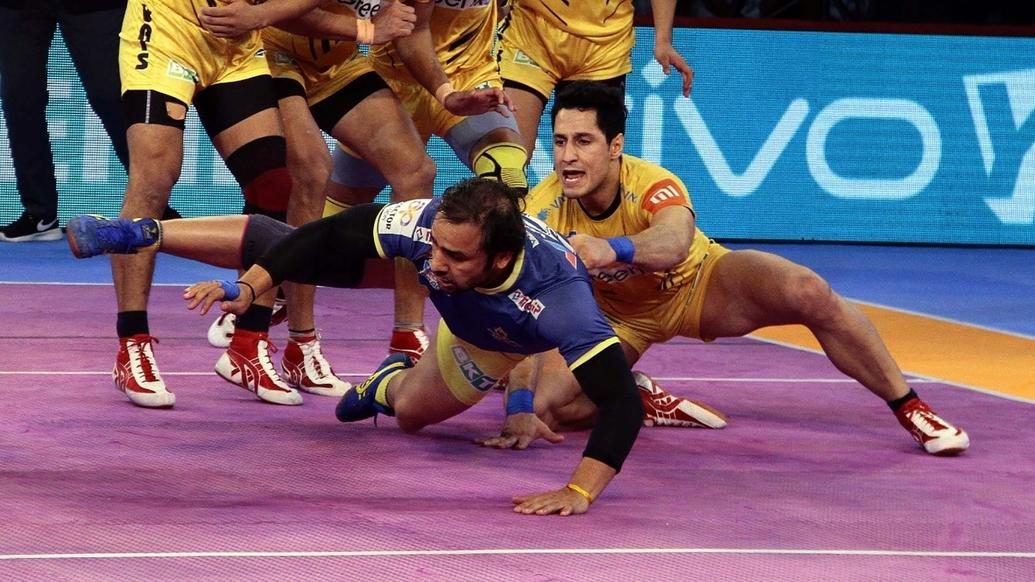 Tamil Thalaivas recorded a second-victory over Telugu Titans this season at the Shree Shiv Chhatrapati Sports Complex in Pune on Monday. Representing Tamil Thalaivas at the post-match press conference were captain Ajay Thakur and coach E Bhaskaran. Taking questions for Telugu Titans were captain Vishal Bhardwaj and coach K Jag Mohan.
Tamil Thalaivas
Q: What do you have to say about today's game?
E Bhaskaran: On days when both, our offence and defence work, we inevitably play well. We have three to four very experienced players in our lineup and the youngsters are complementing them very well. The team is slowly gaining momentum with the youngsters playing their part as well. We hope to do well towards the final stages of our league campaign.
Q: How would you describe Manjeet Chhillar's role in your team?
E Bhaskaran: Manjeet Chhillar's role is to control the defence. At times, he helps Ajay Thakur and the offence as well by giving them tips on how to go through a particular raiding situation. Thakur usually follows that and takes the game ahead accordingly. It is very important for Chhillar to stay on the mat for as long as possible as he is key to our strategies.
Q: What were the positives from today's game?
Ajay Thakur: Our defence especially, they played very well. Ponparthiban Subramanian stepped up in the absence of Amit Hooda. Even though he wasn't playing Hooda's position, Subramanian understood what was needed of him today and executed it very well. We need to win every match if we want to have a go at the Playoffs, and the win today gave us a lot of confidence. We stepped onto the mat with the thinking that we don't want to commit any mistakes no matter what and we were successful at doing that.
Telugu Titans
Q: What went wrong in today's game?
Vishal Bhardwaj: Before half-time, our defence was very weak. We expected too much off our raiders. Once they built up a lead, our raiders came under pressure and hence got tackled at wrong situations. Manjeet Chhillar played excellently today. He tackled very well and when it was required of him, delivered in the offence as well. He was their X-factor today and unfortunately, we couldn't close the game out.
Q: What are your strategies going ahead?
Vishal Bhardwaj: We need to sit down and plan firstly. We will improve the mistakes we have been committing since the past few games. We will plan to keep this momentum going in the matches going forward.
Q: Do you think Rahul Chaudhari's absence for much of the game hampered with your plans?
K Jag Mohan: Rahul Chaudhari is an important raider for us. He was kept off the mat for more than 20 minutes today. Usually, he stays on the mat and guides the team and performs as is required of him. Each department didn't quite work out well for at least a half today and, more often than not, were not exactly successful in reviving our players.