pkl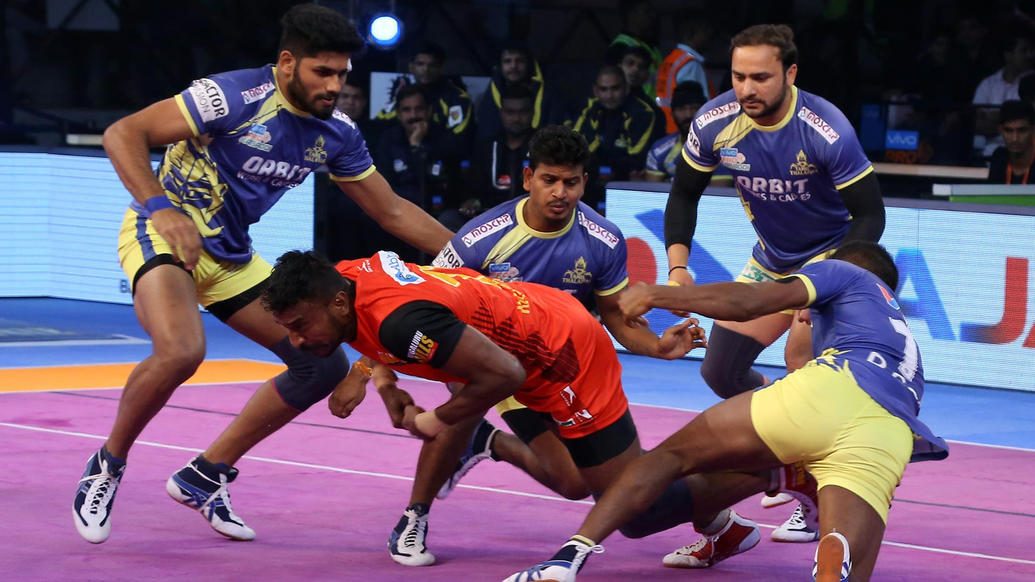 Adake scored 12 points while Sehrawat scored 16 to help Bengaluru Bulls defeat Tamil Thalaivas 44-35.
Kashiling Adake and Pawan Kumar Sehrawat starred in Bengaluru Bulls' 44-35 victory over Tamil Thalaivas in the Southern Derby rematch at the Motilal Nehru School of Sports, Rai in Sonepat on Wednesday. Both raiders finished with Super 10s as Adake scored 12 total points from the game while Sehrawat scored 16.
Kashiling Adake started things off with a Super Raid in just his first raiding effort and reduced Tamil Thalaivas to just 3 men on the mat. He and Bengaluru Bulls' hero from the previous match, Pawan Kumar Sehrawat, soon used that advantage to inflict an early All-Out on Tamil Thalaivas in just the 5th minute.
Check out the photos from the match here.
As Tamil Thalaivas assembled back on the mat, Bengaluru Bulls sent back Ajay Thakur in just the first raid before Sehrawat put in a 4-point Super Raid to bring the score to 14-3. A Super Tackle by Amit Hooda on Sehrawat brought back some hopes of a Tamil Thalaivas turnaround but Adake, who was unstoppable on the night brought about another All-Out, bringing the score to 20-7 in the 11th minute.
Tamil Thalaivas then brought in Athul MS for Surjeet Singh who put in two successful raids in two attempts to test the Bengaluru Bulls defence. Between the 16th and 20th minute, Tamil Thalaivas managed to score 4 points while conceding only one to finish the half trailing Bengaluru Bulls 14-25.
Thakur and Sehrawat both started the second half with successful raids but with Bengaluru Bulls having just 3 men on the mat Thakur managed to inflict their first and only All-Out of the game on them and bring down the point difference to 9.
Tamil Thalaivas put on a strong fight from there but Sehrawat kept Bengaluru Bulls ahead in the match even with Rohit Kumar and Kashiling Adake on the bench. He brought up his Super 10 with a bonus point; his second in two matches.
Visit the matchcentre to relive the contest here.
Both teams matched each other point-by-point from there as Tamil Thalaivas managed two Super Tackles on Anand V to keep their team from falling to an All-Out. However, Bengaluru Bulls maintained a firm hold over their lead to win the game by 9 points.