pkl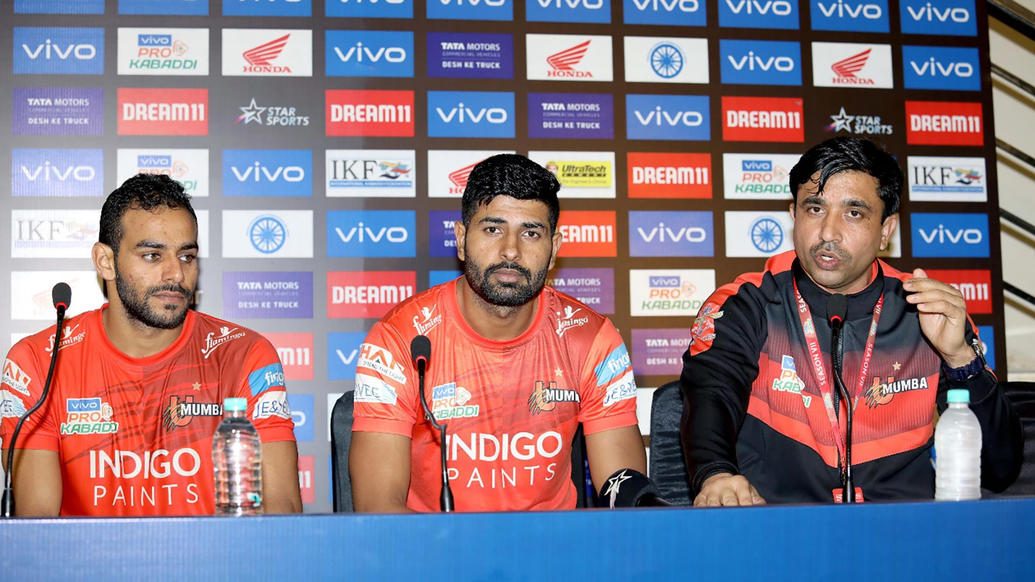 U Mumba's assistant coach and Abhishek Singh stressed the importance of the win against Tamil Thalaivas.
U Mumba held on to their first-half lead and saw off a strong Tamil Thalaivas fight to win 36-32 at the Tau Devilal Sports Complex in Panchkula on Monday. V Ajith Kumar scored 16 raid points for Tamil Thalaivas but was unable to get his team over the line. At the post-match press conference, assistant coach Upendra Singh, Abhishek Singh and Rohit Baliyan took questions for U Mumba, while Tamil Thalaivas' coach J Udaya Kumar represented his side. Some excerpts are below.
U Mumba
Q. Coach, thoughts on the match?
Upendra Singh: This was a big match for the team. Two of the remaining matches are against Dabang Delhi K.C. and Haryana Steelers, who are table-toppers. Had we lost today, we would have been low on confidence going into those matches. We now need to win one more to qualify and we will try to ensure we don't keep it till the end.

Q. Same question to you, Abhishek?
Abhishek Singh: This match was important given the context of the standings currently. So, I wanted to perform well in this match. Now our road ahead has become easier. We had planned to win all our remaining matches going into the playoffs and now we are well on our way to that.

Q. How do you feel about your Super 10?
Abhishek Singh: I am happy with the fact that we won. Scoring Super 10s is pointless if your team does not make it over the line. What matters is who is able to ensure that their team ends up winning the match.
Tamil Thalaivas
Q. Thoughts on V Ajith Kumar?
J Udaya Kumar: He had performed well in other tournaments earlier, but he finally got a chance to perform on the big stage this season with Tamil Thalaivas. Despite that, he was on the bench for the first few matches. He got a chance only when some of our frontline players were not performing. I feel that he is being overused now. If he gets some good support, then he can perform even better.