A mammoth second half hands Bengal Warriors a win over Bengaluru Bulls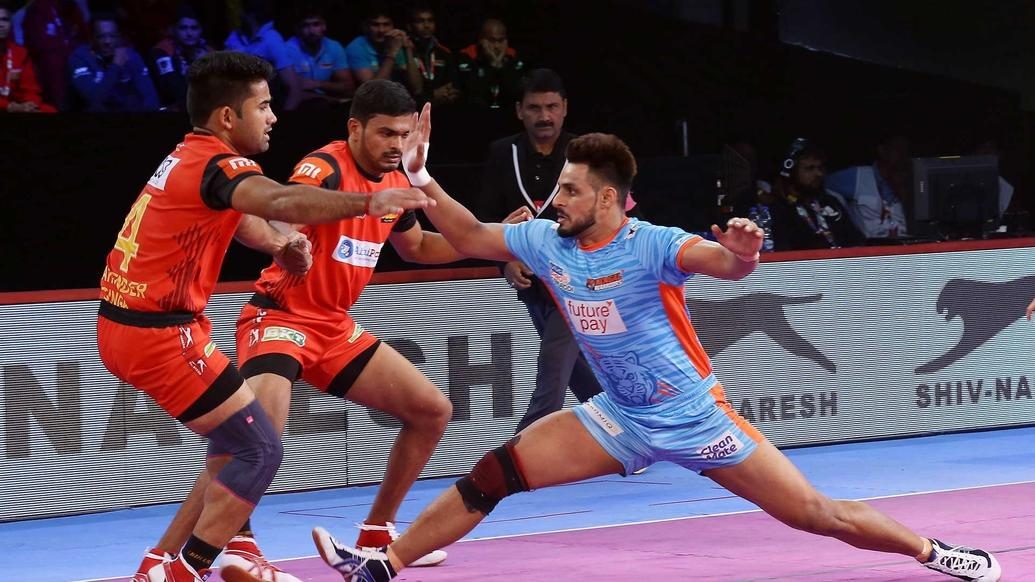 Three All-Outs en route to scoring 32 points in the second-half propelled Bengal Warriors over Bengaluru Bulls by a scoreline of 44-37 in the final match of the Bengaluru Bulls' home leg at the Shree Shiv Chhatrapati Sports Complex in Pune on Thursday. Maninder Singh stole the limelight with 17 raid points in what was an absolutely stunning display from the raider.
After two early raid points from Maninder Singh, Bengaluru Bulls went on a run of eleven straight points in the first 10 mins, with contributions from both the defence as well as offence. The defence, especially, were magnificent against Bengal Warriors' raiders with Amit Sheoran and Ashish Sangwan getting a tackle point each and Raju Lal Choudhary contributing two to their team's score. Rohit Kumar scored two raid points during this run and got the touch point that inflicted the All-Out on Bengal Warriors.
Check out the photos from the match here.
But in the 12th minute of the half, Ravindra Ramesh Kumawat scored a two-point raid and completely turned the course of the contest. Mahesh Goud scored two quick points in two raids and captain PO Surjeet Singh scored Bengal Warriors' first tackle point of the night as they reduced the deficit down to seven. Maninder Singh continued his good work on the night as Bengal Warriors kept stamping their authority over the contest. Harish Naik scored the final point of the half with a successful bonus point attempt as the teams headed into the half with Bengaluru Bulls leading 19-12.
The second half started with Naik scoring a bonus point yet again. But Maninder Singh's touch point on Sheoran left a solitary man on the mat for Bengaluru Bulls. Bengal Warriors inflicted an All-Out through Ran Singh and cut Bengaluru Bulls' lead to just five.
Bengal Warriors showed no signs of slowing down from there, with Maninder Singh scoring a two-point raid and Kumawat matching the star raider with a two-point raid of his own, handing Bengal Warriors five straight points and levelling the score. Kumawat and Maninder then reduced Bengaluru Bulls down to just two men and soon inflicted a second All-Out in just under six minutes of the first to take a 27-24 lead in the match.
In the 31st minute, Maninder Singh put in a Super Raid and reduced Bengaluru Bulls down to just two men. He got those two as well in his next attempt to inflict a third All-Out in 10 minutes on Bengaluru Bulls and give his side a 38-28 lead.
Visit the matchcentre to relive the contest here.
With the score at 44-34 in the 39th minute, Bengal Warriors went into time management mode and allowed Bengaluru Bulls to score two quick raid points courtesy of Rohit Kumar and Pawan Kumar Sehrawat. With the final raid of the match being a Do-Or-Die one, Maninder Singh put in an empty raid, handing Bengaluru Bulls a point, leaving their deficit at seven. This gave Bengaluru Bulls a solitary point from the match.
Top Performers:
Bengal Warriors
Best Raider: Maninder Singh (17 Raid Points)
Best Defender: Surjeet Singh (4 Tackle Points)
Bengaluru Bulls
Best Raider: Rohit Kumar (9 Raid Points)
Best Defender: Ashish Sangwan (2 Tackle Points)