pkl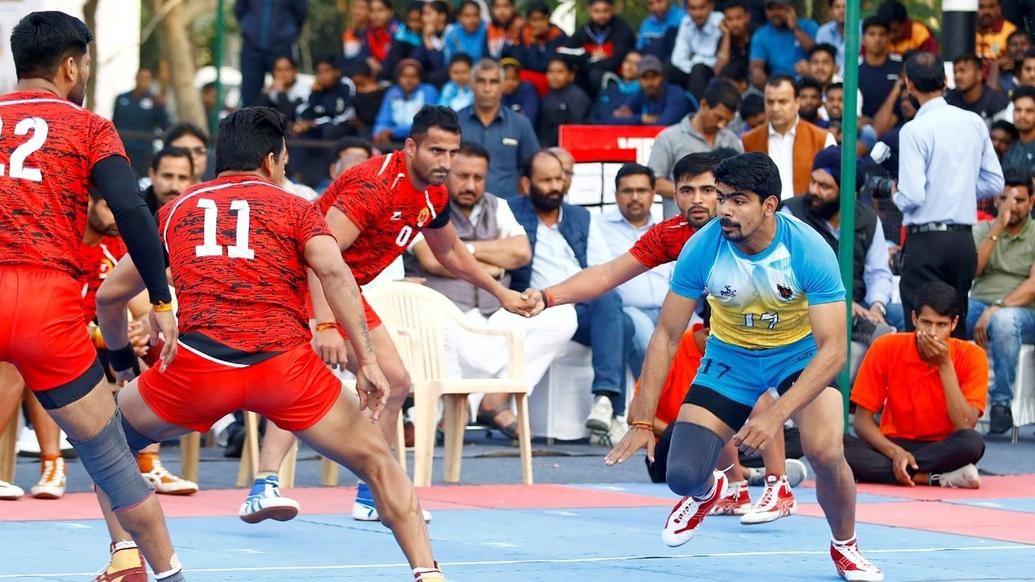 Pawan Sehrawat and his Indian Railways side narrowly edged out Services 29-27 in a thrilling final.
A scintillating back-and-forth battle ended with Indian Railways narrowly edging out Services 29-27 to win their second straight title at the 67th Senior National Kabaddi Championship held at the Poornima University in Jaipur.
Pawan Sehrawat orchestrated an Indian Railways comeback after they trailed by nine points and their experienced defence closed the game with a stellar display towards the end to win the title for their side.
Services got off to a bright start with raiders Nitin Tomar and Rohit Kumar finding their rhythm early and Cover Mahender Singh pinning down both Sehrawat and Rohit Gulia. Soon, Naveen Kumar too got in on the act and picked up a raid point off three successful raids, helping Services inflict the game's first All-Out and take a 12-6 lead in the contest. Services added three more unanswered points to their score, but Indian Railways finished the half stronger and went into the break trailing 11-17.
With the raiding unit struggling to fire, Indian Railways' veteran defence came to the fore. Ravinder Pahal, Dharmaraj Cheralathan and Sunil Kumar scored four tackle points amongst themselves to start the half, leaving Services with just two men on the mat. Pawan Sehrawat sensed the opportunity and grabbed it both hands, helping his team inflict an All-Out and take the lead for the first time in the match.
Pawan Sehrawat, having found his groove, picked up five raid points in his next four raid attempts as Indian Railways threatened to pull away on the score board.
Surjeet Singh's Super Tackle on Pawan Sehrawat, and a tackle point each from Mahender and Sandeep cut Services' deficit back down to 3.
The defence on both sides dominated and did not allow a single raid point while adding three apiece to their team's score as the scores remained level with a little over two minutes left in the contest. Sandeep's tackle on Pawan Sehrawat followed by Naveen's touch point on Parvesh Bhainswal left Services trailing by just a solitary point.
In the penultimate raid of the contest, Naveen Kumar went in to try and level the scores for his side, but Right Corner Ravinder Pahal showcased all his experience and pinned down the raider to push his team's lead to two, with time left for just one more raid. Rohit Gulia wisely went in, crossed the baulk line, saw time tick off before returning to his team's half, confirming their victory and their second straight title at the 67th Senior National Kabaddi Championship.
Indian Railways:
Best Raider – Pawan Sehrawat (7 Raid Points)
Best Defender – Sunil Kumar (3 Tackle Points)
Services
Best Raider – Naveen Kumar (7 Raid Points)
Best Defender – Sandeep (6 Tackle Points)