pkl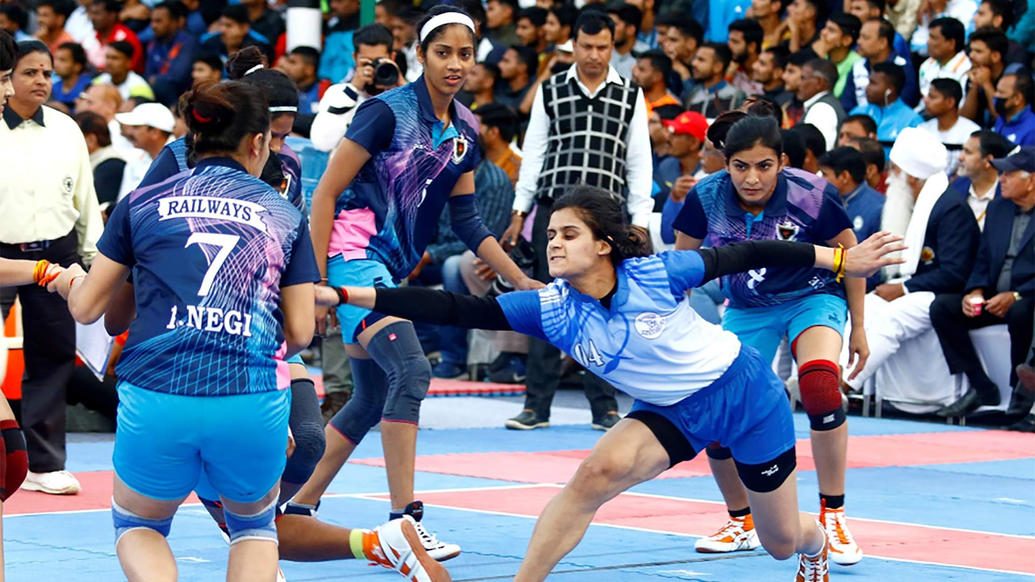 While Indian Railways, Haryana and Himachal Pradesh registered comfortable wins, Jharkhand had to dig deep.
Day 4 at the 67th Senior National Kabaddi Championship held at Poornima University in Jaipur saw the conclusion of the women's round-of-16 and quarterfinals. Defending champions Indian Railways and last year's beaten finalists Haryana eased in the final four of the competition and will be joined by Himachal Pradesh and Jharkhand.
The results from all the fixtures from the penultimate day of the 67th Senior National Kabaddi Championship are below.
Indian Railways vs Goa
Indian Railways reached the quarterfinals after a tough battle against Punjab, where they eventually emerged victorious in by a scoreline of 31-26. The two teams were evenly matched for majority of the contest, however, some excellent raiding from Pooja, who led Indian Railways in scoring with eight raid points, and sturdy defending helped them see off Punjab.
Goa made it to final eight after beating Chandigarh 50-36 in a high-scoring encounter. Three players in the Goa side – Sakshi, Bindu and Neha Ghadge – scored Super 10s for their side, while Sakshi also contributed six tackle points in an authoritative display.
In their quarterfinal match, Indian Railways inflicted an All-Out in just the fourth minute of the contest, building an eight-point lead. They continued to pile on the points on the scoreboard, with raiders Sonali Shingate and Pavel Chowdhury scoring with ease and adding to their team's lead. In the end, it was a comfortable 51-21 victory for Indian Railways, who advanced to the semifinals.
Jharkhand vs Bihar
A Super 10 from Akshima and a High 5 from Poonam saw Jharkhand beat Uttar Pradesh 33-27 in their round-of-16 encounter. Jharkhand were in control of proceedings for majority of the contest but had to see off a late surge from Uttar Pradesh to enter the quarterfinals.
On the other hand, Bihar entered the quarterfinals after a magnificent display against Orissa, winning the match 39-10. Bihar's Sonia scored a Super 10 as well a High 5 for her side, while Meena Bazzad and Harpreet Kaur contributed five points each in a lopsided contest.
In their quarterfinal match, Jharkhand raced to 9-2 lead, but Bihar responded in strong style, scoring 11 of the next 12 points to take a 13-11 lead in the contest. The scores remained tight between the two late in the second half, but a 6-2 run from Jharkhand put them in the ascendancy in the contest. They held their nerve to maintain their four-point advantage and won the match 26-21 to advance to the semifinal.
Haryana vs Rajasthan
Haryana entered the quarterfinals after an inspired display from Sakshi Kumari (11 raid points and four tackle points) and a Super 10 from Priyanka saw them beat Delhi 38-21 in their round-of-16 battle.
Home side Rajasthan, too, were excellent in their pre-quarterfinals match against Andhra Pradesh, beating them 45-24 owing to a Super 10 from Renu and eight points from Nirma Kaswan.
In the quarterfinal, Rajasthan suffered an early blow, as a four-point Super Raid followed by a tackle point from Priyanka set up an All-Out which gave Haryana a 10-point lead early in the contest. Despite Rajasthan's best efforts, Haryana maintained their healthy lead for the majority of the contest, before extending their advantage late into the second half. Haryana managed the contest well in its dying moments and advanced to the semis with a 40-27 victory over the home side.
Chhattisgarh vs Himachal Pradesh
Chhatisgarh made it to the quarterfinals after seeing off Tamil Nadu 34-27 in the round-of-16. Raider Chhaya led her team in scoring with 12 raid points and received good support from Maino Kunjam who score five points. The remaining five starters scored three points each, helping their side enter the quarterfinals.
Himachal Pradesh continued their stellar form in the competition and beat West Bengal 41-20 in the round-of-16 to set up a quarterfinal match against Chhattisgarh. Raider Nidhi Sharma was yet again the star of the show, scoring nine raid points. Pushpa and Bhavna Devi scored six points each in what was a complete team effort from the Himachal Pradesh side.
Chhattisgarh and Himachal Pradesh remained within touching distance of each other on the scoreboard at the end of the first half in their quarterfinal match, but an All-Out early in the second half gave Himachal Pradesh a commanding 18-9 lead in the contest. Chhaya continued to pick up points for Chhattisgarh but Sharma matched her point-for-point and ensured that Himachal Pradesh maintain their foothold in the contest. Chhattisgarh continued to give it their all till the very end, but it just wasn't their day, as it was Himachal Pradesh who made it to the semifinals with a 32-20 victory.