pkl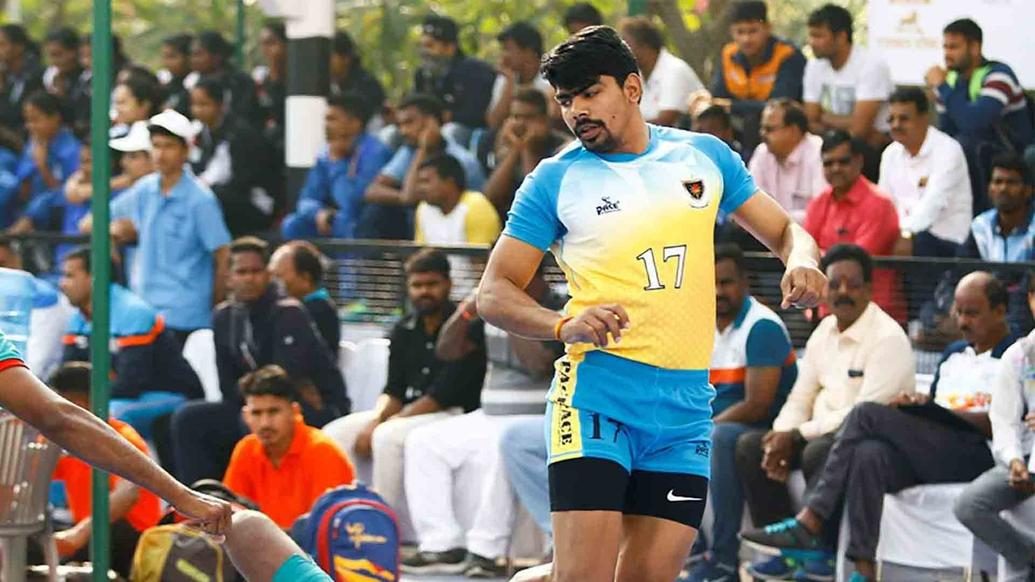 The defending champions managed to win both their matches thanks to some stellar performances all around.
The defending men's category champions Indian Railways turned on the style and registered comfortable wins in both their matches at the 67th Senior National Kabaddi Championship held at the Poornima University in Jaipur on Tuesday.
In Match 16, Muhammad Mansoor's 20-point Super 10 was overshadowed by Virendra Singh's 24-point showing as Kerala defeated Chhattisgarh 65-43 in a high scorer that yielded more than 100 points overall.
On a day where Pawan Sehrawat scored 14 raid points in his two matches, here's a summary of the results from Day 2 in the men's draw of the 67th Senior National Kabaddi Championship:
Punjab vs Assam
A High 5 from defender Jaskirat Singh helped Punjab make short work of Assam and win 52-19 in Match 12.
Indian Railways vs Jharkhand
Indian Railways put in a stellar show on Day 2 as they conceded only 7 points while scoring 37 against Jharkhand to win their tie. Rohit Gulia (9 raid points) and Parvesh Bhainswal (3 tackle points) were instrumental in Indian Railways' win. Pawan Sehrawat managed 8.
Delhi vs Goa
Delhi survived a tough fight from Goa to register a 38-32 win in Match 14. Amit Nagar led the Delhi raiders by scoring a Super 10 while Ashish returned a High 5.
Pondicherry vs Tripura
Kaushik Chandra's High 5 went in vain as Tripura went down to Pondicherry 36-11 in Match 15 riding on Viyasamuni's 8 raid points.
Rajasthan vs Orissa
Coming off the bench, substitute Brijendra Chaudhary scored a Super 10 to take Rajasthan home against Orissa by a 54-13 scoreline.
Uttaranchal vs West Bengal
Ajay's Super 10 was enough to take Uttaranchal home by a comfortable 62-38 scoreline against West Bengal in Match 19.
Services vs Assam
Services were in dominating form on Tuesday as they easily overcame Assam's challenge to win 67-13 in Match 20. Substitutes Sahil and Sachin Narwal managed to score Super 10s and overshadow regular starters like Naveen Kumar and Nitin Tomar on the day.
Himachal Pradesh vs Jammu and Kashmir
An excellent combined effort from all the players from the starting 7 to the substitutes saw Himachal Pradesh defeat Jammu and Kashmir 44-19 in Match 21. Amandeep Singh's High 5 was the only notable contribution from the Jammu and Kashmir camp as Himachal Pradesh stifled the team for points.
Delhi vs Tamil Nadu
A closely fought encounter between Delhi and Tamil Nadu saw the team from the south emerge victorious by a 35-29 scoreline in Match 22.
Pondicherry vs Vidharbha
Jayakumar's Super 10 helped Pondicherry pick up their second victory of Tuesday as they overcame Vidharbha 55-34 in Match 23.
Kerala vs Madhya Pradesh
Madhya Pradesh managed to narrowly edge out Kerala 45-41 thanks to a superlative all-round performance by Yashwant Yadav and Manoj Kumar's Super 10.
Indian Railways vs Gujarat
The Indian Railways express chugged on against Gujarat, managing a 33-16 victory in Match 25 on Tuesday. Rohit Gulia top-scored with 9 points, while Pawan Sehrawat managed 6 for the victors.
Bihar vs Chandigarh
The only tied match of Tuesday saw Bihar hold back Chandigarh's march and keep them to down to a 29-29 result.
Punjab vs Kerala C Direction
Kerala C Direction's defence took their team home against Punjab by a 35-33 scoreline in a match where both teams managed exactly the same number of raid points (19).
Maharashtra vs Manipur
Maharashtra easily overcame Manipur by a 46-17 scoreline to strengthen their position in the 67th Senior National Kabaddi Championship leaderboard on Tuesday.
Haryana vs Goa
Pardeep Narwal (7 raid points) combined with the defensive might of Sandeep Narwal (5 tackle points) to ensure an easy victory for Haryana against by a 47-16 scoreline.
Where to follow the 67th Senior National Kabaddi Championship
The 67th Senior National Kabaddi Championship will continue on Wednesday. Fixtures, schedules and live matchcentre for both the men and women categories are available here.