pkl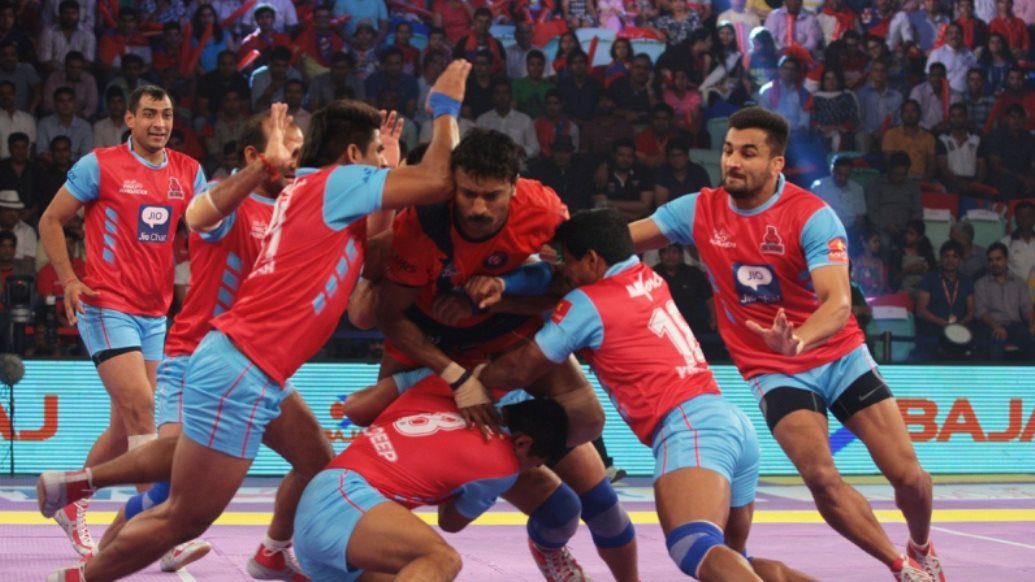 The Jaipur Pink Panthers roared aloud as their star all-rounder Rajesh Narwal turned in the best individual performance of the season to help inflict upon Dabang Delhi, a crushing defeat with the final scoreline of 51-21. This 30 point victory is the highest win margin so far. At the Thyagaraj Indoor Stadium, Rajesh, the stocky Haryanvi lad, scored 15 raid points and with another three in defence, dominating the proceedings. At half-time the winners had a commanding lead at 22-9. It was a sweet revenge extracted by the Panthers who had lost 26-35 to the Dabangs while playing at home.
Rajesh had splendid support from Captain Jasvir Singh who had nine raid points to his credit. The two combined to inflict five all-outs on the Dabangs which is another record. This important victory takes the Panthers to 26 points in 10 matches to displace Patna Pirates who have 25 in 11 matches. With just 23 points in 11 matches, the Dabangs' chances of making it to the last four have suffered a setback, as they can at the most take their tally to 38 provided they win all the remaining matches.
Dabang Delhi managed to remain within striking distance before conceding the first all-out at 6-13 by the 14th minute. The hosts managed to inflict a super tackle on Jasvir and Rajesh once as Kashiling and rising star Rohit Choudhary faltered initially. In fact Rohit's inability to breach the rival defence hit the Delhi side badly. By the time they thought of replacing him with Amit Singh midway through the second half the deficit had climbed up to 12-31.
The Panthers did not have such problems as both Jasvir and Rajesh made up for Sonu Narwal's inabilty to perform well today. Rajesh made up for Sonu by getting two in one raid to follow it up with the only super raid of the match. Jasvir impressed the most when he came up with two back to back raids that yielded two points each. The second was important because he got the third all-out to make it 40-15 by the 32nd minute.
From then on, Jaipur Pink Panthers looked keen not to lose their momentum. This time, two back to back assaults by Rajesh with a super raid and a two pointer brought about the fifth all-out for Delhi and an assured win for the defending champions.
After the biggest win in terms of point margin in Season 2 of Star Sports Pro Kabaddi, captain Jasvir Singh was very happy at the post match press conference. "Our team played very well. The defence as well as the offence was in tandem. We played to a plan and both the defenders and raiders were on fire. Sonu and Rajesh Narwal were heroes today. They completely took the pressure off me."
Looking ahead to the shift in the table, Jasvir emphasized their focus on the play-offs. "Our target is the semi-finals in Mumbai and with every victory we are inching closer."
When asked about his rivalry with rival Kashiling Adake on the Dabang Delhi team, Jasvir was extremely professional. "We play as a team and there are no individual battles. Kashi is my teammate and we played like two competitors on the court today."
Regarding Navneet Gautam's absence from the last few matches for Jaipur Pink Panthers, Jasvir reiterated his support for him. "My captain is Navneet Gautam. He is injured but he will be back soon. I take all advice from him and we make all strategies together. We are the champions and he is my captain."
MATCH 40 – DABANG DELHI VS JAIPUR PINK PANTHERS
| | | |
| --- | --- | --- |
| No. | Award | Player/Team |
| 1 | TVS best raider of the match | Rajesh Narwal (Jaipur Pink Panthers) |
| 2 | Bajaj electrical inspiring defender of the match | Rajesh Narwal (Jaipur Pink Panthers) |
| 3 | Dabang delhi moment of the match | Rajesh Narwal (Jaipur Pink Panthers) |
| 4 | VIP frenchie big impression player of the match | Jasvir Singh (Jaipur Pink Panthers) |
| 5 | Flipkart audience ki wish player of the match | Jasvir Singh (Jaipur Pink Panthers) |