pkl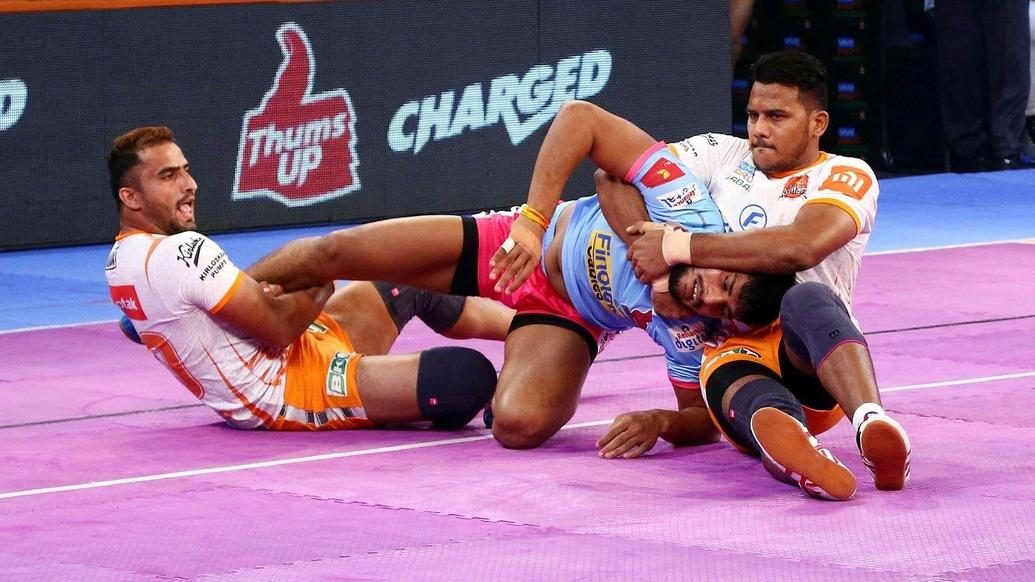 Incredibly difficult to execute, the Super Tackle exhibits a defendersstrength and strategy deployment while tackling a raider under challenging circumstances.
Tackling a raider and stopping him from escaping to the midline amounts to one point in kabaddi, however, if a team is reduced to three or fewer players, executing the same earns them an extra point, therefore a total of two points for a single tackle. Such a tackle is known as a 'Super Tackle'.

Season 6 of the VIVO Pro Kabaddi league saw a record number of Super Tackles (245), with Puneri Paltan breaking the all-time single season record for Super Tackles in a campaign with 34.
A Super Tackle requires precision timing, flawless execution and teamwork from the defending side and a good example of a well-executed Super Tackle is Ashish Kumar and Mahender Singh's incredible effort against Tamil Thalaivas' skipper Ajay Thakur.
After luring the raider deep into Bengaluru Bulls' half, all-rounder Ashish initiated the tackle on Thakur and while the raider managed to escape his clutches, teammate Mahender pounced onto his feet, bringing the raider down and giving Ashish enough time to pull his upper body further away from the midline and complete the tackle.
The rise in the number of Super Tackles in VIVO Pro Kabaddi suggests that teams have identified the opportunity that having three or fewer men on the mat presents and prepare meticulously for the same. In Season 7 we are sure to witness a range of super tackles across the campaign with teams determined to score the extra point at every opportunity.