pkl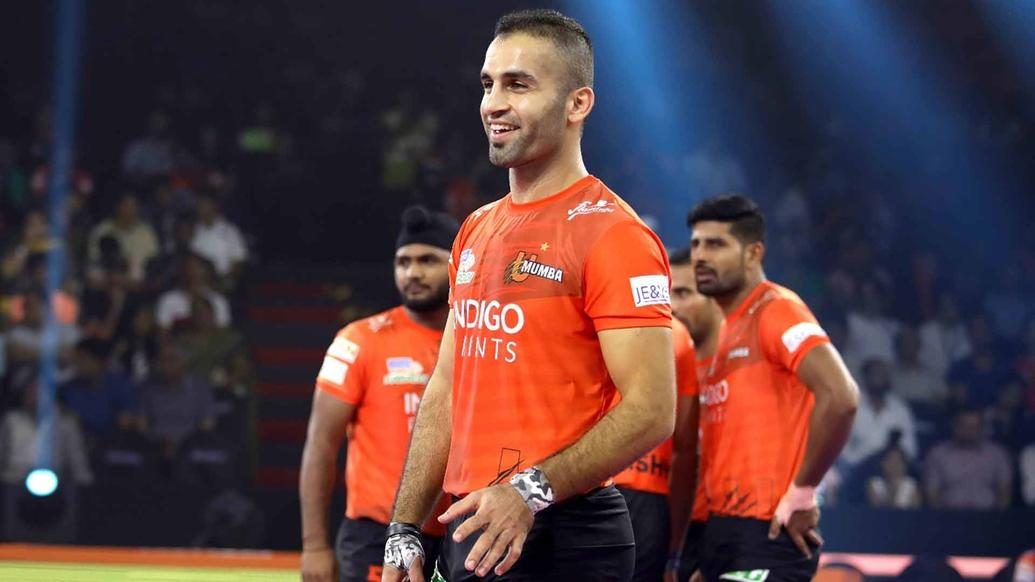 A statistical look at the most used defensive skills by the top 5 defenders in vivo Pro Kabaddi Season 7.
Every great defender in vivo Pro Kabaddi has his unique style of clamping down a raider. While some opt to be the aggressors, others bide their time and hunt for the right opportunities to pick up tackle points. Different styles are complemented by an array of defensive skills and the finest defenders in vivo Pro Kabaddi are highly proficient at using them to help their side score points while neutralising the opposition's biggest threats.
Here, we take an in-depth look at the go-to moves of the best defenders in vivo Pro Kabaddi Season 7:
Season 7 was a highly successful campaign for Fazel Atrachali. The dominant Iranian Left Corner continued his streak of playing in every vivo Pro Kabaddi Playoffs since his debut in Season 2 and he also picked up his second Best Defender Award, becoming one of two players alongside Manjeet Chhillar to win the award twice.
Pound-for-pound, Fazel may be one of the strongest players in vivo Pro Kabaddi. However, he is also blessed with tremendous agility, making him a rare combination of brute force and lightning-quick speed. This is further illustrated by his armoury of skills. Fazel led the league in points scored with the Block, a move that has also yielded just over a quarter of his 317 tackle points in the league so far. Like every proficient Corner defender, Fazel is also a master of the Ankle Hold and scored 21 tackle points using that skill. The Thigh Hold, too, was one of Fazel's go-to moves, yielding 20 tackle points for the Iranian in Season 7.
The U Mumba skipper only sporadically used the Dash, but to good effect and, while he usually prefers to hunt alone on the mat, he did manage one tackle points with a Chain Tackle alongside Surinder Singh.
U.P. Yoddha's Sumit was a revelation in the Left Corner spot in Season 7. The youngster set the all-time mark for most tackle points in a debut campaign with 77 and finished second only behind Atrachali in the race for the Best Defender Award.
A calm yet commanding presence on the mat, Sumit used the Ankle Hold to great effect, scoring 40 of his tackle points with his go-to move. The Thigh Hold yielded another 14 tackle points for the rookie defender and he occasionally used the Block, picking up 11 tackle points with the move. His impeccable timing was also on display when he opted to blindside raiders with the Back Hold, deploying it to score seven tackle points.
A defender who is more reliant of forearm and grip strength over raw power, Sumit managed only 3 points with the Dash.
Nitesh Kumar – Ankle Hold and Thigh Hold
While Sumit was U.P. Yoddha's find of Season 7, that title belonged to Nitesh Kumar in Season 6 who, in his just his second vivo Pro Kabaddi season, became the first player to score 100 tackle points in a single campaign. He followed that incredible season by finishing third on the list of the league's leading tackle point scorers in Season 7 with 75.
Much like Sumit, Nitesh has an incredible sense of opportunity and is patient in his approach. He coaxes raiders in before making his move and hence rarely uses the Dash or the Chain Tackle. The Ankle Hold and Thigh Hold together yielded 86% of his tackle points in Season 6, and that number only went up in Season 7.
Nitesh scored 92% of his tackle points using those moves, with the Ankle Hold accounting for 38 and the Thigh Hold yielding 31 of his 75 tackle points. The Block was the only other defensive skill the U.P. Yoddha skipper used to in Season 7.
Sandeep Dhull – Ankle Hold
One of vivo Pro Kabaddi's top technicians, Sandeep Dhull was a menace for opposition raiders in Season 7. Jaipur Pink Panthers' ace defender scored a career-high 73 tackle points and finished among the top-five tackle point scorers for the second season running.
Dhull's proficiency with the Ankle Hold is his standout attribute. The Left Corner is adept at using the move to stellar effect.
Dhull scored 43 points using the Ankle Hold, the most in the league and five clear of next best, Sumit. His other go-to move, like many other Corners, is the Thigh Hold, which yielded him 20 tackle points in Season 7. He only occasionally used skills like the Back Hold, Dash and Chain Tackle and scored his remaining 10 points with these.
Baldev Singh took over the starting position as the Right Corner for Bengal Warriors midway through Season 6 and has since become one of the cornerstones of the side. He was the league's second-highest scoring Right Corner with 66 tackle points in Season 7 and was instrumental in the team's title-winning campaign. While his impact on the mat is unquestionable, Baldev is a rather unorthodox Corner defender.
Though conventional Corner defenders are usually dependent on the Ankle Hold for a large percentage of their tackle points, Baldev primarily relies on his upper body strength and uses the skill very sparsely. He scored just nine tackle points using the Ankle Hold in Season 7, the second-lowest among all starting Corner defenders.
However, on the flip side, Baldev led the league in tackle points scored off the Back Hold with 24 - twice as many as the next best defender. Also, further illustrating his use of strength as a tool to overpower raiders is his proficiency with the Block. This skill yielded 11 tackle points for the defender in Season 7 and was his third highest-scoring move behind the Back Hold and Thigh Hold - using which he scored 16 tackle points.
An efficient team player, Baldev picked up a further five tackle points alongside a teammate in a Chain Tackle – the most by any defender in the top five.