pkl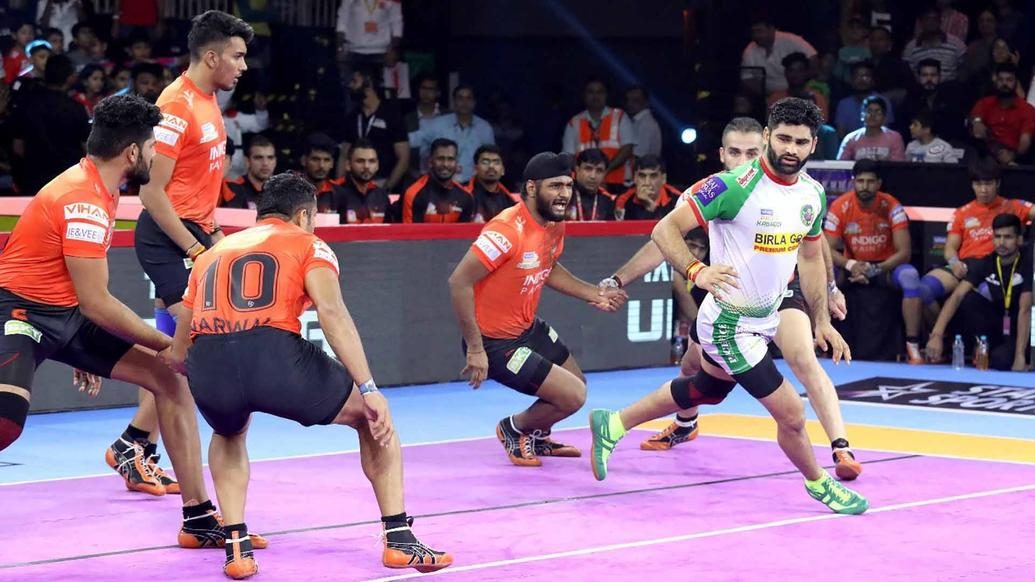 A few more scoring records from the league's most recognizable faces were set during the past week in Gujarat.
The EKA Arena by TransStadia had been a fortress for Gujarat Fortunegiants over the past two campaigns but Season 7 saw a drastic change of fortunes for the two-time finalists, as they succumbed to defeat in all their matches in Ahmedabad. While Gujarat Fortunegiants did not enjoy the Ahmedabad leg, the past week did see the league's elite players continue to flourish and achieve some impressive feats. Here are the five biggest talking points from the Ahmedabad leg -
Pardeep completes 700 successful raids in VIVO Pro Kabaddi
With his first successful raid of the night against U Mumba on Friday, 'Record-breaker' Pardeep Narwal completed 700 successful raids in VIVO Pro Kabaddi, becoming the second man to achieve that feat after 'Showman' Rahul Chaudhari. He managed five more successful raids in the match, but it wasn't enough for Patna Pirates to get the win over U Mumba. Pardeep's 705 successful raids have yielded, a league-high 923 raid points, 56 clear of the next best. His average points per raid is of little to no surprise, given the fact that the Patna Pirates skipper has managed, a league record, 40 Super Raids in his VIVO Pro Kabaddi career.
Hooda bring up 150 in Do-or-die situation
Only a handful of raiders have the ability and mental strength to deliver in a must-score Do-or-die situation and among those select few is Jaipur Pink Panthers' skipper Deepak Niwas Hooda. Against Gujarat Fortunegiants, the all-rounder completed 150 raid points in Do-or-die situations, becoming only the third man in league history to do so, alongside Tamil Thalaivas duo 'Iceman' Ajay Thakur and Chaudhari. Hooda is also closing in on becoming only the third man, after Pardeep and Chaudhari, to score 900 points in VIVO Pro Kabaddi, and given his form so far this season, it seems that he will most certainly reach that milestone.
Super Sunil's stellar effort against Bengal Warriors
With his team trailing by six points and reduced to just two men, Gujarat Fortunegiants needed a miracle to forge a comeback and skipper Sunil Kumar stepped up to keep them in the hunt for a win. He effected three Super Tackles on Bengal Warriors, twice against Maninder Singh and once facing Mohammad Nabibakhsh, to help his team wipe out a six-point deficit in a span of seven minutes. Gujarat Fortunegiants eventually lost the match by two-points but Sunil's incredible effort in the second half was one of the most impressive defensive performances this season.
Telugu Titans and Bengal Warriors extend record with a fourth tie
While it is difficult to predict the result of most matches in VIVO Pro Kabaddi, a tie would be a rather safe bet when Telugu Titans play Bengal Warriors. The two teams slugged it out for a 29-29 tie in Match 38 on Monday, making it, a record, fourth occasion where the two teams have shared the spoils. The two teams have played each other 15 times in VIVO Pro Kabaddi, meaning that almost one in every four fixtures between these two side have finished on level terms.
Kandola continues his hot streak for Haryana Steelers
After missing the first three matches of the season, Vikash Kandola made his return and scored seven raid points in Haryana Steelers' loss to Tamil Thalaivas in Patna. The raider has since been in sizzling form and has scored a Super 10 in each of his past three outings, while also leading Haryana Steelers to a hat-trick of wins after a run of three successive losses. Only Dabang Delhi K.C.'s Naveen Kumar and reigning MVP Pawan 'Hi-Flyer' Sehrawat have scored more Super 10s and have a better raid point average than Kandola this season.