pkl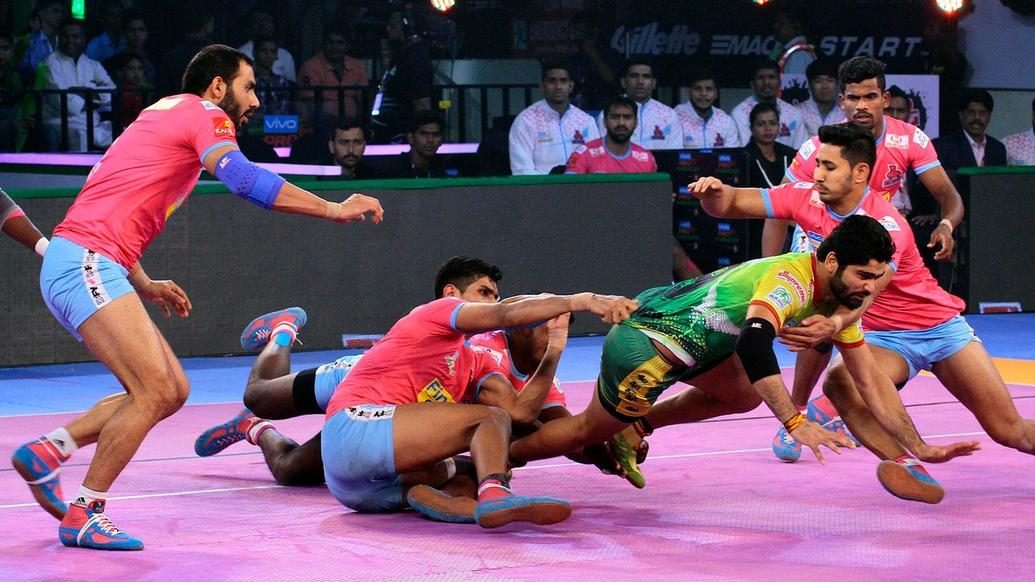 These individual achievements showcase a raider or defender's individual brilliance
Kabaddi is a true team sport where the discipline and coordination of every one of the seven players on the mat is essential for ensuring victory for a team. However, one the way to carrying their team to victory, there are some achievements that kabaddi players can claim for themselves by way of individual brilliance. For a raider, that achievement is a Super 10, while for a defender it is a High 5. We take a look at these two feats and try to dissect them further below.
Super 10
A Super 10 is achieved when a raider scores 10 or more raid points in a single game. The points could be either bonus or touch points but not points awarded to the overall team, such as technical points.
A bonus point is available only when the opposition has 6 or more players on the mat, which renders the bonus line active. However, a touch point is available at any moment during the match. Though getting a touch point is considered a more difficult feat and the only one where a raider can revive multiple players of his team, bonus points are a much safer option for a raider to keep the raid points ticking.
A raider needs to be agile and quick thinking to be aware of the opportunities available to pick up points by exploiting the chinks in the opposition defence. He also needs to have multiple attacking options at his disposal if he hopes to outfox the opposition defence repeatedly and return with 10 or more raid points.
Running Hand Touch, Toe Touch, Scorpion Kick, Dubki.
High 5
Scoring of 5 or more Tackle Points in a game by a single player is known as a High 5. It the ultimate crowning glory for a defender.
A tackle point is given to the defender who initiates the tackle and not the one that ones who support the tackle to finally make it a success. Hence, even though multiple players might have contributed to tackling an opposition player and keeping him in their half, only one tackle point is awarded per raid.
The only time when more than one tackle point is awarded in a raid is when the team has three or fewer players on the mat and still manage a successful tackle. Such a scenario is known as a Super Tackle and in this case, the individual is awarded two tackle points since tackling a player with minimal backup is a very difficult feat.
A defender needs to have an excellent grip in order to hold the raider once the tackle has been initiated if an Ankle Hold or Thigh Hold is used. For Cover defenders, agility and strength are key in order to move the raider out of the mat.
While the raider is constantly looking for the defender to strike and hence the element of surprise is very important for a defender, and also an arsenal consisting of varied moves which can be affected from different positions on the mat depending on the movement of the raider.
Ankle Hold, Thigh Hold, Back Hold, Block, Dash
Double
A kabaddi Double is a rare event where a single player is able to achieve both, a Super 10 and a High 5, in the same match. This feat can be achieved by an effective all-rounder.
The Double is not a frequently witnessed event since a player needs immense skill and stamina to perform at such a high level on both sides of the mat. The player also needs to have the mental sharpness to stay on the mat long enough to achieve the feat without being sent back by the opposition team. A good all-round game and a varied set of skills in both offence and defence are essential for a player to achieve a Double.