pkl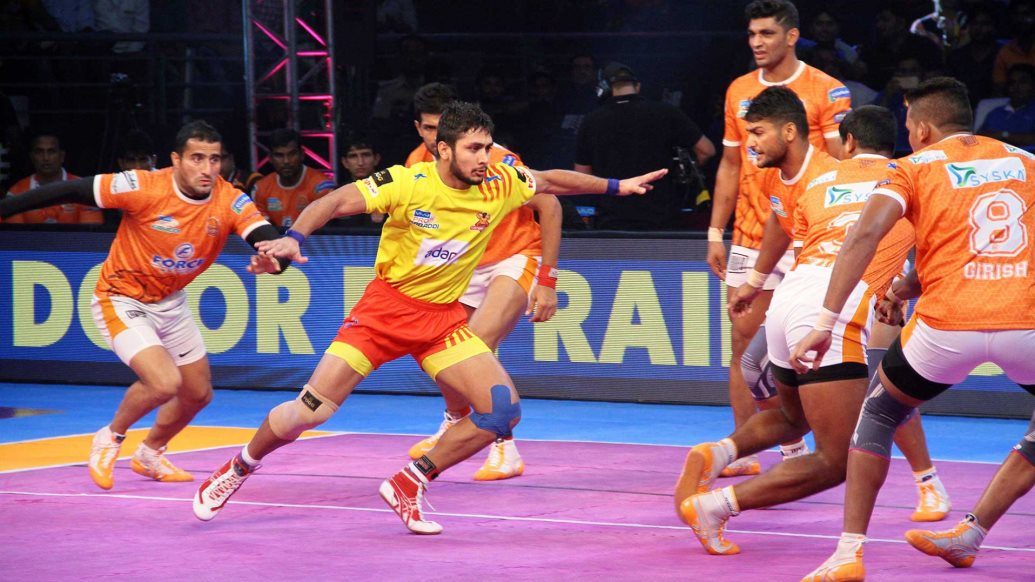 Youngster Rohit Gulia shows that balancing education and pursuing your passion is possible with hard work and determination.
Gujarat Fortunegiants have had a wonderful debut season of VIVO Pro Kabaddi under the stewardship of coach Manpreet Singh. Part of Zone A, the Fortunegiants have been on top for most of the campaign after going unbeaten in their home leg with a proud record of five wins and a draw. It has been a real team effort by Gujarat with every player contributing to the cause. One such individual who has stood out is youngster Rohit Gulia. The 19-year-old all-rounder from the New Young Player (NYP) initiative sat down with prokabaddi.com recently and shared his experience of his debut season. Here are some excerpts.
Tell us about your kabaddi journey.
I started paying kabaddi when I was in fourth standard… I went up level by level and now I have reached here. It's been eight or nine years that I have been playing kabaddi. It's not like that you play kabaddi for one year and then you go on to play for India. You have to practice a lot, which I did. Here too, we had a 30-35 day camp and we practiced a lot. We are trying our best to lift the trophy.
What are your thoughts on the prospects of playing for India?
I do hope that I get to play for India as soon as possible and win a gold medal for them.
How do you balance studies and sports?
You have to manage, day and night. I practice in the morning from 5 am to 8 am and then I study. In the evening, there's practice from 4 pm to 7 pm, after that I study again.
What was it like in the young players' camp?
There I got to practise very well. Learned new things there, the [new] rules of Pro Kabaddi... The coaches taught us new things, told us what changes there were in Pro Kabaddi, what is to be done and made us practise so that we could reach this stage.
What is the difference between local level kabaddi and Pro Kabaddi, taking the mat, new rules, lighting, crowd and atmosphere into consideration?
It makes a difference. There's a big difference between local kabaddi and Pro Kabaddi because here everyone is watching us. We have been told that this is televised in 110 countries. So even a small mistake will be noticed and that won't benefit us. And if we don't get the benefit, then there's no point playing. And there's pressure on the mind too.
What kind of impact the coach has had on you?
Our coach has played at the international level. He's a very good coach. He is always cool-minded and lets us play easy. He leaves us be and then guides us whenever needed. He doesn't put us under pressure by putting his foot down and demanding that we have to play in a certain way. He tells us to measure the situation and play accordingly... And of course, if we make mistakes there's someone to talk to us about them.
Does a strong defence give you more confidence?
I always raid freely. Because I know our defence is so solid that they will revive all of us and they don't let me sit on the bench. Then they tell me to go out and raid. It gives you peace of mind and keeps you happy because you can go and raid freely.
What are the three things that your fans don't know about you?
Fans think that I am always angry. But I am never that angry. I am always happy and jovial. I like talking to my friends and have fun, passing the time just like that.
How has Pro Kabaddi changed your life?
Yes, it has made a big difference. If I go out, people say 'Oh, that's Rohit, he plays in Pro Kabaddi'. So, the impression created on the public because of Pro Kabaddi has had its benefits.
What's your message for the fans?
I'd like to tell fans to support us and we'll pay back by winning the trophy.