pkl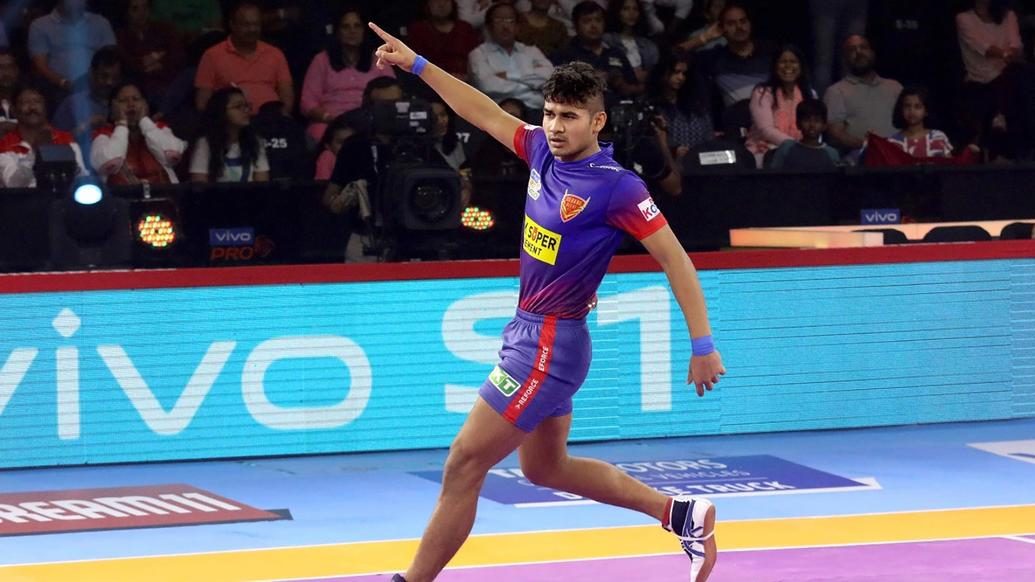 Raider Naveen Kumar has been a talisman for Dabang Delhi K.C. and will be key to their chances of home success.
It was Match 5 of vivo Pro Kabaddi Season 6 when Dabang Delhi K.C. sent in a teenaged Naveen Kumar for their second raid of the match, and he delivered immediately on debut by scoring a bonus point. He eventually ended the match with five raid points to his name and finished as top-scorer in a starting seven which comprised veterans like Shabeer Bappu, Vishal Mane, Meraj Sheykh and Ravinder Pahal. He scored his first Super 10 just three matches later, becoming the second-youngest player in vivo Pro Kabaddi to achieve the feat and, by the end of the season, was Dabang Delhi K.C.'s leading raid point scorer. It had become clear that the young raider was destined for big things.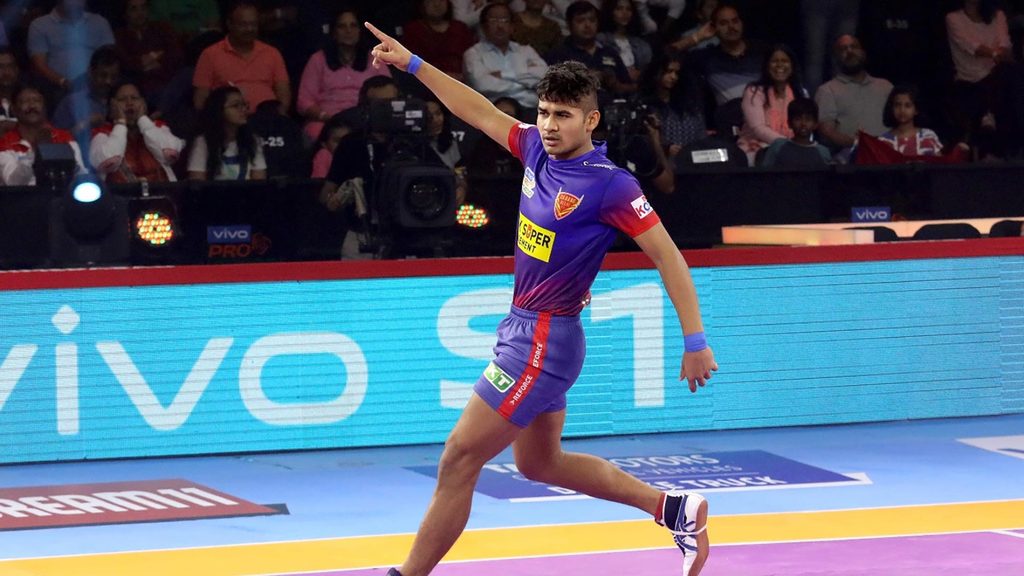 Naveen's success saw an upturn in fortunes for Dabang Delhi K.C. as they secured a place in the Playoffs for the first time in Season 6 and even defeated Bengal Warriors in Eliminator 2 before eventually succumbing to U.P. Yoddha. Naveen also proved to be invaluable to the team when it came to getting revivals as 79% of his raid points came by virtue of touch points. He scored eight Super 10s as well en-route to 172 raid points last year.
Naveen Kumar in Season 6:
Matches: 22
Raid Points: 172
Avg. Raid Points: 7.82
Raid strike rate: 56.02%
The ongoing season has seen him scale new heights as he increased his Not-Out percentage from an impressive 79.47% in the previous campaign to an astounding 92.36. He currently averages more than 10 raid points per match, while leading every other raider in the Super 10s chart with six from his seven matches so far.
Another statistic which will excite Dabang Delhi K.C. fans is that Naveen scored 42 raid points in six matches during the team's home leg last season. Dabang Delhi K.C. fans can also be safe in the knowledge that he already has Super 10s against most of their opponents in the upcoming home leg with the exception of Bengaluru Bulls. The U.P. Yoddha clash will be another game he'll be expected to excel in given his record of two Super 10s from as many matches and an average of 11 raid points against them.
Naveen Kumar in Season 7:
Matches: 7
Raid Points: 75
Avg. Raid Points: 10.71
Raid strike rate: 57.25%
Naveen's performances for Dabang Delhi K.C. has also shaped their overall results with them winning 17 and losing 10 matches in which the raider has been involved. They currently sit in third position in the Season 7 standings and have suffered the least number of losses so far. This puts the side in a good position to rise to the top of the standings with a successful home leg; a feat that wouldn't come as a surprise looking at their Season 6 home leg statistics.
Dabang Delhi K.C. home leg in Season 6
Played – 5
Won – 4
Tied- 0
Lost – 1
With pedigree to excel at home and young prodigy Naveen in their ranks, Dabang Delhi K.C. seem primed to continue their impressive display this season and entertain their fans with some top-quality kabaddi at home.