pkl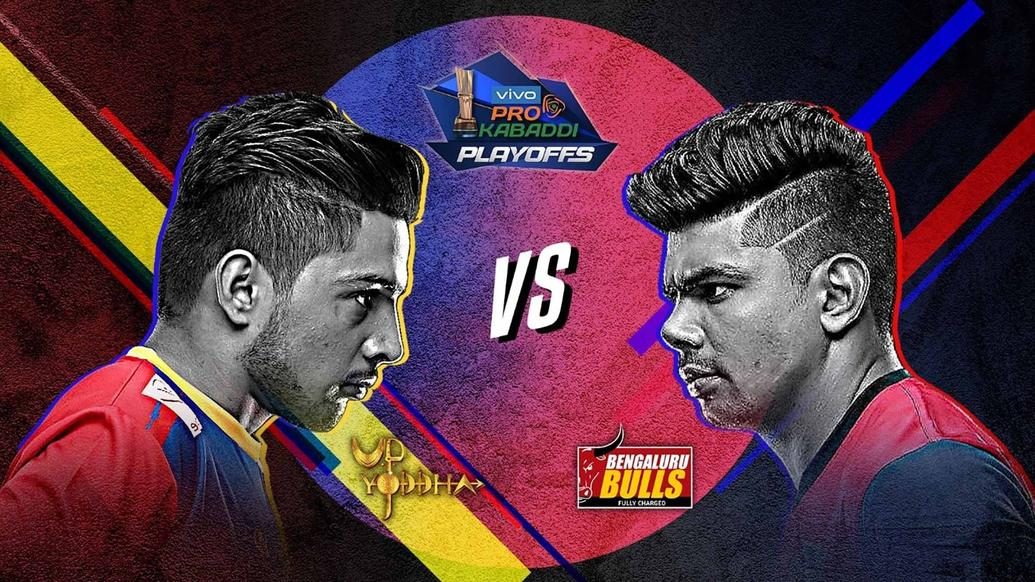 The U.P. Yoddha skipper's record against Pawan makes him a key figure in the team's Eliminator 1 hopes.
Bengaluru Bulls' title defence has reached a very vital juncture as they take on U.P. Yoddha in Eliminator 1 on Monday. With all eyes on 'Hi-Flyer' Pawan Sehrawat, who is Bengaluru Bulls' and the league's leading raid point scorer this season, a lot will depend on if the raider can successfully take on one of the defenders who enjoys an impressive record against him – Nitesh Kumar.
Head-to-head: Pawan Kumar Sehrawat 4 – 13 Nitesh Kumar
Pawan Kumar Sehrawat
Raid Points: 6
Raid Strike Rate: 33.33 %
Average raid points: 1.00
Nitesh Kumar
Tackle Points: 13
Tackle Strike Rate: 76.47 %
Average Tackle Points: 2.17
Eliminator 1 will see Pawan Kumar Sehrawat face one of his toughest opponents on the kabaddi mat in U.P. Yoddha skipper Nitesh Kumar. The young Corner has managed to pin down the 'Hi-Flyer' 13 out of the 18 times that they have come up against each other so far in vivo Pro Kabaddi while conceding only 4 successful raids. He also enjoys an exemplary tackle strike rate of 76.47% in their head to head battle.
One factor which has worked to Nitesh's advantage is that Pawan has not been unable to execute a single Jump against the defender and, so far, has only one Dubki which yielded any points when facing him. This shows how effectively Nitesh is able to starve the raider of his favourite skills, thus making him play into Nitesh's hands.
Below is the list of moves that Nitesh has used to tackle Pawan over the past two seasons:
Ankle Hold: 5
Block: 2
Thigh Holds: 6
Once Nitesh manages to take care of Pawan's lower body, he is able to hold on long enough for support to come in and disable the raider in most cases. With Bengaluru Bulls so heavily reliant on Pawan Sehrawat for their raid points, the 'Hi-Flyer' might have to come up with something new from his armoury if he is to succeed in this battle.
Though 25 of Pawan's 53 raid points and 2 of his 4 Super 10s against U.P. Yoddha have come this season, Pawan has still come up short against the U.P. Yoddha skipper and this has resulted in Bengaluru Bulls losing both their encounters to them in Season 7, a team against whom they had a 5 – 1 win record before this campaign. The stage is set for the reigning MVP and the only defender to score 100 tackle points in a single season to clash, and fans can be assured that there will be plenty of fireworks on the mat.