pkl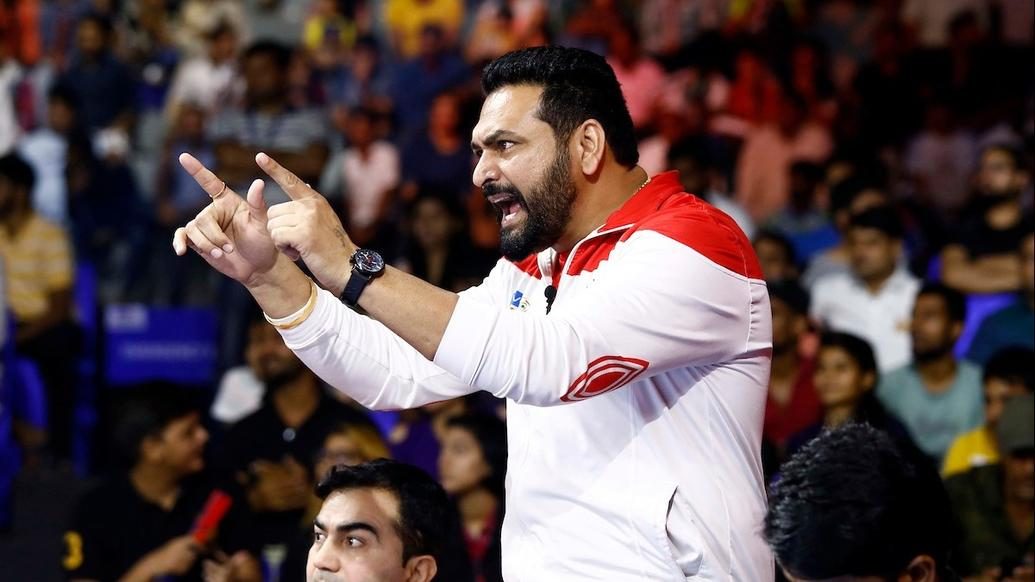 Manpreet Singh became only the second sportsperson from kabaddi to receive the Dhyan Chand Award.
For someone who has given a better part of two decades of his life to kabaddi, trophies, medals and accolades have been a part of the game. But for Manpreet Singh, the Dhyan Chand Award conferred to him on National Sports Day last month will hold a special place in his trophy cabinet.
Manpreet Singh's career in kabaddi has been nothing short of illustrious. He played for the Indian national kabaddi team for seven years, represented his country at the 2002 and 2006 Asian Games and helped India lift the trophy at the 2007 Kabaddi World Cup. He has a total of 12 gold medals to show from his international stint.
In Pro Kabaddi, he led Patna Pirates to the title in the third season and then returned to the league two seasons later as a coach for Gujarat Fortunegiants, taking the team to the final in their inaugural season.
The Dhyan Chand Award is conferred to honour lifetime achievement in sport. And looking back at Manpreet Singh's career, the latest trophy would sit just right in his cabinet.
"I am elated," Manpreet Singh tells ProKabaddi.com. "It's a sweet reward for the 20-plus years that I have dedicated to kabaddi.
"I was unaware that I was nominated in the first place," he adds humbly. "When a friend of mine called me to inform me, I thought he was joking."
The disbelief stemmed from the fact that he has kept his expectations in check for the last 13 years after missing out on an Arjuna Award in 2007.
His only gripe this time, if any, was that he couldn't be at the Rashtrapati Bhavan to collect the award from the President of India in person due to the COVID-19 pandemic. Instead, he had to settle for a video conference ceremony to get into the honours list.
"It was slightly disheartening because it's a once-in-a-lifetime opportunity to meet the President," explains Manpreet Singh, who is only the second person from the kabaddi fraternity to win a Dhyan Chand Award after Shamsher Singh in 2007.
Most of Manpreet Singh's achievements came before Pro Kabaddi popularised the sport in India. He reveals that his era as a player was filled with struggles, most of which aren't particularly prevalent today.
"Those days were different, where you would have to continuously prove yourself for years," he reflects. "Today, especially with Pro Kabaddi, if a player has two-three good games, he becomes a household name in the country. Back then there wasn't enough coverage of kabaddi on television and it was difficult to make your name.
"Now when I look back on my performances, I feel proud of myself. Being selected in the national team was a dream for everyone. You had to really prove your mettle to be a part of the national team," he points out.
Running through the night
Manpreet Singh's struggles with weight loss have been well documented, but that challenge only made him work harder.
"I had to train for some 16 hours a day on a regular basis and maintain a strict diet to play at that level," Manpreet recalls. "But having received this recognition, I feel I am reaping the rewards now for all the efforts that I had put in then."
One such career-defining instance came in 2006, ahead of the Asian Games. While travelling for a friendly tournament and being unaware of the weight restrictions for eligibility, Manpreet Singh was informed upon arrival that there would be a weigh-in the following day. Only those below 80kg would be allowed to participate.
"I was well over the weight limit at that point as I wasn't prepared for it," Manpreet remembers.
Determined to make amends, he pushed himself to do the unthinkable – try and lose as much weight as he could the night before the final weigh-in. To achieve this, he ran for 10 hours through the night -- from 9 pm to 7 am -- in order to burn fat.
"The only time I stopped was when I needed to take some rest and change my clothes," he says, "If I wouldn't have lost all that weight, I might have missed the Asian Games as well. But instead, I weighed in at the exact limit and played the next day itself.
"I didn't want to miss the chance of playing for the country," he emphasises with pride. "There's no substitute for hard work if you want to be successful and a good player."
But perhaps, most of all, it was his self-belief that drove him over the last two decades.
"After I couldn't make the final Arjuna Award nomination, I could have given up on the odds of winning a National Award someday. Also, it's rare for a kabaddi player to win the Dhyan Chand Award," he reasons.
"But I kept the faith in my abilities and triumphed over the odds. I couldn't be happier," he asserts.
Click here for more stories from Manpreet Singh's illustrious career on our exclusive LIVE chat show Beyond The Mat, courtesy @ProKabaddi on Instagram.