pkl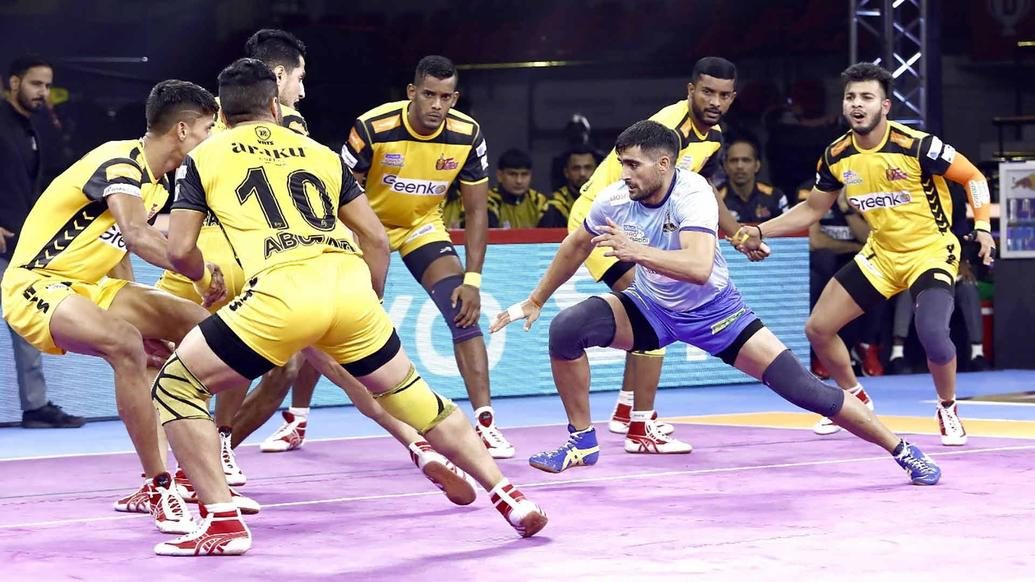 Rahul Chaudhari, Siddharth Desai and Pardeep Narwal continued to create history in vivo Pro Kabaddi.
A successful home leg for Bengaluru Bulls saw them win three of their four matches at the Sree Kanteerava Stadium on their return to their home city for the first time since Season 4. While the six days of vivo Pro Kabaddi action in Bengaluru provided some incredible matches and a flurry of jaw-dropping moments, it also saw a host of players reach important milestones and break impressive records over the course of the 11 matches. Let's take a look at some those records and moments here:
Chaudhari eclipses 900 Points
In the Southern Derby between Telugu Titans and Tamil Thalaivas, 'Showman' Rahul Chaudhari became only the second man to score 900 raid points in vivo Pro Kabaddi, behind Pardeep Narwal, who also reached that landmark this season. The mercurial raider reached the mark with his third raid point in his team's narrow loss against his former side in Match 72. A day prior against Bengaluru Bulls, Chaudhari also joined Narwal as the only players with over 950 total points in vivo Pro Kabaddi and, barring any injury concerns, the 'Showman' also looks likely to reach four-figures for raid points and total points this season.
Pardeep Narwal becomes first player to score 50 Super 10s
It was business as usual for 'Record-Breaker' Pardeep Narwal against Bengaluru Bulls in Match 74 on Wednesday, finishing the match with another Super 10 to name. However, this one had historic significance, as this was the 50th Super 10 of his vivo Pro Kabaddi career, making him the first man to reach that mark. It took Pardeep just 97 matches to score 50 Super 10s, meaning that the Patna Pirates ace scores a Super 10 almost every other game. He scored his 51st against U.P. Yoddha on Friday but couldn't prevent Patna Pirates from succumbing to their sixth straight defeat.
Desai equals record for quickest to 300 raid points
Last season's highest-scoring rookie raider, Telugu Titans' 'Baahubali' Siddharth Desai became a part of vivo Pro Kabaddi folklore, as he equalled the record for least number of matches taken to score 300 raid points in the league. Desai reached the mark in his 33rd appearance, equalling Dabang Delhi K.C.'s Naveen Kumar's record, which the raider set just a couple of days prior. Not only did Siddharth equal the record, but he also helped his team a secure crucial victory against Tamil Thalaivas in the Southern Derby.
Dabang Delhi K.C.'s late rally to stun Jaipur Pink Panthers
Trailing by seven points with under three minutes left in the contest, league-leaders Dabang Delhi K.C. looked set to succumb to their second defeat of the campaign against Jaipur Pink Panthers in Match 73. However, raiders Vijay and Naveen Kumar had other ideas, as the former's Super Raid followed by three straight successful raids from the latter helped the side from the capital script an unlikely comeback and beat Jaipur Pink Panthers. That win helped Dabang Delhi K.C. become the first team to score 50 points in the Season 7 standings.
A duel for the ages
In the final game of the Bengaluru leg, 'Hi-Flyer' Pawan Sehrawat and 'Baahubali' Siddharth Desai delivered a night to remember, as the duo engaged in an epic back-and-forth duel that saw them both finish with 22 raid points. Early in the second half, Sehrawat scored a Super Raid that put the home side in the ascendancy, but a few minutes later Desai wiped Bengaluru Bulls off the mat with a six-point Super Raid that helped Telugu Titans cut the deficit to two. He scored another Super Raid minutes later that levelled the scores, but it was Sehrawat who had the last laugh as his two-point raid in the closing seconds dealt the killer blow to Telugu Titans' hopes. The result aside, the duel between the two raiders was stunning to watch and was the perfect way for vivo Pro Kabaddi to bid adieu to Bengaluru for the year.