pkl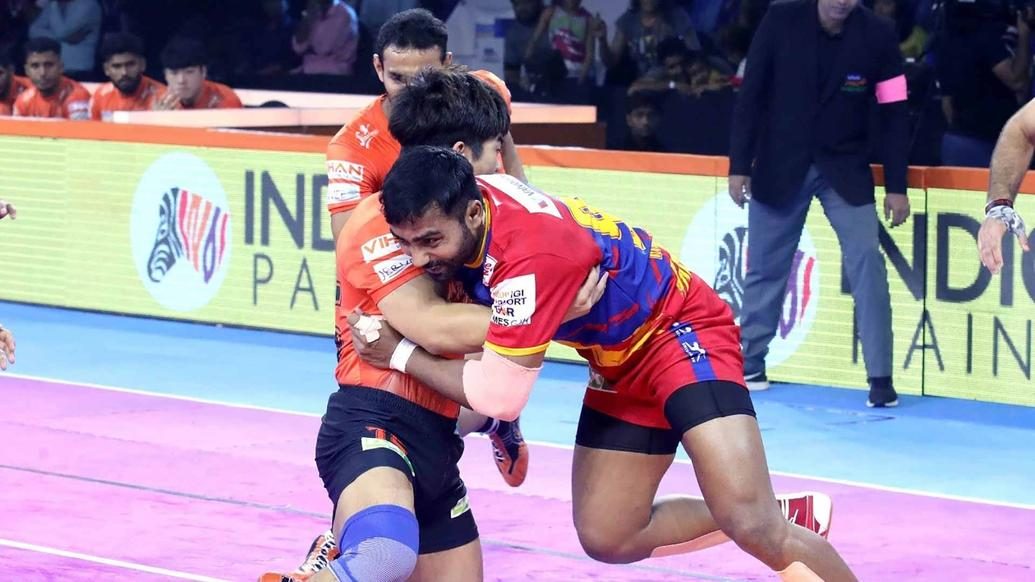 We analyse a move that can help an individual defender stop a raider from retreating, without support.
The Dash is a defensive move that gets the pulse racing. With a combination of strength and swiftness, a Dash takes place when a defender sprints across the mat and uses the full force of his momentum to move a raider out of bounds.
For many defenders, sending a raider off-court by pushing ferociously while at full tilt offers immense satisfaction and confidence.
Bengaluru Bulls' Mahender Singh is quick to admit that the Dash his favourite skill.
"The Dash is my go-to move," he told prokabaddi.com, and was keen to focus on the importance of fitness while discussing the basics behind a textbook Dash.
For him, fitness, along with strength and speed are must-have qualities since physical endurance is integral when spearing into another individual at high velocity and driving him off the mat.
Being quicker
"First of all, you have to be fully fit so that you can pounce on the raider quickly. Because if the raider is very fast, he'll outplay us. To counter this, we focus on running or sprinting to build our speed and endurance. To cover the raider's retreat, we need power and for that, we hit the gym," Mahender explained.
While working on physical fitness helps in increasing speed, strength training is crucial for power; the two form key ingredients of the Dash.
"Sometimes there are raiders who are heavy; for example, Bengal Warriors' Maninder Singh crashes into defenders a lot. To stop raiders like Maninder from taking bonus points, we focus more on timing rather than power. If the timing's right then, with my power, the tackle is a guaranteed success. In case the timing goes wrong, then it comes down to pure power which is not favourable.
"In practice, if I'm in the Left Corner, then I target the raider towards the right. If he goes too deep or for a bonus, then I initiate the Dash against him."
With experience comes confidence and a better understanding of when and where to initiate the move, as the timing-power equation revealed by Mahender is something raiders are wary of.
A matter of seconds
"Perfect timing is of utmost importance whenever I'm about to face a Dash," U Mumba raider Rohit Baliyan said. "Because it's the defender and the raider pushing against each other at that time. If the defender gets the timing right, then he has me caught up in the struggle. The person who deals with those two seconds better is the one with better timing and execution. Hence, timing is all that matters to me as a raider."
Baliyan also revealed how all players are trained to have knowledge of both disciplines of the game and must be versatile and instinctive in their approach. "The defenders are given a similar kind of training to the raiders," said Baliyan, "They are advised to go in for a Dash if a raider seeks a bonus point. I mostly try and read the timing and whether it matches my move along with that of the defender.
"Instincts also help us as raiders to understand the defender's motive with regards to his positioning. If he falls into the trap we set with fakes and steps up for a Dash, then we can easily get him with a Hand Touch or the Kick, or else we stick to the basics and play with patience."