pkl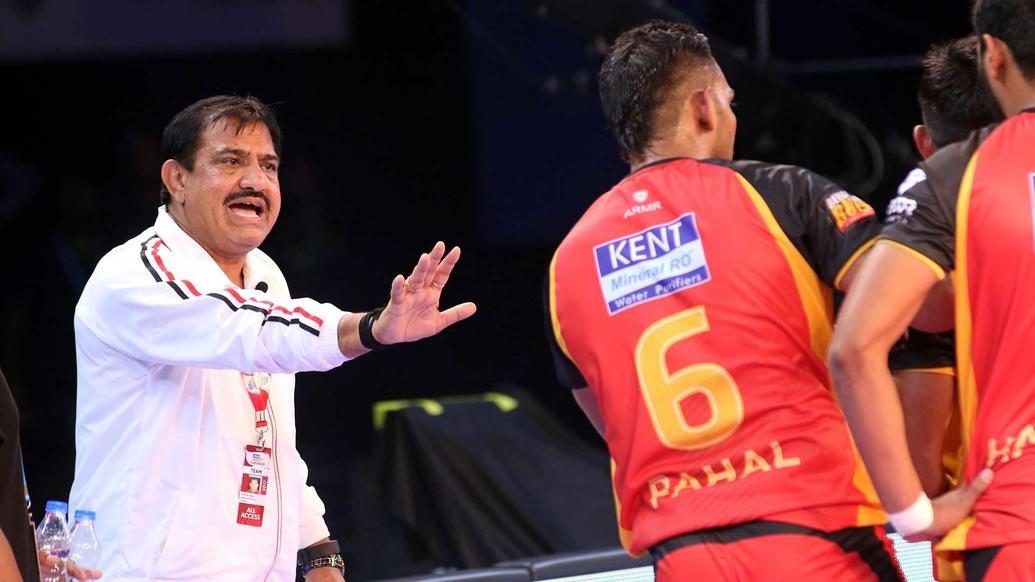 VIVO Pro Kabaddi Season 5 was bigger than before with the addition of new teams and a format where the league was spread over a three-month period. The role of a coach in this situation was vital since the players' motivation and fitness levels had to be maintained throughout the entire season. In a special two-part series, we take a look at the coaches from the teams and how they fared in their role.
1. Randhir Singh - Bengaluru Bulls
With over 20 national medals as a player and coach each, the amount of experience Randhir Singh brought to the table for Bengaluru Bulls is undisputable. But he faced an uphill task after second raider Ajay Kumar failed to fire in the latter stages of the league. Singh had made it clear from the beginning of the season that his focus was on having a young team and giving opportunities to fresh players. His strategy worked to a large extent with players such as Harish Naik and Mahender Singh coming to the fore and proving their abilities. However, the lack of experience in raiding proved decisive and the team was unable to back up key players.
2. Ramesh Bhendigiri – Dabang Delhi K.C.
Dabang Delhi K.C. had a disappointing run in VIVO Pro Kabaddi, finishing at the bottom of Zone A. Dr. Ramesh Bhendigiri, who holds a PhD in kabaddi from the University of Pune, was brought in this season as coach to effect a change in fortunes for the team. He tried a number of different combinations right from the Nilesh Shinde-Bajirao Hodage duo to the lesser known Sunil and Swapnil Shinde pairing but failed to find much success. It didn't help that the team was plagued with injuries to key personnel like captain Meraj Sheykh and senior defender Nilesh Shinde. Bhendigiri used R. Sriram and Iranian Abolfazl Maghsodlou to good effect but the lack of a consistent defensive combination let the team down in crunch situations.
3. Bhaskaran Edacherry - U Mumba
Bhaskaran Edacherry has been the mainstay of the U Mumba franchise for a number of seasons and was looking to lead the team to another VIVO Pro Kabaddi title this season. He had a number of star raiders at his disposal including Shabeer Bappu and Kashiling Adake. Captain Cool Anup Kumar was also retained to lend some balance to the team. The lack of experienced defenders, though, hurt the team in the long run. Young Surinder Singh was used to good effect by Edacherry to contain the opposition raiders but his lack of experience also led to a number of errors being committed. Anup Kumar was forced to bring all his experience into play and back up the defence, which weakened the balance of the attack. In the end Edacherry was unable to reign in the defence and U Mumba failed to seal a spot in the playoffs.
4. Naveen Kumar - Telugu Titans
Naveen Kumar had an extremely forgettable season as coach since Telugu Titans struggled throughout the league to find consistency and captain Rahul Chaudhari too expressed disappointment with the team's defensive line on a number of occasions. Kumar tried a number of senior players such as Rakesh Kumar and Rohit Rana before shifting to a younger guard with Vishal Bhardwaj, Sombir and Elangeshwaran R. The team found success in the closing stages of the league but it was too little too late for them.
5. K Baskaran - Tamil Thalaivas
K Baskaran proved an able coach for Tamil Thalaivas in Season 5 in spite of their bottom place finish in Zone B. Baskaran's focus throughout the season was to test younger players and develop local talent from the state of Tamil Nadu. He managed to do that quite well as players like Darshan J. and C. Arun emerged from their ranks this season. Under Baskaran's guidance the team also managed to overturn big deficits and pull off last minute victories on a number of occasions. He managed to instil a never say die attitude in the players which will serve the team well in the future.
6. Balwan Singh - Jaipur Pink Panthers
After the high of coaching the 2016 Kabaddi World Cup winning Indian team Balwan Singh was expected to restore the Jaipur Pink Panthers to their former glory. He succeeded to some extent but in the face of a spate of to the team's most experienced players there was little he could do to get the team into the playoffs. Singh proved his resourcefulness time and time again as he was able to find replacements for the team's key players when necessary. He also worked a lot with the team's young brigade led by Sidharth and Nitin Rawal, preparing them for the pressures of the big stage. However, after a below average home leg it was all over for the Pink Panthers and Singh's team had to be satisfied with a fifth place finish in their zone.