pkl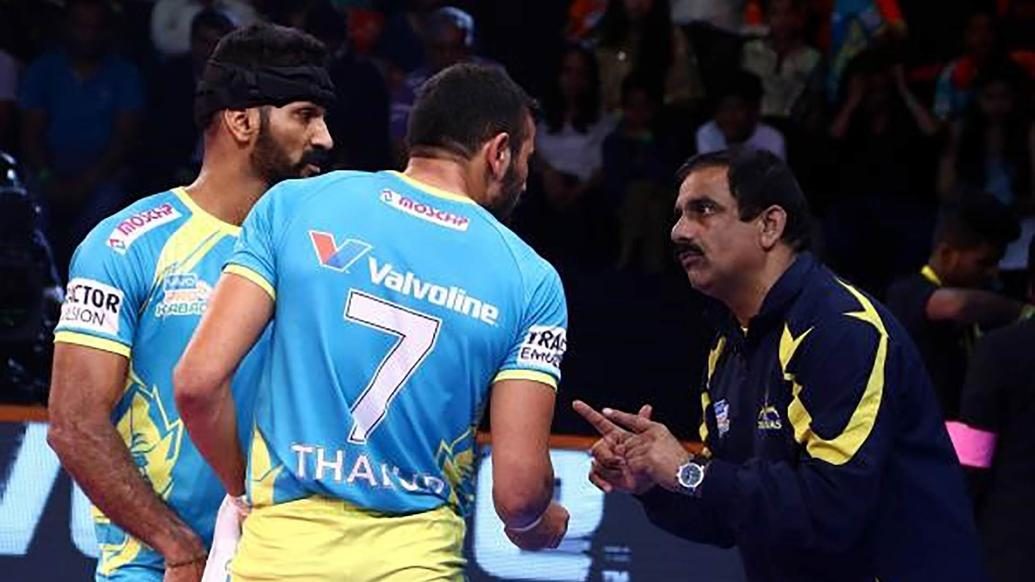 It has been a tough struggle for Tamil Thalaivas' Edacherry Bhaskaran and he knows who exactly to thank for his success.
Edacherry Bhaskaran has been a coach par excellence, having led U Mumba to three finals and one title in VIVO Pro Kabaddi. A master strategist, he has also successfully coached the Indian national team to an Asian Games gold. Working at such a high level and constantly being under the pressure to deliver does require great amounts of mental strength, but that is one aspect which Bhaskaran feels comes naturally to him.
"You cannot excel in a sport like kabaddi without mental toughness. It takes dedication to achieve something and to keep playing such a demanding sport every day," said Bhaskaran told ProKabaddi.com.
This mental toughness, though, was honed by Bhaskaran early in his life when had to take up the responsibility of his ailing parents and was forced to cut stones in order to make a living after selling their property to provide money for their treatment. He claims that the situation forced him to increase his mental strength and that eventually helped him garner success.
But, as is the case with many successful people, it was a helping hand he received along the way that really kept him going in such difficult times.
"I had a 'Guruji' from my village whose name was Madhavan. He was a simple man from a poor family but he always tried to give us the best. He used to take loans so that we could play in kabaddi tournament. He would even provide us with nutritious food in the afternoon," recollected Bhaskaran. "Madhvan sir was really influential in my upbringing and he helped me when I didn't even have food to eat."
A lot his mentor's positive attributes rubbed off on him - his honesty and transparency being the most important ones. Naturally then, when success came knocking on his doors, Bhaskaran's first instinct, instead of thinking about himself, was to share the success with others less fortunate than him in the sport.
"The most important thing that I feel I have learned from Madhvan sir is to help others whenever possible," said Bhaskaran, "When I got a job, I gave at least 40-50 less fortunate people jobs in my department and took them in my team."
His aim was clear, to ensure that those underprivileged talented youngsters didn't have to struggle as much as he did. This quest took him from village to village and he left no stone unturned to scout and train a number of players who went on to have bright careers in the sport.
"Kabaddi is a passion; it is an addiction," Bhaskaran reasoned.
"That I get an opportunity to help people while staying in this game is a great thing for me," he concluded.