pkl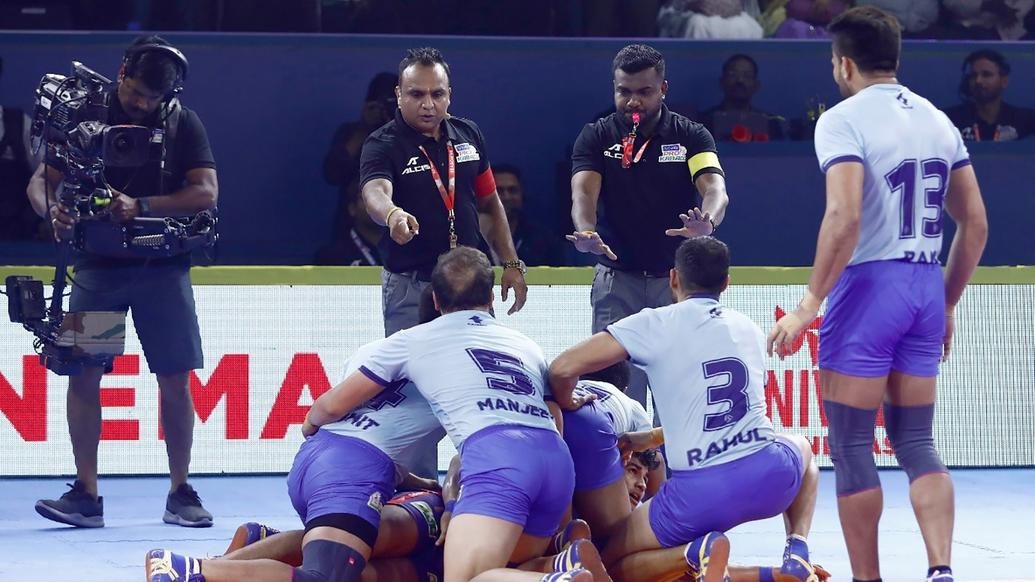 What the rules say about the decision taken by the television umpire after the buzzer raid in Match 9.
Match 9 of VIVO Pro Kabaddi Season 7 between Dabang Delhi K.C. and Tamil Thalaivas saw one of the most dramatic finishes in recent memory. With the game tied at 29-29, Dabang Delhi K.C.'s star raider Naveen Kumar went in to raid in a Do-or-Die situation in the last raid of the match and was taken down successfully through a tackle initiated by Mohit Chhillar. However, veteran all-rounder Manjeet Chhillar had stepped out of bounds before the struggle which meant he could no longer be active during the raid. After consulting with the television umpire, the referees adjudged the raider Not-Out and awarded the final point to Dabang Delhi K.C. which won them the match.
As per the general rules of play in the sport of kabaddi, 'A player shall be declared out if any part of his body touches outside the court (outside any end line)'. Hence, Manjeet's foot landing outside the backline meant he was automatically declared inactive for the remainder of the raid but a successful tackle on Naveen would mean a point for Tamil Thalaivas. However, Section 2 (b) in the General Rules of Play also states that, 'If one or more defenders who have gone out of bounds hold the raider, the raider shall be declared NOT OUT. Only the defenders who have gone out of bounds will be declared out.'
Thus, since Manjeet got involved in the tackle after he had stepped out of bounds, Naveen was declared Not-Out and his team was awarded the point. Had Manjeet not been involved in the tackle, the teams would have shared one point each and it would have resulted in the first Tie of VIVO Pro Kabaddi Season 7. Tamil Thalaivas would have ended up at the top of the standings with a better score difference. But due to Manjeet's involvement in the tackle, it was the Dabang Delhi K.C. who were awarded the point and took home the win and ascended to the top of the VIVO Pro Kabaddi standings.