pkl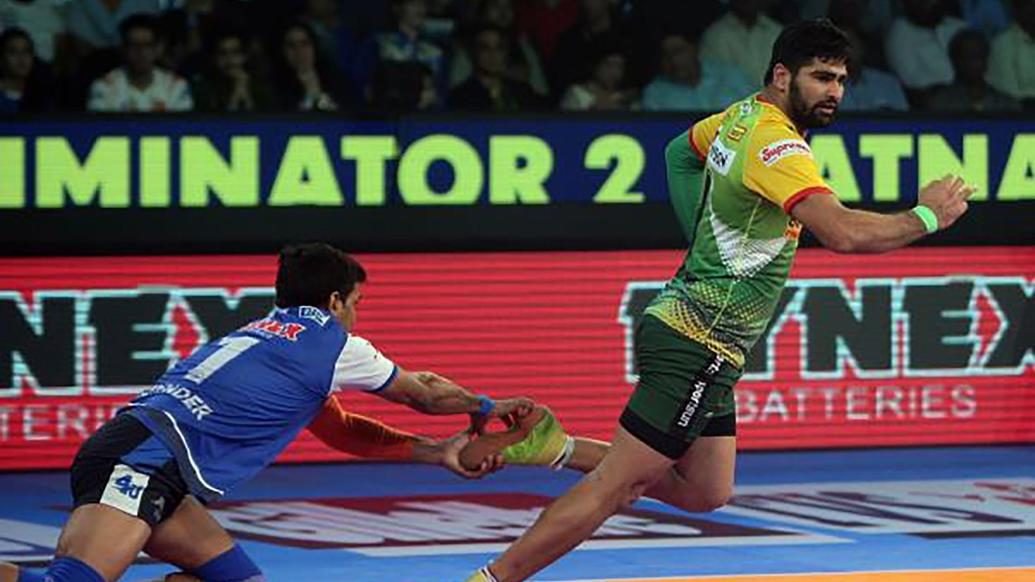 With a number of impressive performances to their credit, these raiders are likely to be vying for the top spots.
Raiding in kabaddi is not an easy job, and that's putting it mildly. A single raider has the tough task of going up against multiple defenders, assess the opposition chain, recognise an opportunity to strike and chart a way back to the mid line in what is a mix of execution of brain and brawn, in the hope of getting a point – within 30 seconds. There are those, however, who not only take up this brave role but thrive in the pressures of raiding.
Here is a list of some of these stars who could light the mat on fire this VIVO Pro Kabaddi season.
1. Pardeep Narwal – Patna Pirates
The 'Dubki King' has been a prolific raider since his debut in Season 3 with Patna Pirates, where he was the highest raid point scorer of the season and bagged the Emerging Player of the Season award. He was the Most Valuable Player (MVP) for two seasons straight after that, winning the title with the Pirates each time.
Season 5 was when he completely came into his own scoring a record 369 raid points from 26 games, averaging more than 14 raid points per game. His bulk is misleading as he moves across the mat with quick ferocity and high agility with split-second judgement calls being one of his forte, exemplified by the unprecedented eight-point raid during Season 5. He uses the Dubki, his signature move, to devastating effect as his primary weapon to reel in multiple points in a single raid. He is unpredictable and this makes him one of the most dangerous raiders around.
He will be raiding for the Patna Pirates once again this season and might just could make it a hat-trick of MVP awards if he continues in the same vein..
2. Rahul Chaudhari – Telugu Titans
Rahul Chaudhari has well justified his nick name as 'Raid Machine' and it's no wonder that he is the leading points scorer in the league along with the topper of the total raid points chart. With 710 career points in the league so far, he towers above the competition.
Tall and athletic, Chaudhari uses his height to good effect. His reach makes it difficult for the opposition to stay clear of the Running Hand Touch. Add to that, Chaudhari also has the ability to raid from both sides of the mat, making him a versatile raider.
Chaudhari had a relatively low-key Season 5 by his standards as he dropped to fifth in the list of the season's top scorers. But that will only spur this Titan further to prove what a force he is and expect him to leave no stone unturned in an attempt to reclaim his spot at the tip of the raiders list.
3. Rohit Kumar – Bengaluru Bulls
After achieving the feat of being the season's Most Valuable Player (MVP) in Season 3, his debut season for Patna Pirates, Rohit Kumar has gone on to become one of the top raiders currently playing the game. A master of the jump, Kumar has 414 raid points in just 48 games and averages about 9 raid points a game. This puts him second to only Pardeep Narwal when it comes to raiders with the best raid point averages.
In spite of all his success, Kumar has yet to emerge as the most successful raider in any season, an achievement he will be hungry to add to his kitty as he charges with the Bulls this season.
4. Monu Goyat – Haryana Steelers
Patna Pirates' raider of choice in Season 5 after Pardeep Narwal, Monu Goyat has time and time again throughout the campaign given glimpses that he has what it takes to lead an attack on him own. He ended up with an impressive 202 raid points in the season, being one among only four players to cross the 200 point mark. He has a number of weapons in his arsenals such as the Running Hand Touch, Scorpion Kick and Toe Touch which gives him multiple options in attack, making him all the more dangerous.
Goyat will be out to better his previous performance this season as he attempts to take Haryana Steelers to their maiden VIVO Pro Kabaddi title.
5. Ajay Thakur – Tamil Thalaivas
A player who believed in leading by example, Ajay Thakur's never-say-die attitude and his ability to snatch victory from the jaws of defeat, makes him an extremely dangerous customer and ensures that the opponents cannot rest easy till the final whistle is sounded. He was Season 5's third-best raider with 213 raid points from 22 games. However the title eluded his team in spite of his efforts.
In Season 6, team-man Thakur will want to take his team all the way and expect him to come out all guns blazing as he takes up the responsibility of leading them there.