pkl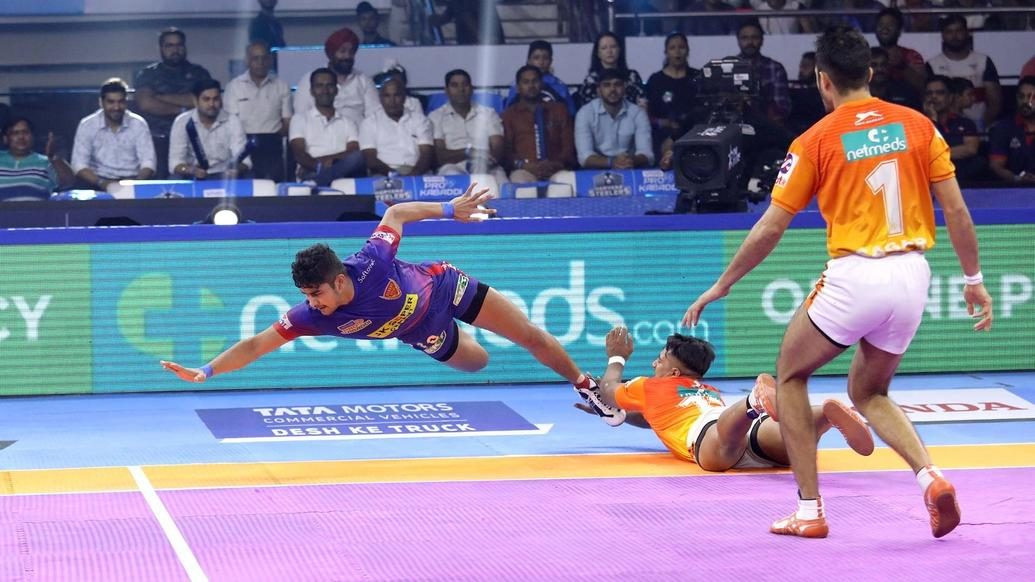 Dabang Delhi K.C. scored the most points by a team in vivo Pro Kabaddi Season 7 so far on the way to defeating Puneri Paltan 60-40.
Dabang Delhi K.C. put in a dominant raiding display against Puneri Paltan to win 60-40 at the Tau Devilal Sports Complex in Panchkula on Sunday. Naveen Kumar put in his career-best raiding display and finished with 19 raid points, while Chandran Ranjit also brought up a Super 10.
Naveen Kumar's two-point raid gave Dabang Delhi K.C. an ideal start. Puneri Paltan were unable to tackle Naveen and Chandran Ranjit for the first six minutes of the contest as the raiders picked up points regularly and eventually helped their team inflict an All Out to take a huge 8-point lead early in the match.
Ranjit was finally tackled by Sandeep in the 7th minute but by then the Dabang Delhi K.C. defence had found their footing and managed to revive him immediately through Joginder Singh's tackle on Manjeet. A Super Tackle on Naveen was also answered by Anil Kumar's successful tackle on Nitin Tomar to revive the raider and he put in successive two-point raids to inflict another All Out on Puneri Paltan.
Tomar found some success on both sides of the mat for Puneri Paltan but Naveen kept up his good work to bring up his 17th successive Super 10. Manjeet's two-point raid and Balasaheb Jadhav's tackle on Naveen gave Puneri Paltan some momentum going into halftime as they trailed Dabang Delhi K.C. 16-30.
Manjeet and Amit Kumar's raids brought a bit of success for Puneri Paltan early in the second period but Dabang Delhi K.C.'s raiding trio of Naveen, Chandran Ranjit and Vijay soon reduced them to three men on the mat. Ranjit also reached his Super 10 in this period.
Super Tackles on Vijay and Ranjit kept the All Out at bay for Puneri Paltan but it was eventually inflicted in the 10th minute to give Dabang Delhi K.C. a 19-point lead with 10 minutes still to play in the match. Ranjit and Naveen continued their good work and Ravinder Pahal brought up his High 5 with a tackle on Emad Sedaghatnia to help Dabang Delhi K.C. cross the 50-point mark in the match.
Dabang Delhi K.C. chose to test out their bench players towards the end of the match but Puneri Paltan were unable to stop them from reaching the 60-point mark before the full-time whistle, making them the first team to get there this season. The win assured Dabang Delhi K.C. of a Top 2 finish and all but ended Puneri Paltan's hopes of finding a place in the playoffs.
Top Performers:
Puneri Paltan –
Best Raider – Emad Sedaghatnia (7 Raid Points)
Best Defender – Balasaheb Jadhav (6 Tackle Points)
Dabang Delhi K.C. –
Best Raider – Naveen Kumar (19 Raid Points)
Best Defender – Ravinder Pahal (6 Tackle Points)